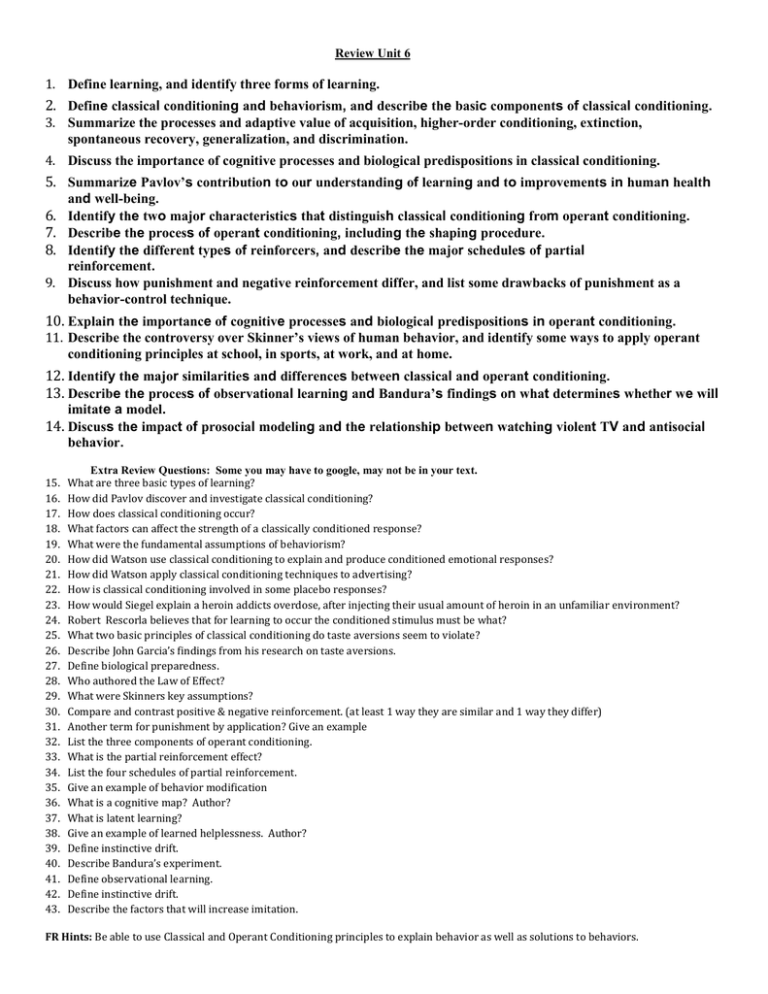 Review Unit 6
1. Define learning, and identify three forms of learning.
2. Define classical conditioning and behaviorism, and describe the basic components of classical conditioning.
3. Summarize the processes and adaptive value of acquisition, higher-order conditioning, extinction,
spontaneous recovery, generalization, and discrimination.
4. Discuss the importance of cognitive processes and biological predispositions in classical conditioning.
5. Summarize Pavlov's contribution to our understanding of learning and to improvements in human health
and well-being.
6. Identify the two major characteristics that distinguish classical conditioning from operant conditioning.
7. Describe the process of operant conditioning, including the shaping procedure.
8. Identify the different types of reinforcers, and describe the major schedules of partial
reinforcement.
9. Discuss how punishment and negative reinforcement differ, and list some drawbacks of punishment as a
behavior-control technique.
10. Explain the importance of cognitive processes and biological predispositions in operant conditioning.
11. Describe the controversy over Skinner's views of human behavior, and identify some ways to apply operant
conditioning principles at school, in sports, at work, and at home.
12. Identify the major similarities and differences between classical and operant conditioning.
13. Describe the process of observational learning and Bandura's findings on what determines whether we will
imitate a model.
14. Discuss the impact of prosocial modeling and the relationship between watching violent TV and antisocial
behavior.
15.
16.
17.
18.
19.
20.
21.
22.
23.
24.
25.
26.
27.
28.
29.
30.
31.
32.
33.
34.
35.
36.
37.
38.
39.
40.
41.
42.
43.
Extra Review Questions: Some you may have to google, may not be in your text.
What are three basic types of learning?
How did Pavlov discover and investigate classical conditioning?
How does classical conditioning occur?
What factors can affect the strength of a classically conditioned response?
What were the fundamental assumptions of behaviorism?
How did Watson use classical conditioning to explain and produce conditioned emotional responses?
How did Watson apply classical conditioning techniques to advertising?
How is classical conditioning involved in some placebo responses?
How would Siegel explain a heroin addicts overdose, after injecting their usual amount of heroin in an unfamiliar environment?
Robert Rescorla believes that for learning to occur the conditioned stimulus must be what?
What two basic principles of classical conditioning do taste aversions seem to violate?
Describe John Garcia's findings from his research on taste aversions.
Define biological preparedness.
Who authored the Law of Effect?
What were Skinners key assumptions?
Compare and contrast positive & negative reinforcement. (at least 1 way they are similar and 1 way they differ)
Another term for punishment by application? Give an example
List the three components of operant conditioning.
What is the partial reinforcement effect?
List the four schedules of partial reinforcement.
Give an example of behavior modification
What is a cognitive map? Author?
What is latent learning?
Give an example of learned helplessness. Author?
Define instinctive drift.
Describe Bandura's experiment.
Define observational learning.
Define instinctive drift.
Describe the factors that will increase imitation.
FR Hints: Be able to use Classical and Operant Conditioning principles to explain behavior as well as solutions to behaviors.