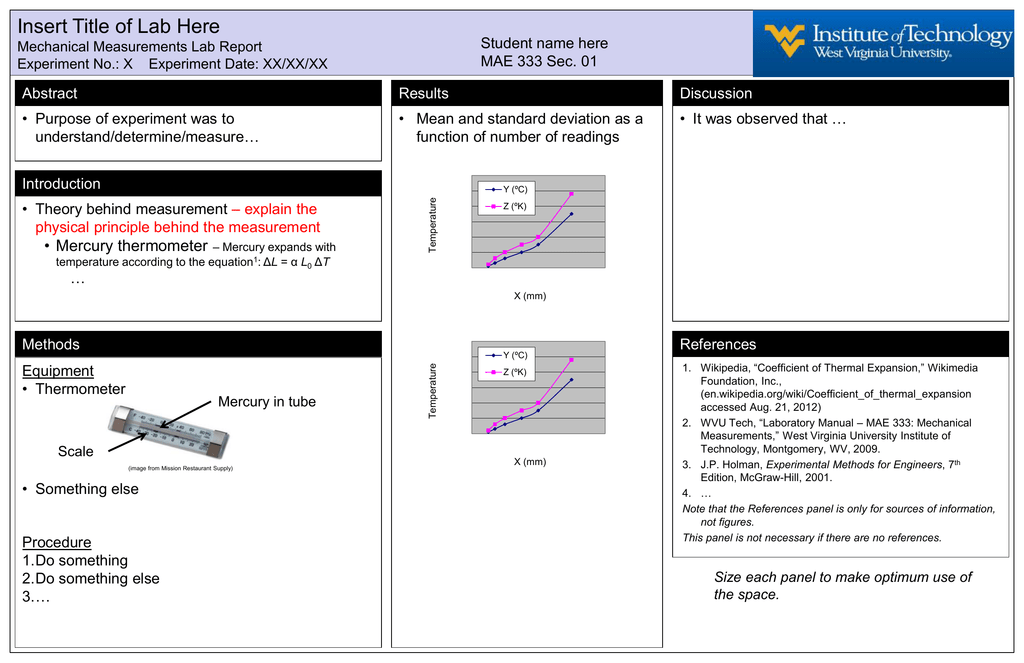 Insert Title of Lab Here
Student name here
MAE 333 Sec. 01
Mechanical Measurements Lab Report
Experiment No.: X Experiment Date: XX/XX/XX
Abstract
Results
Discussion
• Purpose of experiment was to
understand/determine/measure…
• Mean and standard deviation as a
function of number of readings
• It was observed that …
Introduction
• Theory behind measurement – explain the
physical principle behind the measurement
• Mercury thermometer
– Mercury expands with
temperature according to the equation1: ΔL = α L0 ΔT
Temperature
Y (ºC)
Z (ºK)
…
X (mm)
Methods
Equipment
• Thermometer
Mercury in tube
Scale
(image from Mission Restaurant Supply)
• Something else
Procedure
1.Do something
2.Do something else
3.…
Temperature
Y (ºC)
Z (ºK)
X (mm)
References
1. Wikipedia, "Coefficient of Thermal Expansion," Wikimedia
Foundation, Inc.,
(en.wikipedia.org/wiki/Coefficient_of_thermal_expansion
accessed Aug. 21, 2012)
2. WVU Tech, "Laboratory Manual – MAE 333: Mechanical
Measurements," West Virginia University Institute of
Technology, Montgomery, WV, 2009.
3. J.P. Holman, Experimental Methods for Engineers, 7th
Edition, McGraw-Hill, 2001.
4. …
Note that the References panel is only for sources of information,
not figures.
This panel is not necessary if there are no references.
Size each panel to make optimum use of
the space.