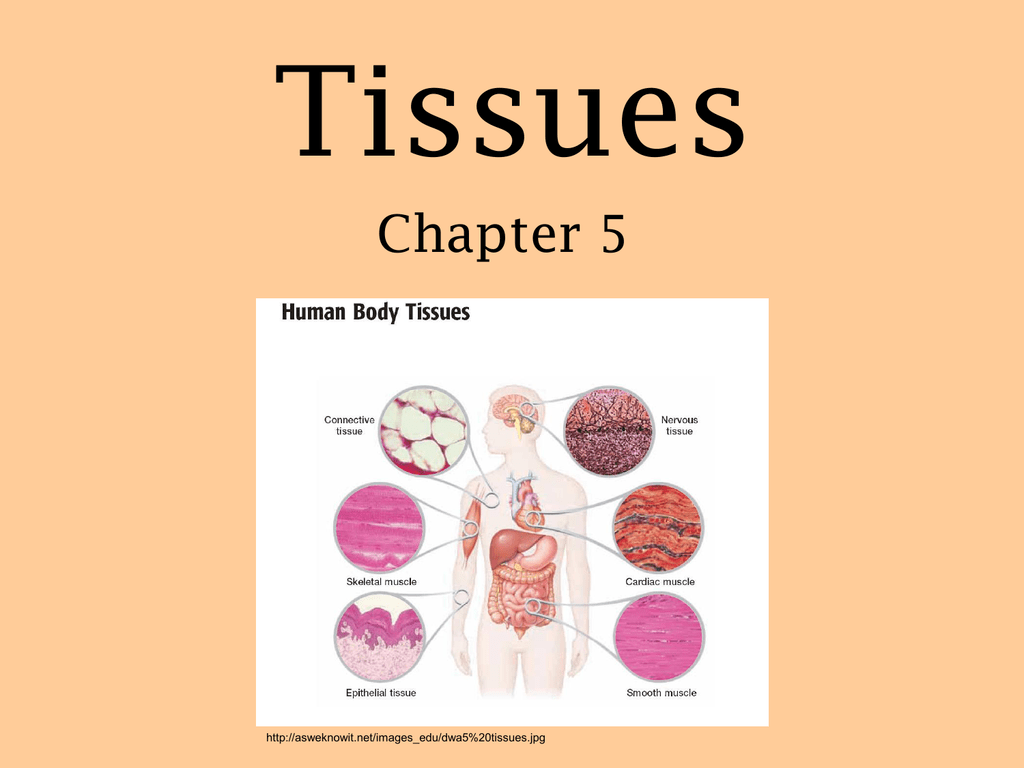 Tissues
Chapter 5
http://asweknowit.net/images_edu/dwa5%20tissues.jpg
4 Types of Tissues
All tissues can be classified into four major
categories based on structure and function:
1. Epithelial: Covers and protect body surfaces,
lines body cavities, moves substances in and out of
blood (secretion, excretion & absorption), form
glands
2. Connective: support, connection, transport,
protection
3. Muscle: moves the body & its parts; specialized
for contractility
4. Nervous: provides communication between body
parts and coordinates body functions
Embryonic Development
• Zygote becomes a blastocyst
through mitotic division
• Cells of the blastocyst regroup
into primary germ layers
– Endoderm, mesoderm, ectoderm
– Gastrulation
– Histogenesis
Epithelial Tissue
Subdivided into 2 types:
1. Membranous
–
–
Covers the body & some of its parts
Lines body cavities (pleural,
pericardial, peritoneal), blood vessels,
respiratory, digestive and
genitourinary tracts
2. Glandular
–
Form the secretion units of the
endocrine & exocrine glands
Epithelial Tissue
Functions of epithelial tissues:
1. Protection
–
Ex: skin protects body from injury & disease-causing
micro-organisms
2. Sensory
–
Epithelial structures that specialize in sensory functions
found in skin, nose, eye, ear
3. Secretion
–
Glandular epithelium secrete hormones, digestive juices &
sweat
4. Absorption
–
Ex: gut absorbs nutrients; exchange of respiratory gases
5. Excretion
–
Ex: kidney tubules concentrate & excrete urine and other
waste products
Epithelial Tissue
• Basement membrane
– Thin, noncellular layer of adhesive
– Connects epithelial tissue and underlying
connective tissue
• Avascular
– "without" vascular
– Epithelial cells do not have blood vessels
– Oxygen & nutrients diffuse from capillaries
through connective tissue & basement
membrane to epithelial cells
Classification of Membranous
Epithelial Tissue
• Cell Shape
–
–
–
–
Squamous: flat, plate-like
Cuboidal: cube-shaped; larger cytoplasm
Columnar: narrow and cylinder-shaped
Pseudostratified: single-layered; all cells
touch the basement membrane but may not
extend to the top of the membrane
• Layers of Cells
– Simple: single layer
– Stratified: cells are layered on top of one
another
– Transitional: cell shape & layers differ
Glandular Epithelium
• Specialized for secretory activity
• Unicellular glands
– Single celled
– Ex: goblet cells
• Multicellular glands
– Function in clusters, solid cords or
specialized follicles
Endocrine vs Exocrine
• All glands are classified as endocrine or
exocrine
• Exocrine glands
– Discharge/secrete into ducts
– Ex: salivary glands
• Endocrine glands
– "ductless glands"
– Secrete hormones directly into blood or
interstitial fluid
– Ex: pituitary and thyroid glands
Structural Classification of
Exocrine Glands
• (Table 5-2, p. 133)
• Shape of gland:
– Tubular
– Alveolar (sac-like)
• Complexity of gland:
– Simple (one duct)
– Compound – > 2 ducts (branched)
Functional Classification of
Exocrine Glands
1. Apocrine
–
–
–
–
Collect secretory products at apex (tip)
Apex of cell pinches off
Cell repairs itself & repeats process
Ex: milk-producing mammary glands
2. Holocrine
–
–
–
Collect secretory product inside the cell
Rupture to release (self-destructs)
Ex: sebaceous glands (oil glands)
3. Merocrine
–
–
–
Discharge through plasma membrane
This type applies to most exocrine glands
Ex: salivary glands
Figure 5-12, p. 132
Connective Tissue
• Most widespread tissue in the body
• Functions:
–
–
–
–
–
Connection
Support
Transport
Protection
Insulation
Characteristics of Connective
Tissue
• Common origin – mesoderm
• Matrix
–
–
–
Intercellular material
Few cells, fibers, fluid, ground substance
(material between cells)
Fibers:
1. Collagenous fibers
2. Reticular fibers
3. Elastic fibers
Fibers
1. Collagenous fibers
–
–
–
"white fibers"
Made of collagen (fibrous protein)
Tough, strong
2. Reticular fibers
–
–
–
Delicate
Reticulin – protein
Support small structures (ex: capillaries)
3. Elastic fibers
–
–
–
Extensible & elastic
Elastin – protein
Found in "stretchy" tissue (ex: cartilage of the
external ear)
Classification of Connective
Tissue
1. Fibrous
–
–
–
–
Loose (areolar)
Adipose
Reticular
dense
2. Bone
3. Cartilage
–
–
–
Hyaline
Fibrocartilage
elastic
4. Blood
**Reference
Table 5-3,
pp. 134135**
Fibrous Connective Tissue
1. Loose connective (areolar) tissue (fig 5-13)
– Stretchable
– most abundant connective tissue in the
body
– Connects adjacent structures
• Ex: btwn other tissues and organs
• Ex: superficial fascia
Fibrous Connective Tissue
2. Adipose tissue (fig 5-14)
– Contains mainly fat cells
– Supportive/protection pads around
kidneys & other body structures
– Storage deposit for excess food
– Insulating material, conserves body heat
Fibrous Connective Tissue
3. Reticular Tissue (Fig 5-16)
– 3D web of reticular fibers
– Forms the framework of the spleen,
lymph nodes & bone marrow
– Meshwork filters harmful substances
out of the blood
Fibrous Connective Tissue
4. Dense Fibrous Tissue (fig 5-17, 5-18, 5-19)
• Densely packed fibers
• Regular Dense CT
–
–
–
–
Fibers arranged in regular, parallel rows
Collagen fibers
Flexible, strong
Tendons (muscle to bone) & ligaments (bone to bone)
• Irregular Dense CT
– Fibers intertwine
– Withstand stress from any direction
– Ex: dermis (inner layer of skin); outer capsule of kidney &
spleen
Bone Tissue
• We will cover this when we cover the
skeletal system
• Just know that bone is a type of
connective tissue 
Cartilage
• Only 1 cell type – chondrocyte
– Located in lacuna
• Avascular – receive nutrients via
diffusion
• Injuries to cartilage heal slowly due
to poor nutrient delivery
Cartilage - Types
1. Hyaline cartilage
–
–
–
Most common
Covers ends of long bones (where joints
articulate)
Found in supporting rings of respiratory tubes
2. Fibrocartilage
–
–
–
Strongest, most durable
Intervertebral disks
Menisci in knee joint
3. Elastic cartilage
–
–
–
Fine elastic fibers
High degree of flexibility
External ear
Blood
• Unusual type of connective tissue
• No ground substance
• Matrix = plasma (55%)
• Formed elements = blood cells (45%)
– Erythrocytes – RBCs
– Leukocytes – WBCs
– Thrombocytes – platelets
• Transport function
– Respiratory gases, nutrients, waste
products
Anthony's Textbook of Anatomy and Physiology 17th Edition.
Thibodeau, Gary A. PhD and Patton, Kevin T. PhD. Mosby, Inc.