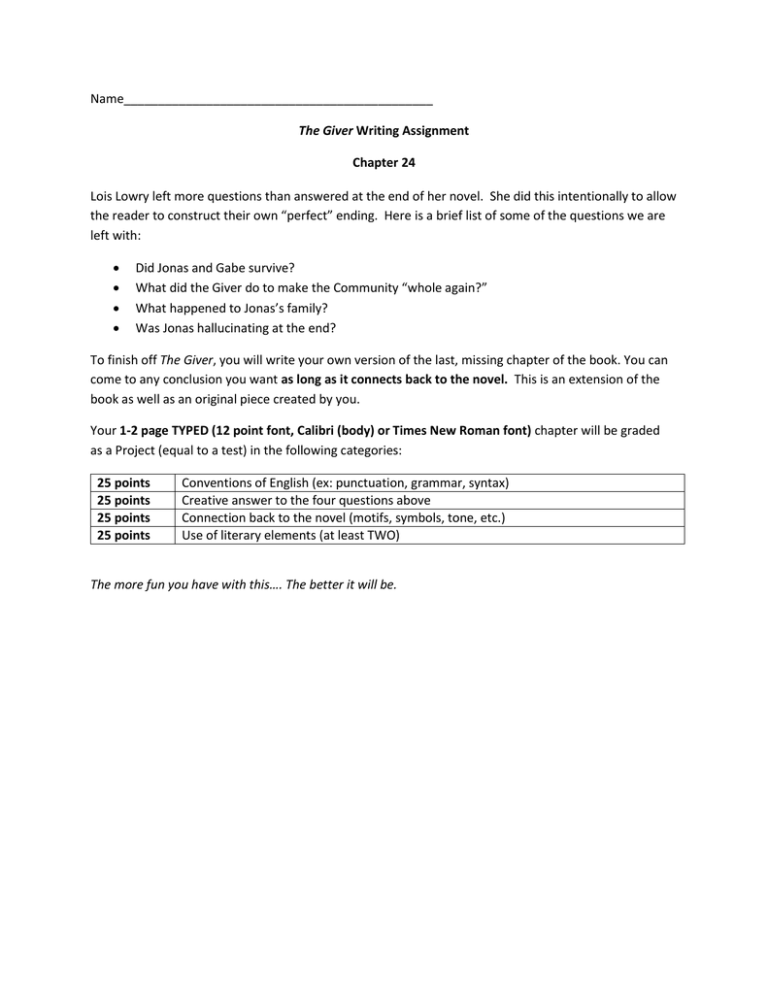 Name_____________________________________________
The Giver Writing Assignment
Chapter 24
Lois Lowry left more questions than answered at the end of her novel. She did this intentionally to allow
the reader to construct their own "perfect" ending. Here is a brief list of some of the questions we are
left with:




Did Jonas and Gabe survive?
What did the Giver do to make the Community "whole again?"
What happened to Jonas's family?
Was Jonas hallucinating at the end?
To finish off The Giver, you will write your own version of the last, missing chapter of the book. You can
come to any conclusion you want as long as it connects back to the novel. This is an extension of the
book as well as an original piece created by you.
Your 1-2 page TYPED (12 point font, Calibri (body) or Times New Roman font) chapter will be graded
as a Project (equal to a test) in the following categories:
25 points
25 points
25 points
25 points
Conventions of English (ex: punctuation, grammar, syntax)
Creative answer to the four questions above
Connection back to the novel (motifs, symbols, tone, etc.)
Use of literary elements (at least TWO)
The more fun you have with this…. The better it will be.