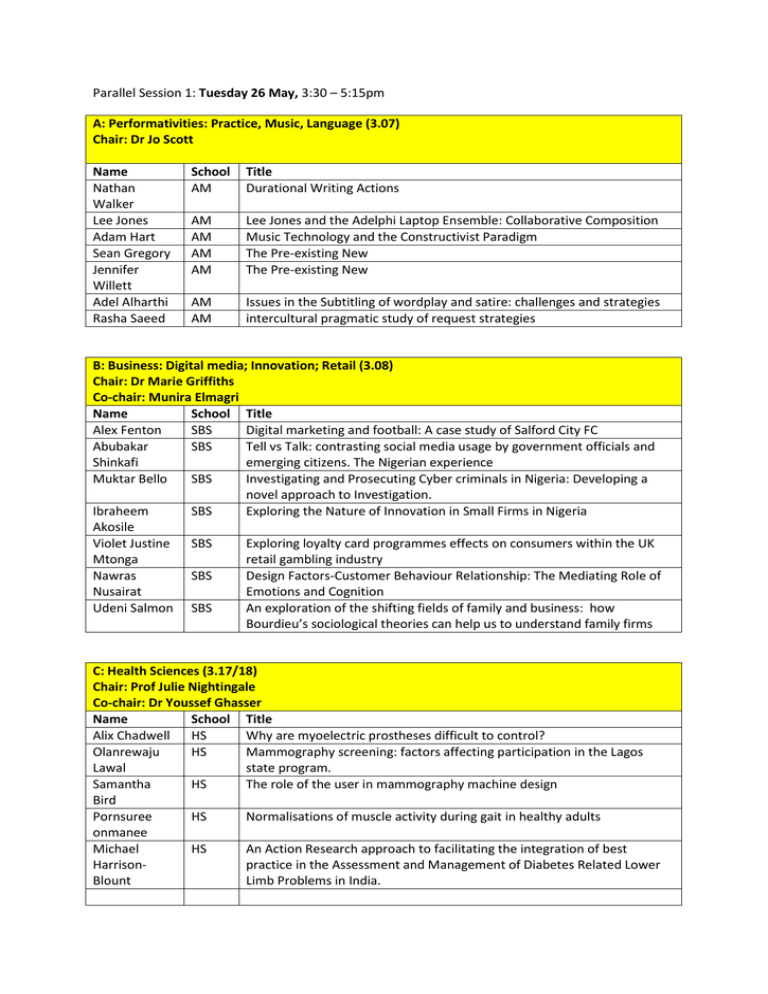 Parallel Session 1: Tuesday 26 May, 3:30 – 5:15pm
A: Performativities: Practice, Music, Language (3.07)
Chair: Dr Jo Scott
Name
Nathan
Walker
Lee Jones
Adam Hart
Sean Gregory
Jennifer
Willett
Adel Alharthi
Rasha Saeed
School
AM
Title
Durational Writing Actions
AM
AM
AM
AM
Lee Jones and the Adelphi Laptop Ensemble: Collaborative Composition
Music Technology and the Constructivist Paradigm
The Pre-existing New
The Pre-existing New
AM
AM
Issues in the Subtitling of wordplay and satire: challenges and strategies
intercultural pragmatic study of request strategies
B: Business: Digital media; Innovation; Retail (3.08)
Chair: Dr Marie Griffiths
Co-chair: Munira Elmagri
Name
School Title
Alex Fenton
SBS
Digital marketing and football: A case study of Salford City FC
Abubakar
SBS
Tell vs Talk: contrasting social media usage by government officials and
Shinkafi
emerging citizens. The Nigerian experience
Muktar Bello
SBS
Investigating and Prosecuting Cyber criminals in Nigeria: Developing a
novel approach to Investigation.
Ibraheem
SBS
Exploring the Nature of Innovation in Small Firms in Nigeria
Akosile
Violet Justine SBS
Exploring loyalty card programmes effects on consumers within the UK
Mtonga
retail gambling industry
Nawras
SBS
Design Factors-Customer Behaviour Relationship: The Mediating Role of
Nusairat
Emotions and Cognition
Udeni Salmon SBS
An exploration of the shifting fields of family and business: how
Bourdieu's sociological theories can help us to understand family firms
C: Health Sciences (3.17/18)
Chair: Prof Julie Nightingale
Co-chair: Dr Youssef Ghasser
Name
School Title
Alix Chadwell HS
Why are myoelectric prostheses difficult to control?
Olanrewaju
HS
Mammography screening: factors affecting participation in the Lagos
Lawal
state program.
Samantha
HS
The role of the user in mammography machine design
Bird
Pornsuree
HS
Normalisations of muscle activity during gait in healthy adults
onmanee
Michael
HS
An Action Research approach to facilitating the integration of best
Harrisonpractice in the Assessment and Management of Diabetes Related Lower
Blount
Limb Problems in India.
D: Molecular Ecology & Conservation (3.10)
Chair: Prof Stefano Mariani
Name
School Title
Andjin
ELS
DEMO: Chromatophore changes in the brown shrimp: An exciting
Siegenthaler
demonstration of a colourful research topic
Judith Bakker ELS
Sharkwaters: a novel environmental DNA approach for biodiversity
assessment and monitoring
Nour Salam
ELS
Effect of salinity on the depuration rate of heavy metals in the brown
shrimp (Crangon crangon)
Peter Shum
ELS
Three-dimensional, post-glacial expansion and diversification of an
exploited oceanic fish
Ciara Peace
ELS
Uncovering the flaws in EU fish labelling legislation.
Sasha-Ann
ELS
DNA Barcoding reveals the truth at seafood restaurants
Taylor
E: Physics, Material Science and Mobile Networks (3.02)
Chair: Dr Omar Alani
Name
School Title
Christopher
CSE
Complexity in nonlinear Fabry-Pérot cavities: reaction-diffusion optical
Bostock
systems and spontaneous spatial patterns
Mark Lundie
CSE
Electronic and optical properties of reduced graphene oxide
Hercend
CSE
Assessment of disproportionate collapse for tall timber buildings
Mpidi Bita
Ahmed
CSE
Reliable Spectrum Sharing Management for Cognitive Radio Networks
Fakhrudeen
Murtala
CSE
Increasing the energy efficiency of Ultra WideBand (UWB) enabled Mobile
Muhammad
Ad Hoc Networks (MANETs) by optimising MAC protocols.
Mohammed
CSE
Location-Based Services for Mobile Network by Clustering Distributed
Aal-Nouman
Databases
Ahmed AlCSE
System Capacity Enhancements in LTE-A Heterogeneous Networks
Aaloosi
F: Workplace 1: Employability, Recruitment, Wellbeing (3.11)
Chair: Prof Louise Ackers
Name
Eileen
Cunningham
Fiona Christie
Anna Joel
School
NMSW
SS
Studen
t Life
SBS
Rasha Alturki
NMSW
Title
Graduate transitions - opportunities and obstacles
The creative student's perspective on employability
The role of HRM in identifying and removing barriers for women returning
to the workplace after child-birth
Using IT to address issues arising from the deployment of a multinational
James
Chandler
John Hudson
SS
HS
HS
nursing workforce.
Exploring the potential for social enterprises to positively impact on
employee health and wellbeing
Work-stress: what's the problem?