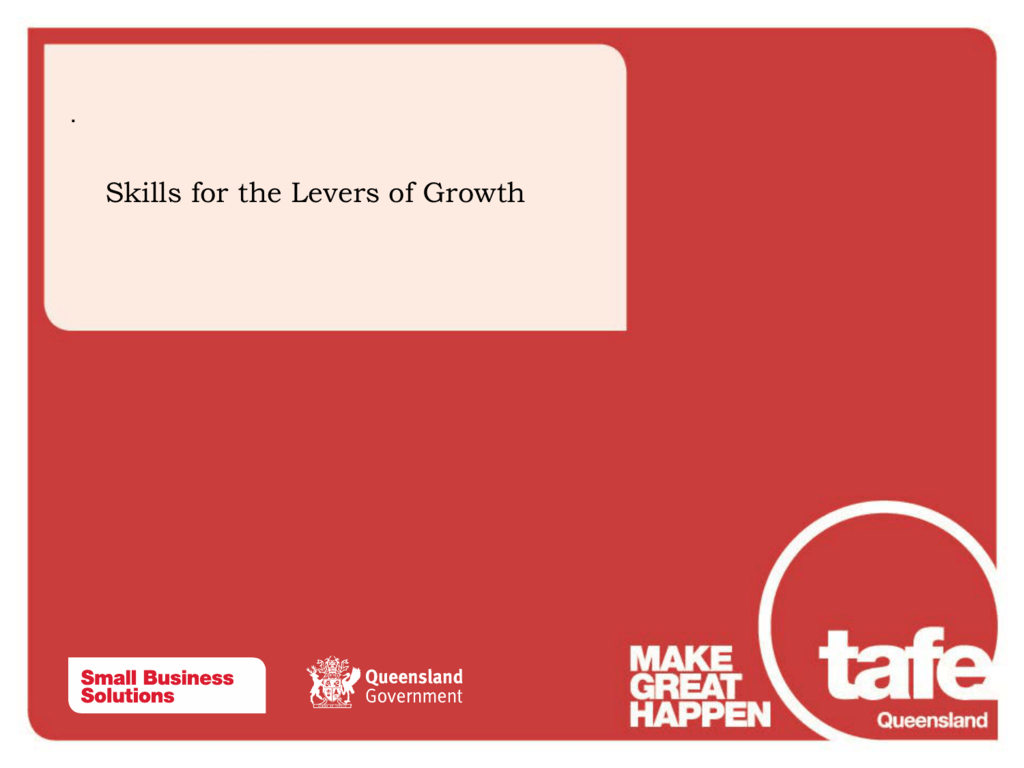 .
Skills for the Levers of Growth
Queensland Businesses
Queensland Businesses
Small Businesses = 95% of all businesses
Source: ABS 2012
Queensland small business employ 4 out of 10 of the workforce
and account for a third of the dollars earned by all Queensland
businesses
Queensland Small Businesses
•
96% (395,797) of Queensland businesses have less than 20 employees.
•
Small businesses employ four in ten of the Queensland working population.
•
Accounts for three in ten dollars earned by all businesses.
The top 3 industries;
1. Professional, Scientific and Technical Services (16%)
- more likely to have marketing issues (67%)
- management concerns (41%)
2. Hiring and Real Estate Services (13%)
3. Construction (12%)
General concerns:

Concerns on economic environment (44%)

Government regulations (27)
Source: Department of Tourism, Major Events, Small Business and The Commonwealth Games 2014
Small Business Solutions (SBS)
•
SBS provides a mentoring program for micro businesses (1- 4 employees) and small
businesses (5-19 employees) to understand the concepts of starting and managing a
small business in a practical workshop environment.
•
Participants receive vocational education and training qualifications – an advantage in
a competitive knowledge economy.
Micro Businesses – Certificate 3 in Micro Business Management
Small Businesses - Certificate 4 in Small Business Management
•
The program is delivered by Mentors who have the knowledge and experience of
running a small business, high qualifications, active in business networks.
•
Programmes delivered through series of workshops and one on one mentoring.
Mentoring Programme
•
Participants attend 5 business workshops with a Mentor to establish the knowledge
level and receive training where there are knowledge gaps.
•
The Mentor introduces the concepts and relates them to practical examples in the
participants business.
•
The Mentor will assess the level of Recognition of Prior Learning (RPL) of each
participants and provide gap training where necessary.
•
Participants are provided with notes and templates to assist them to understand the
subjects and also as reference later.
•
Participants must successfully complete a business plan for their business as the
assessment.
Highlights of SBS Report – Strategy & Action plan 2013-2014
Testing of efficacy of SBS programmes
- Participants in SBS programme between 2010 and 2013
- 423 respondents interviewed
- Wide diversity; remote regions, owner/director characteristics,
gender,
Indigenous and non English speaking.
- Various stages of business lifecycle
- Industry sectors, including the four-pillar industries
•
79 % felt their business was more resilient and able to survive and grow.
•
62% felt the program helped maintain the number of employees.
•
70% stated that the program helped to maintain profits at a higher level
•
82 per cent of respondents felt that the gap in knowledge was addressed.
Trends in Small Businesses
Phase of development of the business when undertook SBS program
Per cent1
Start-up:
The business had only recently come into existence or only had
an idea of planning to start a new business
34
Growth:
Consumer demand was sharply increasing
27
Mature:
The business was well established and experiencing steady growth
25
Static:
There was little or no growth and there were no plans for expansion
10
Contracting: You had to cut costs to preserve profits and profits were weak
1
Percentages may not sum to 100 per cent due to rounding.
4
Highlights of SBS Report – Strategy & Action plan 2013-2014
Proportion of SME's experiencing growth in the past 12 months (Prior to
survey)
__________________________________________________________________
Growth (%)
Decline (%)
SBS
Qld*
SBS
Qld*
_________________________________________________________________________________________
Employment
20
13
10
15
Sales
49
30
15
42
Profits
42
24
22
46
_________________________________________________________________________________________
*As measured by the Sensis Business Index, 2013
Highlights of SBS Report
•
Many small business operators consider training in business skills a low priority
because of lack of knowledge of what training is required and available.
•
Often see informal training as adequate and place less priority on formal
qualifications.
•
72% of respondents would very likely recommend the SBS programme.
•
70% of business operators would not have enrolled under a VET fee help
arrangement.
•
49% of business start ups in Queensland remain in operation after four years (ABS
2013a)
•
ASIC (2013) data on business insolvencies show the primary reason for business
failure is poor strategic management. Specifically:
- Compliance with regulations
- Finance barriers
- Management skills
- Poor information resources
Highlights of SBS Report – Strategy & Action plan 2013-2014
Causes of insolvencies (ASIC 2013)
1. 42% from poor strategic management.
2. 41% from inadequate cash flow
3. 32% from trading losses.
These include;

Poor business acumen
and strategy;

Poor leadership skills;

Poor entrepreneurial skills;

Poor business planning
and organising skills;

Poor financial
management skills;

Poor marketing strategy and
competitor knowledge; and

Poor understanding of
compliance requirements such
as industrial relations, work
health and safety and
WorkCover.
Master Class Workshops
Two Day Master Workshop Programs
•
Designed for businesses looking for specific skills improvement. Small business that
are growing.
- Marketing
- Finance
- Human Resources (HR)
- Logistics & operations
•
Credits towards Diploma in Business Management.