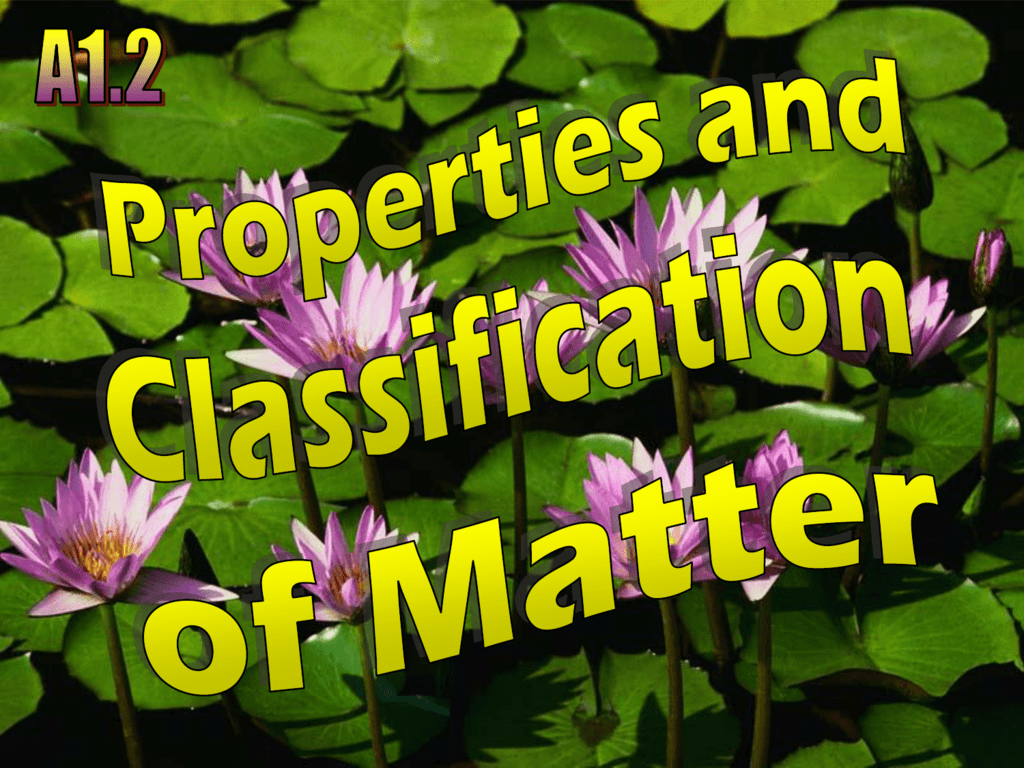 Science is a way to look at the world.
 A model is a representation that serves to explain a scientific
phenomenon.
 Models are supported by the scientific method which test
hypotheses by making predictions about the outcome of an
experiment before the experiment is performed. The results
provide support or refutation of the hypothesis.
 Empirical – observable knowledge (operational)
 Theoretical – explains or describes scientific
observations, not observable. (conceptual)
Indirect form of knowledge that builds
on a concept to further describe or
explain an observation.
Qualitative Observation
 describes qualities of
matter or changes in
matter.
 changes in color, odor,
state.
Example:
Mg is an odorless, silver-gray
solid that burns with bright
white light.
Quantitative observation
 Involves a quantity of matter
that can be measured.
 mass
 volume
 number of moles
Example
A 5 cm strip of Mg
ribbon burned for 3 s
leaving 2 mm of
ribbon in the tongs.
The study of substances, their structure,
their properties, and the changes that
can occur to substances.
 Physical properties – describe the physical appearance
and composition of a substance.
E.g., color, hardness, texture, phases, density, ability to conduct
heat, electricity.
 Physical Change – a change in size, shape or state. It still
retains all the same physical properties.
E.g., Melting Ice
Heat
heat
Physical Properties
Description
Boiling Point
Temperature at boiling Point
Melting point
Temperature at melting Point
Malleability
Ability to beat or roll a material
Ductility
Ability to be drawn into a wire.
Color
Color
State
Solid, liquid or gas
Solubility
Ability to dissolve
Crystal formation
Crystalline appearance
Conductivity
Ability to transmit heat or electricity
Magnetism
Magnetic attraction
 Chemical Properties - describes the reactivity of a
substance
E.g., ability to burn, flash point, reactions with water, air, acids,
heat and litmus paper
 Chemical Change – a substance changes from one type
of matter to another.
Ca O
S2
Ca S
O2
Chemical Property Description
Ability to burn
Combustion (flame, heat light)
Flash point
Behavior in air
Temperature required to ignite
flame
Degrade, react or tarnish
Reaction in water
Tendency to corrode or dissolve
Reaction in acids
Corrosion, bubble formation
Reaction to heat
Tendency to melt or decompose
Reaction to blue or red
litmus
Red-acid, blue-base
Note: in both Physical and Chemical changes there is
Conservation of Mass.
 anything that has mass and occupies space.
 STUDYING THE CHANGES TO MATTER IS THE ESSENSE OF
CHEMISTRY!
 A chemist is most interested in the structure and properties of
matter and the changes that occur in matter.
EXAMPLES:
1. Digestion – biochemistry
2. Oil or Gas  plastics – petrochemical engineering
3. Corrosion – chemical engineer
4. Pollution - environmental biologist
MATTER
MIXTURES
PURE SUBSTANCES
Contains two or more substances
Contains one kind of matter
Heterogeneous
Homogeneous
Mixture where
components are
intact and visible
Mixtures where 2 or
more components are
dissolved and appear Only one type of
atom that cannot
as one
be broken down
Colloid
Suspension
Mechanical
Mixtures
ELEMENTS
COMPOUNDS
-contains two or
more elements in
a definite fixed
proportion
-cannot be
separated by
physical means
Solutions
APPEAR AS ONE
SUBSTANCE
PROPERTIES ARE
VARIABLE
PROPERTIES ARE
SAME
Pure Substances
 All particles of the same substance are the same (all
particles have the same chemical and physical
properties)
 2 types of Pure substance
 Element – all of these are found on the periodic table.
(e.g., sulfur)
 Compound – 2 or more chemically combined
elements (e.g.,. CO2, MgCl2)
**Note the 2 different types of chemical bonding.
Mixtures
 Combination of pure substances (not chemically
combined)
 4 types
1. Solutions – homogenous mixture (same parts)
 Looks similar throughout
 Soft drinks (sugar is dissolved)
2. Mechanical Mixture – (heterogeneous)
 You can see all parts clearly
 E.g.. soil
*Note the different parts
3. Suspension – (heterogeneous)
 The parts are in different states
 E.g., Mud – soil (solid) & water (liquid)
4. Colloid -(heterogeneous)
 Similar to suspension but not easy to separate.
 Colloids look a lot like solutions.
 If you filter both (solution and colloid) a solution
will pass through but a colloid will leave behind
chunks if one of the phases was a solid.
 E.g., Milk, paint, ink…
Filtration separates a
liquid from a solid
(mechanical mixture).
Distillation separates
a solution
(homogeneous
mixture).
(compound)
(element)
(element)
Electrolysis
breaks a
compound
apart.
Chemical Reactions
Characteristics of a chemical reaction
include:
1. The production of a new substance with UNIQUE
physical and chemical properties.
1.
A gain or release of energy
And sometimes: A phase change such as the
formation of a gas (bubbles) or of a solid (precipitate).
• All reactions produce a new substance
with new physical and chemical
properties.
• All involve the release or absorption of
energy.
 Heat (thermal energy moving)
exits the system – Exothermic
 Heat enters the system Endothermic
Some chemical reactions have phase changes:
 Bubbles (gas forming)
 Precipitates (solid forming)
 Cloudiness (solid forming just not falling)
•
•
Questions #1-9 & 11 (pg. 17 textbook)
Read Lab A-3.