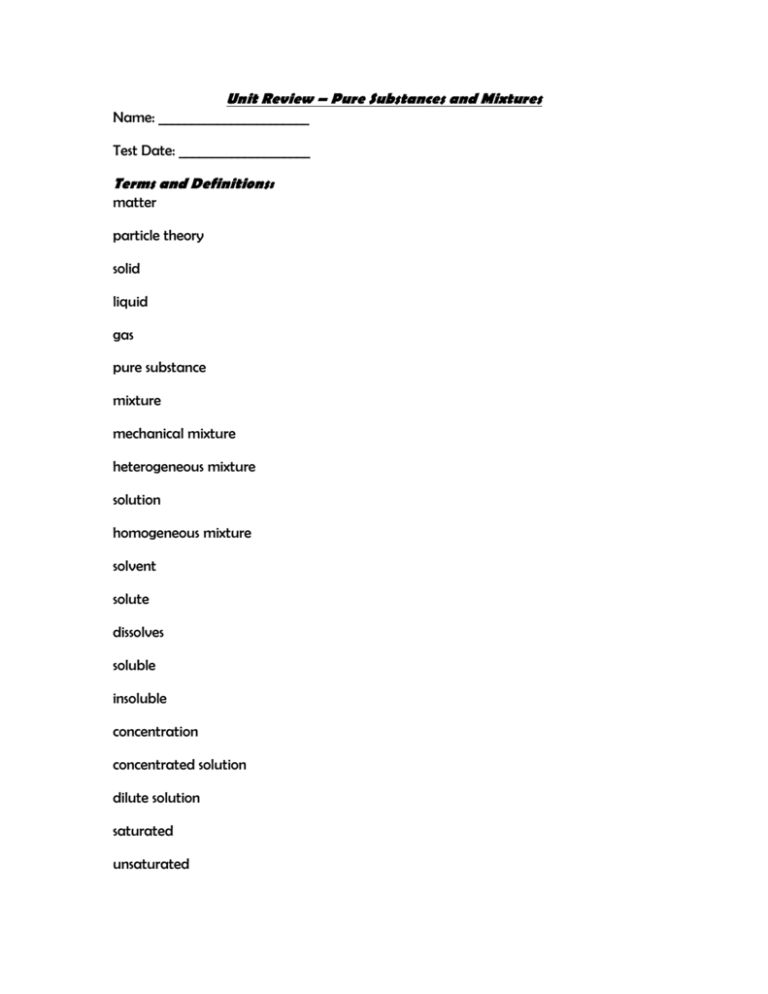 Unit Review – Pure Substances and Mixtures
Name: _______________________
Test Date: ____________________
Terms and Definitions:
matter
particle theory
solid
liquid
gas
pure substance
mixture
mechanical mixture
heterogeneous mixture
solution
homogeneous mixture
solvent
solute
dissolves
soluble
insoluble
concentration
concentrated solution
dilute solution
saturated
unsaturated
solubility
sorting
floating
settling
sieve
sieving
filter
filtration
sewage
evaporation
distillation
Notes:
1. Be able to distinguish between pure substances and mixtures.
2. Be able to identify examples that would be used for each method of separation –
mixtures and solutions.
3. Know all aspects of the particle theory and be able to apply them to various
concepts of mixtures and pure substances, such as how particles are arranged in the
three states of matter.
4. Know the formula for solubility and how to calculate solubility.
5. Know what common solvents are, and the know most common solvent in our
everyday life and in our bodies.
6. Identify the difference between solvents and solutes, and what kind of solvents
would dissolve quickest, based on temperature.
7. Identify what three things effect the rate of dissolving, and apply to how to make
various solutions (such as iced tea or chocolate milk).
8. Be able to apply any of the concepts taught to everyday life.