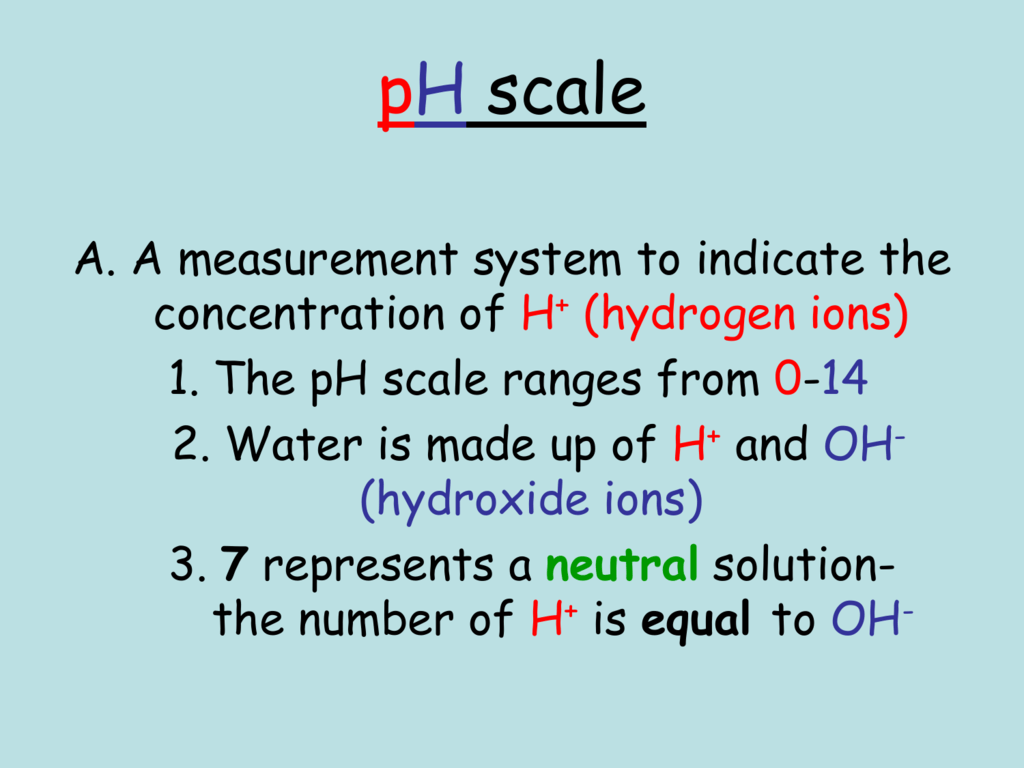 pH scale
A. A measurement system to indicate the
concentration of H+ (hydrogen ions)
1. The pH scale ranges from 0-14
2. Water is made up of H+ and OH(hydroxide ions)
3. 7 represents a neutral solutionthe number of H+ is equal to OH-
B. An acidic solution (acid) has more H+ than OH-.
1. An acidic solution would be anything less
than 7 the pH scale (further from neutral the stronger the acid)
2. An acidic solution would range in
color from yellow to red on pH paper
3. An acidic solution has a sour taste
4. Examples of acids
Acetic acid (vinegar)
Citric acid ( lemons)
Stomach acid ( HCl- hydrochloric acid)
(very strong acid)
C. A basic solution (base) would have more OH- than H+.
1. A basic solution is anything greater than 7 on the
pH scale ( the further from 7 the stronger the base)
2. A basic solution ranges from green to dark blue on
pH paper
3. A basic solution has a bitter taste and a slippery
feel
4. Examples of bases
1. Ammonia (NaOH) (very strong base)
2.Bleach
3. Blood
• What would happen if you mix a very
strong acid with a very strong base?
HCl + NaOH+
What is NaCl?
What is H2O?
HO
NaCl
____
+_____
2
The pH Scale
N
E
U
T
R
A
L
ACID
0
1
RED
2
3
4
5
ORANGE
6
7
BASE
8
YELLOW
9 10 11 12 13 14
LIGHT BLUE
DARK BLUE
vinegar
ammonia
Question #1
• Lemon juice
has a pH of
2.2. Is it an
acid or a base?
Question #2
• Detergents
such as Tide
have a pH of
about 10. Is
Tide an acid
or a base?
Question #3
• Seawater has
a pH of 8.2. Is
seawater an
acid or a base?
Question #4
• The inside of
your mouth has
a pH of 7. Is it
an acid or a
base?
Question #5
• How do you
think we came
up with the
term "acid
rain"?