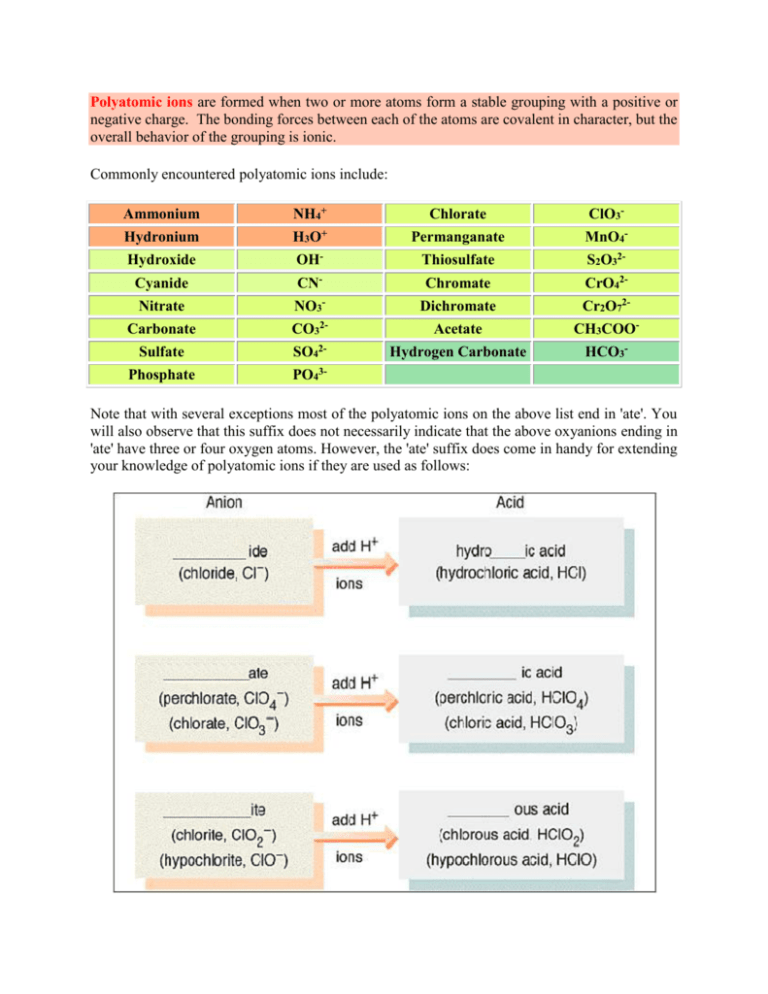 Polyatomic ions are formed when two or more atoms form a stable grouping with a positive or
negative charge. The bonding forces between each of the atoms are covalent in character, but the
overall behavior of the grouping is ionic.
Commonly encountered polyatomic ions include:
Ammonium
NH4+
Chlorate
ClO3-
Hydronium
H3 O+
Permanganate
MnO4-
Hydroxide
OH-
Thiosulfate
S2O32-
Cyanide
CN-
Chromate
CrO42-
Nitrate
NO3-
Dichromate
Cr2O72-
Carbonate
CO32-
Acetate
CH3COO-
Sulfate
SO42-
Hydrogen Carbonate
HCO3-
Phosphate
PO43-
Note that with several exceptions most of the polyatomic ions on the above list end in 'ate'. You
will also observe that this suffix does not necessarily indicate that the above oxyanions ending in
'ate' have three or four oxygen atoms. However, the 'ate' suffix does come in handy for extending
your knowledge of polyatomic ions if they are used as follows:
Here is another way of looking at the "two down- one up" rule.
Keep in mind that polyatomic ions are like any other ion. For example, the Na+ and Cl- ions can,
during the process of electron transfer, form sodium chloride. Likewise, the Na+ and the OHions can form NaOH.
A parentheses is used when two or more polyatomic ions required to balance out an oppositely
charged. For example. Calcium chloride is written, CaCl2. Calcium hydroxide would be
written as Ca(OH)2. Note the positioning of the (), indicating that two hydroxide ions are
required to offset the charge of the calcium.
One final point worth noting, any oxyanion with an oxidation number greater than one, may
accommodate one or more hydrogen atoms and still possess a charge. For example, the CO32ion may acquire a hydrogen atom and still possess an overall charge: H+ + CO32- > HCO3(sodium hydrogen carbonate). The addition of a second hydrogen would result in a compound;
in this case carbonic acid, H2CO3. Note that the overall charge of H2CO3 is now zero. H2CO3 is
an acid...it is not a polyatomic ion. The nomenclature for acids is based upon the polyatgomic
ions from which the acid is grammatically derived.