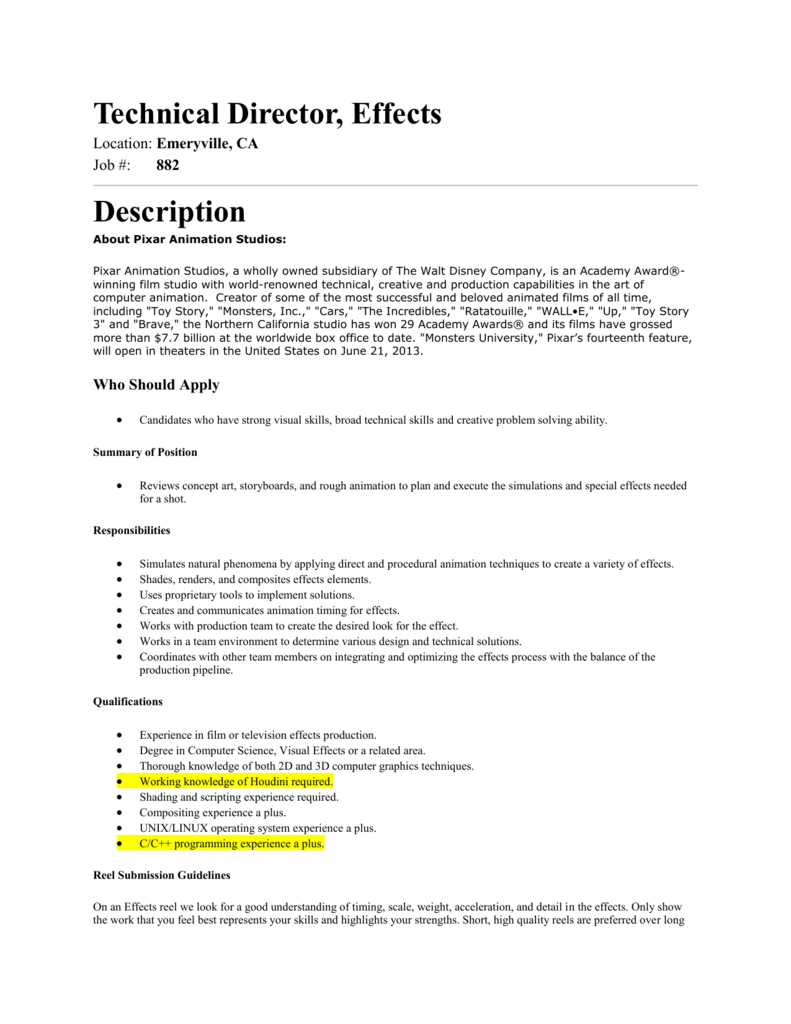 Technical Director, Effects
Location: Emeryville, CA
Job #:
882
Description
About Pixar Animation Studios:
Pixar Animation Studios, a wholly owned subsidiary of The Walt Disney Company, is an Academy Award®winning film studio with world-renowned technical, creative and production capabilities in the art of
computer animation. Creator of some of the most successful and beloved animated films of all time,
including "Toy Story," "Monsters, Inc.," "Cars," "The Incredibles," "Ratatouille," "WALL•E," "Up," "Toy Story
3" and "Brave," the Northern California studio has won 29 Academy Awards® and its films have grossed
more than $7.7 billion at the worldwide box office to date. "Monsters University," Pixar's fourteenth feature,
will open in theaters in the United States on June 21, 2013.
Who Should Apply

Candidates who have strong visual skills, broad technical skills and creative problem solving ability.
Summary of Position

Reviews concept art, storyboards, and rough animation to plan and execute the simulations and special effects needed
for a shot.
Responsibilities







Simulates natural phenomena by applying direct and procedural animation techniques to create a variety of effects.
Shades, renders, and composites effects elements.
Uses proprietary tools to implement solutions.
Creates and communicates animation timing for effects.
Works with production team to create the desired look for the effect.
Works in a team environment to determine various design and technical solutions.
Coordinates with other team members on integrating and optimizing the effects process with the balance of the
production pipeline.
Qualifications








Experience in film or television effects production.
Degree in Computer Science, Visual Effects or a related area.
Thorough knowledge of both 2D and 3D computer graphics techniques.
Working knowledge of Houdini required.
Shading and scripting experience required.
Compositing experience a plus.
UNIX/LINUX operating system experience a plus.
C/C++ programming experience a plus.
Reel Submission Guidelines
On an Effects reel we look for a good understanding of timing, scale, weight, acceleration, and detail in the effects. Only show
the work that you feel best represents your skills and highlights your strengths. Short, high quality reels are preferred over long
reels with work that might not best represent your skills or aesthetic.
The most important thing for us to know when watching your reel is exactly what you did in each shot. Ideally, we would like
for you to show us the elements you used to create the shot effects along with the final shot. This is especially important when
showing live action. If this is not possible, then please be as detailed as you can about which effect you are responsible for and
whether or not you did the final integration. If there is effects work in the shot that you are not responsible for, document this in
your breakdown. If there are live action effects in the shot, make sure to point this out too. The clearer it is to us what you did and
how you did it, the easier it is for us to assess your skills.
Once you have submitted your online application, please click on the SlideRoom link below
and upload your demo reel.
SlideRoom Applicant Portal
SlideRoom Applicant Portal
- First Time Users
-Please sign up for a SlideRoom Account in order to upload your demo reel.
Note:
Please be sure to use the EXACT same e-mail address that you used for your online
application.
Already signed up? Go ahead and login to update your submission!






For tips on how to create a demo reel please click here.
For technical help with uploading your demo reel please click here.
If uploading examples of visual work to SlideRoom, please upload file in a video
format (ex. mov, wmv, flv, mp4).
Due to the high volume of submissions, we're not able to provide feedback.
Please do not mail in your material to Pixar--follow the instructions above.
You will receive an email acknowledging the successful receipt of your online
application. Depending on the number of applicants, we are generally able to make final
hiring decisions 3-4 weeks after the posted deadline date. We will contact you directly to
discuss the opportunity if we are interested.
Pixar is an Equal Opportunity Employer.