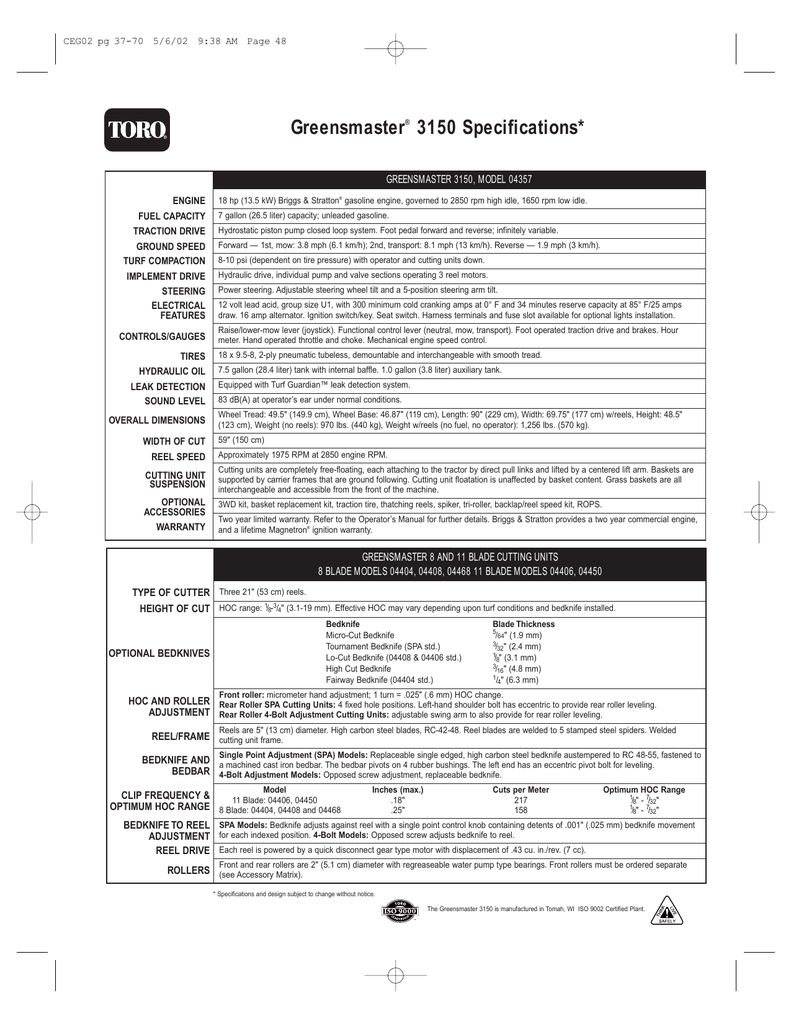 CEG02 pg 37-70 5/6/02 9:38 AM Page 48
®
Greensmaster 3150 Specifications*
GREENSMASTER 3150, MODEL 04357
ENGINE
FUEL CAPACITY
TRACTION DRIVE
GROUND SPEED
TURF COMPACTION
IMPLEMENT DRIVE
STEERING
ELECTRICAL
FEATURES
CONTROLS/GAUGES
TIRES
HYDRAULIC OIL
LEAK DETECTION
SOUND LEVEL
OVERALL DIMENSIONS
WIDTH OF CUT
REEL SPEED
CUTTING UNIT
SUSPENSION
OPTIONAL
ACCESSORIES
WARRANTY
18 hp (13.5 kW) Briggs & Stratton gasoline engine, governed to 2850 rpm high idle, 1650 rpm low idle.
®
7 gallon (26.5 liter) capacity; unleaded gasoline.
Hydrostatic piston pump closed loop system. Foot pedal forward and reverse; infinitely variable.
Forward — 1st, mow: 3.8 mph (6.1 km/h); 2nd, transport: 8.1 mph (13 km/h). Reverse — 1.9 mph (3 km/h).
8-10 psi (dependent on tire pressure) with operator and cutting units down.
Hydraulic drive, individual pump and valve sections operating 3 reel motors.
Power steering. Adjustable steering wheel tilt and a 5-position steering arm tilt.
12 volt lead acid, group size U1, with 300 minimum cold cranking amps at 0° F and 34 minutes reserve capacity at 85° F/25 amps
draw. 16 amp alternator. Ignition switch/key. Seat switch. Harness terminals and fuse slot available for optional lights installation.
Raise/lower-mow lever (joystick). Functional control lever (neutral, mow, transport). Foot operated traction drive and brakes. Hour
meter. Hand operated throttle and choke. Mechanical engine speed control.
18 x 9.5-8, 2-ply pneumatic tubeless, demountable and interchangeable with smooth tread.
7.5 gallon (28.4 liter) tank with internal baffle. 1.0 gallon (3.8 liter) auxiliary tank.
Equipped with Turf Guardian™ leak detection system.
83 dB(A) at operator's ear under normal conditions.
Wheel Tread: 49.5" (149.9 cm), Wheel Base: 46.87" (119 cm), Length: 90" (229 cm), Width: 69.75" (177 cm) w/reels, Height: 48.5"
(123 cm), Weight (no reels): 970 lbs. (440 kg), Weight w/reels (no fuel, no operator): 1,256 lbs. (570 kg).
59" (150 cm)
Approximately 1975 RPM at 2850 engine RPM.
Cutting units are completely free-floating, each attaching to the tractor by direct pull links and lifted by a centered lift arm. Baskets are
supported by carrier frames that are ground following. Cutting unit floatation is unaffected by basket content. Grass baskets are all
interchangeable and accessible from the front of the machine.
3WD kit, basket replacement kit, traction tire, thatching reels, spiker, tri-roller, backlap/reel speed kit, ROPS.
Two year limited warranty. Refer to the Operator's Manual for further details. Briggs & Stratton provides a two year commercial engine,
and a lifetime Magnetron® ignition warranty.
GREENSMASTER 8 AND 11 BLADE CUTTING UNITS
8 BLADE MODELS 04404, 04408, 04468 11 BLADE MODELS 04406, 04450
TYPE OF CUTTER Three 21" (53 cm) reels.
HEIGHT OF CUT HOC range: 1/8-3/4" (3.1-19 mm). Effective HOC may vary depending upon turf conditions and bedknife installed.
Bedknife
Micro-Cut Bedknife
Tournament Bedknife (SPA std.)
Lo-Cut Bedknife (04408 & 04406 std.)
High Cut Bedknife
Fairway Bedknife (04404 std.)
OPTIONAL BEDKNIVES
Blade Thickness
5
/64" (1.9 mm)
3
/32" (2.4 mm)
1
/8" (3.1 mm)
3/ " (4.8 mm)
16
1/ " (6.3 mm)
4
Front roller: micrometer hand adjustment; 1 turn = .025" (.6 mm) HOC change.
HOC AND ROLLER Rear Roller SPA Cutting Units: 4 fixed hole positions. Left-hand shoulder bolt has eccentric to provide rear roller leveling.
ADJUSTMENT Rear Roller 4-Bolt Adjustment Cutting Units: adjustable swing arm to also provide for rear roller leveling.
Reels are 5" (13 cm) diameter. High carbon steel blades, RC-42-48. Reel blades are welded to 5 stamped steel spiders. Welded
REEL/FRAME cutting unit frame.
Single Point Adjustment (SPA) Models: Replaceable single edged, high carbon steel bedknife austempered to RC 48-55, fastened to
BEDKNIFE AND a machined cast iron bedbar. The bedbar pivots on 4 rubber bushings. The left end has an eccentric pivot bolt for leveling.
BEDBAR 4-Bolt Adjustment Models: Opposed screw adjustment, replaceable bedknife.
Model
CLIP FREQUENCY &
11 Blade: 04406, 04450
OPTIMUM HOC RANGE 8 Blade: 04404, 04408 and 04468
Inches (max.)
.18"
.25"
Cuts per Meter
217
158
Optimum HOC Range
1/ " - 7/ "
8
32
1/ " - 7/ "
8
32
BEDKNIFE TO REEL SPA Models: Bedknife adjusts against reel with a single point control knob containing detents of .001" (.025 mm) bedknife movement
ADJUSTMENT for each indexed position. 4-Bolt Models: Opposed screw adjusts bedknife to reel.
REEL DRIVE Each reel is powered by a quick disconnect gear type motor with displacement of .43 cu. in./rev. (7 cc).
Front and rear rollers are 2" (5.1 cm) diameter with regreaseable water pump type bearings. Front rollers must be ordered separate
ROLLERS (see Accessory Matrix).
* Specifications and design subject to change without notice.
The Greensmaster 3150 is manufactured in Tomah, WI ISO 9002 Certified Plant.