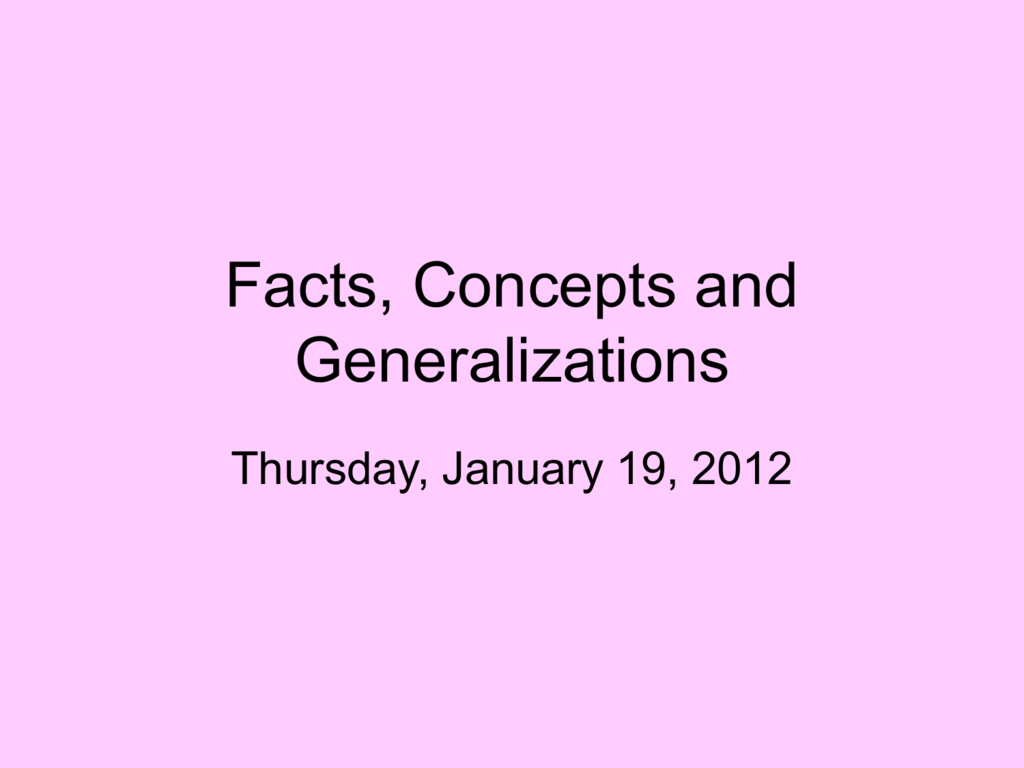 Facts, Concepts and
Generalizations
Thursday, January 19, 2012
Learning Objectives for today's Lesson:
Students (You!  ) will be able to:
• Differentiate between a fact, concept and
generalization.
• Explain the importance of generalizations.
• Identify strategies for teaching concepts and
generalizations.
This relates to our Course Objective of:
• Explain and implement the role of inquiry,
concepts and generalizations in Social Studies.
Important Idea to remember…
• Students gain factual knowledge, build
concepts and form generalizations all the
time (at home, on the playground, in front
of the tv)
• In class, we want to create experiences for
students to gain factual knowledge, build
concepts and form generalizations that
help them understand Social Studies
content (life!) better.
Facts
• Do not need to be
"academic" sounding.
• Do not need to be
detailed.
• Examples of Facts:
– My family has four
people in it.
– Florida has a warmer
winter than Canada.
Concepts
•
•
•
•
Ideas
Abstract
Construct Meaning
Examples:
–
–
–
–
–
Family
Climate
Nation
Island
War
Activity
• Pick an age group and discuss what "factual" knowledge
you would expect your students to have based on their
prior experience.
• Your group will have one of the following concepts:
–
–
–
–
–
–
–
–
–
Family
Community
Money
Trade
War
Internet
Religion
Government
Law
Generalization
• Relationships among 2 or more concepts.
• These can be big understandings/ideas for a
unit.
• Examples:
– Families vary in structure, number and experience.
– Climate varies by location.
– War has negative effects for the environment and
citizens of a region.
– Creating, using and understanding maps helps us
understand our world and its people.
Generalization
Concepts
Facts
Generalizations: Customers
need to make choices at stores based on
the amount of money they have and the
cost of items.
Concepts: Cost, Product, Sales,
Store, Money
Facts: Cars 2 Movie cost $15.00.
Milk cost 3.90. Baby Formula cost $24.00.
Mom has 30.00. Mom says she doesn't
have enough money for the movie I want.
Activity
•
•
•
•
•
•
•
•
Playground
Restaurant
Riding in Car
Playing Baseball
Hallway at School
Going to the Airport
Going to the Library
Watching a professional hockey game.
Generalizations: Creating,
understanding and using maps can help us
learn about the world and its people.
Concepts: Map, Location, Scale,
Legend/Key, Data, Index, Grid, Source, Title,
Orientation/Direction
Facts: 39*North and 92*W are the
latitude and longitude coordinates of my
hometown. Grids can be used to find a place
on a map and while travellling. Geographic
Information systems store data. Maps are
more attractive to me when they are in color.
Legends tell what the symbols mean on a
map.
Activity
• Create a Facts, Concepts, Generalizations
triangle to include some of your ideas for
your thematic unit.
• Consider and list on the side:
– Possible Misconceptions
– Possible Inaccurate Generalization
Experiences in the classroom.
• Like Inquiry, creating experiences where
students gain factual knowledge, construct
concepts and form generalizations can
take many forms.
– Inquiry based activities
– Guided Discovery (what we'll be doing today)
– Field Trips
– Books
– Summative Projects
Africa Posters Activity
• "Country Projects"
• "Concept Maps"
• Developed Countries
• Examples and Non Examples
• Gather Data
• Concept Map
Matching Quiz
• Based on readings and lecture.