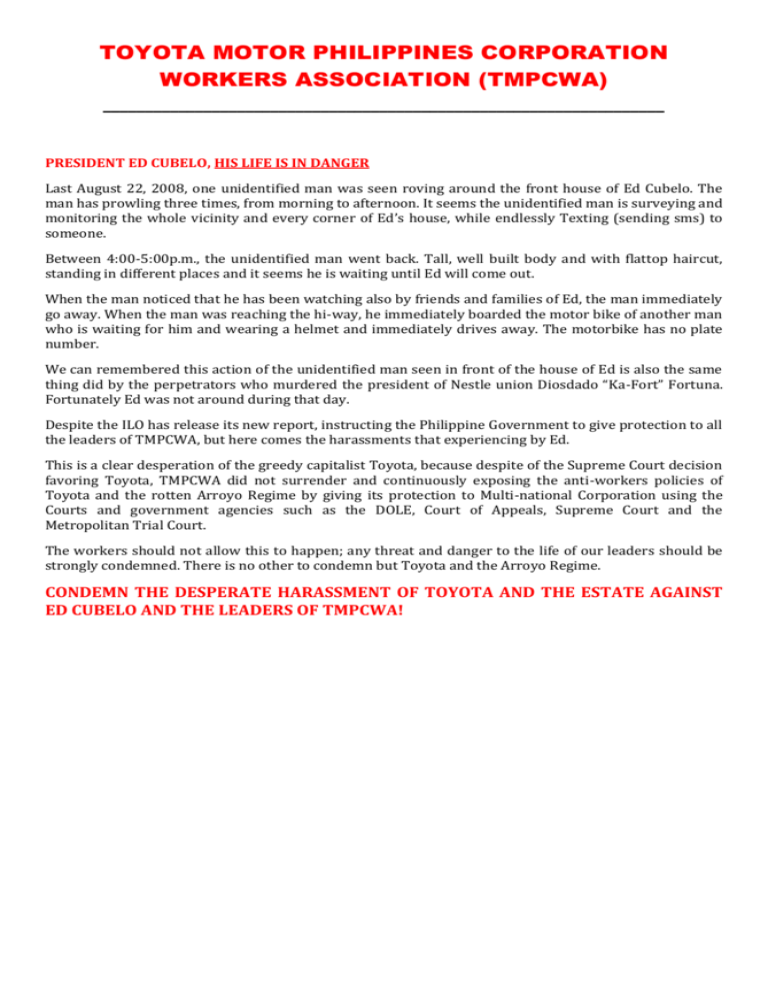 TOYOTA MOTOR PHILIPPINES CORPORATION
WORKERS ASSOCIATION (TMPCWA)
___________________________________________________________________
PRESIDENT ED CUBELO, HIS LIFE IS IN DANGER
Last August 22, 2008, one unidentified man was seen roving around the front house of Ed Cubelo. The
man has prowling three times, from morning to afternoon. It seems the unidentified man is surveying and
monitoring the whole vicinity and every corner of Ed's house, while endlessly Texting (sending sms) to
someone.
Between 4:00-5:00p.m., the unidentified man went back. Tall, well built body and with flattop haircut,
standing in different places and it seems he is waiting until Ed will come out.
When the man noticed that he has been watching also by friends and families of Ed, the man immediately
go away. When the man was reaching the hi-way, he immediately boarded the motor bike of another man
who is waiting for him and wearing a helmet and immediately drives away. The motorbike has no plate
number.
We can remembered this action of the unidentified man seen in front of the house of Ed is also the same
thing did by the perpetrators who murdered the president of Nestle union Diosdado "Ka-Fort" Fortuna.
Fortunately Ed was not around during that day.
Despite the ILO has release its new report, instructing the Philippine Government to give protection to all
the leaders of TMPCWA, but here comes the harassments that experiencing by Ed.
This is a clear desperation of the greedy capitalist Toyota, because despite of the Supreme Court decision
favoring Toyota, TMPCWA did not surrender and continuously exposing the anti-workers policies of
Toyota and the rotten Arroyo Regime by giving its protection to Multi-national Corporation using the
Courts and government agencies such as the DOLE, Court of Appeals, Supreme Court and the
Metropolitan Trial Court.
The workers should not allow this to happen; any threat and danger to the life of our leaders should be
strongly condemned. There is no other to condemn but Toyota and the Arroyo Regime.
CONDEMN THE DESPERATE HARASSMENT OF TOYOTA AND THE ESTATE AGAINST
ED CUBELO AND THE LEADERS OF TMPCWA!