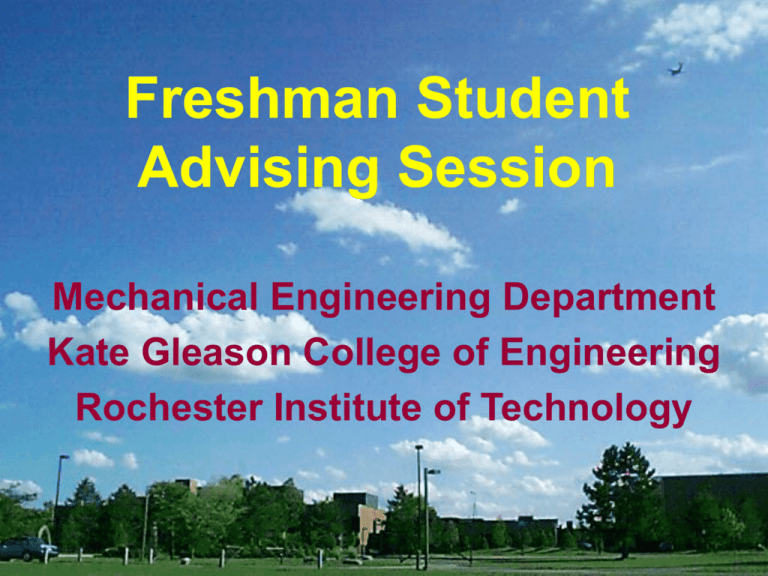 Freshman Student
Advising Session
Mechanical Engineering Department
Kate Gleason College of Engineering
Rochester Institute of Technology
Summary – Five Week Status
• If you are having trouble this quarter
– Academic Assistance Resources
– Course Withdraw Procedure
– Institute Withdraw Procedure
• Winter Course Selection
–
–
–
–
–
–
–
Winter Course Options
Procedure
Student Information System
SIS AAR and ME Degree Audit System
Liberal Arts worksheet
Your Degree Completion Checklist
Planning your course schedule for winter
If you are having trouble with
a course this quarter…
• Take advantage of the academic assistance
resources that are available to you.
• Work in a study group to get a different
perspective on your homework.
• Use time management skills to budget your
time and re-examine your priorities.
• Spend more time studying.
• If all else fails, and you are quite certain of a
failing grade, then, and only then, consider
withdrawing from the course.
Academic Assistance
Resources
•
•
•
•
•
•
•
Faculty – Course Instructor
Faculty – Academic Advisor
Engineering Learning Center
Math Lab
Physics Lab (Spring Quarter)
Academic Support Center (Eastman Bldg)
Counseling Center (Student Life Center)
Course Withdraw Procedures
• Discuss your situation with the Course Instructor. If they
agree, ask them to fill a W form.
• Discuss your situation with your Academic Advisor. If
they agree, ask them to fill a W form.
• Schedule a 15 minute appointment with Dr. Nye, to
explain your reasoning, and your plan for catching up
on your course work.
• If all advisors agree, then Diane will withdraw you from
the class.
• DO NOT USE "W" AS A CRUTCH. USE THIS TOOL
SPARINGLY DURING YOUR CAREER!
• "W" will appear on your permanent transcript.
DEADLINE IS APPROACHING FAST. MUST BE DONE
BY THE END OF WEEK SIX!!!
Institute Withdraw Procedures
• Discuss your situation with your Academic Advisor. If
they agree, ask them to help you fill out an INSTITUTE
WITHDRAW form.
• Only used in rare cases of illness or family emergency,
etc. Not to be used to a series of bad grades in a
quarter, and may not be approved for such.
• Results in a "W" grade for ALL courses in the quarter.
• Implications regarding re-entry into RIT.
• May be completed up to the 8th week of the quarter,
with documented extenuating circumstances.
• There may be significant implications on your financial
aid. Be sure to meet with your financial aid advisor in
addition to your academic advisor and the Associate
Department Head of ME.
• "W's" will appear on your permanent transcript.
Winter Registration Procedures
• Study the First Year Choices and your ME Handbook to plan your
next courses for winter quarter
• Meet with the liberal arts advising office to discuss possible core
and focus areas
• Use the On-line SIS system to learn what classes are available,
and when
• Prepare a preliminary schedule of classes
• Bring your proposed schedule of classes to a 15 minute meeting
with your academic advisor
• Come prepared with specific questions you would like to have
answered
• After advising, request your advisor to remove the Dean's hold on
your account by notifying the ME Office
• After the hold is removed, you may use SIS to sign up for classes
when it is your turn.
• Update your degree completion checklist every quarter!
First Year Choices
Planning for Winter Quarter
Fall Quarter
Winter Quarter
Spring Quarter
Freshman Seminar
Freshman Seminar
Materials Processing
Engineering Design
Graphics
Physics I and Lab
Chemistry I
Chem. Of Materials /
Lab
Problem Solving /
Computers
Calculus I
Calculus II
Calculus III
Liberal Arts
Liberal Arts
Liberal Arts
First Year
Enrichment
First Year
Enrichment
Phys Ed
Daily Schedule Planning
Time
Mon
Tue
8 am Math
9 am
10 am Mech
11am Eng
Math
Math
12 pm
1 pm
2 pm Chem
Fr Sem
3 pm Lib Arts
4 pm
5 pm FYE
Wed
Thu
Math
Math
Mech
Eng
Fri
Math
Mech
Eng
Activity
Chem
Lib Arts
Chem
Chem
Lib Arts
Lib Arts
Repeat of Grade Form
• Make sure your SIS
AAR indicates "Re" for
each repeated course
• Failure to file a Repeat
of Grade form may
adversely impact your
GPA!
• Do not wait until the
last quarter! File these
earlier to make sure
the proper GPA
computation appears
on interview
transcripts!
Remember to fill out a repeat of grade form if you
decide to take a class over in winter quarter.
Your Degree Completion Checklist
• You should monitor your OWN checklist to plan towards graduation
• These are available in your student handbook and in the ME Office
• Do not wait until your last quarter to resolve discrepancies!
Liberal Arts Worksheet
• Start working on
your liberal arts
worksheet now!
• You must satisfy
both the CORE and
CONCENTRATION
Requirements!
• Your Liberal Arts
Worksheet needs to
be approved by
Liberal Arts Office of
Academic Advising,
not by Mechanical
Engineering!
Academic Advising Report
• You can print a
copy of your
personal AAR
through the
Student
Information
System at any
time.
• Use the AAR to
confirm progress
towards your
degree, and credit
for all activities
including transfer,
AP, co-op, course
repeats, etc.
ME Degree Audit System
• Diane prepares the ME Degree Audit checklist to show outstanding
courses needed for degree completion
• Bring any discrepancies between the AAR and the ME-DAS to
Diane's attention.
• Compare ME-DAS and AAR to your personal records!