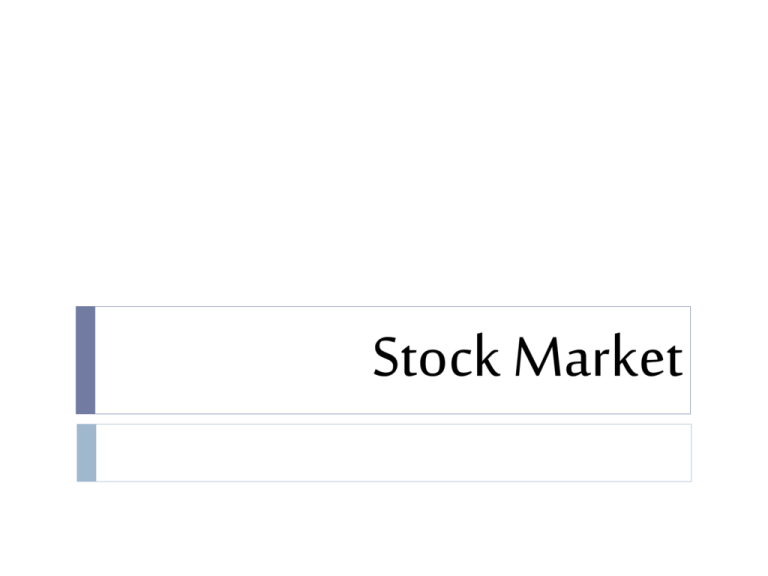 Stock Market
14 year old investor
What are Some of Your Favorite Companies?
What is a stock?

A stock is a share in the ownership of a company. Stock
represents a claim on the company's assets and earnings.

As an owner (shareholder), you are entitled to your share
of the company's earnings as well as any voting rights
attached to the stock.
What is the Stock Market?


The market in which shares of publicly held companies
are issued and traded for money.
It provides companies with access to capital in exchange
for giving investors a slice of ownership in the company.
Who Owns these Companies?
General Electric
Ownership
41%
59%
Apple Ownership
Company
Owned
Publicly
Owned
http://www.nasdaq.com/symbol/ge/institutional-holdings
Dell Ownership
38%
62%
http://www.nasdaq.com/symbol/aapl/institutional-holdings
Pepsi Ownership
0%
100%
Company
Owned
Publicly
Owned
Company
Owned
Publicly
Owned
29%
71%
Company
Owned
Publicly
Owned
http://www.nasdaq.com/symbol/pep/institutional-holdings
What is the Difference?
Publicly Traded



A public company, is a
company that has sold a
portion of itself to the
public
Offers some of its stock
to shareholders , on the
stock market
Shareholders have claim
to part of the company's
assets and profits
Privately Traded


The company is owned by
the company's founders,
management or a group of
private investors
Privately held
companies do not
have stock traded on the
stock market
Ticker Symbols

An arrangement of characters (usually letters)
representing a particular security listed on an exchange
or otherwise traded publicly




AAPL – Apple Inc.
MSFT – Microsoft
PEP – Pepsi Co.
GOOG – Google Inc.
Parent Companies
http://www.huffingtonpost.com/2012/04/27/consumer-brands-owned-ten-companies-graphic_n_1458812.html
Parent Companies
So looking at the above chart.
 Pepsi is the parent company of Lays
 P&G is the parent company of Lams
This is important to know when researching stocks. If you
are interested in a company and cant find it on Yahoo
finance or Hoovers then you should look up the parent
company.

PE Ratio
A valuation ratio of a company's current share price
compared to its per-share earnings.
Calculated as:
Market Value per Share / Earnings per Share (EPS)
For example, if a company is currently trading at $43 a
share and earnings over the last 12 months were $1.95 per
share, the P/E ratio for the stock would be 22.05
($43/$1.95).
52 week high/low

The highest and lowest
prices that a stock has
traded at during the
previous year. Many
traders and investors view
the 52-week high or low
as an important factor in
determining a stock's
current value and
predicting future price
movement.
EPS(Earnings Per Share)



The portion of a
company's profit
allocated to each
outstanding share of
common stock.
Earnings per share
serves as an indicator
of a company's
profitability.
Calculated as:
Earnings per share is generally
considered to be the single most
important variable in determining a
share's price. It is also a major
component used to calculate the
price-to-earnings valuation ratio.
For example, assume that a company
has a net income of $25 million. If the
company pays out $1 million in
preferred dividends and has 10 million
shares for half of the year and 15
million shares for the other half, the
EPS would be $1.92 (24/12.5). First,
the $1 million is deducted from the
net income to get $24 million, then a
weighted average is taken to find the
number of shares outstanding (0.5 x
10M+ 0.5 x 15M = 12.5M).
Dividend


DEFINITION OF 'DIVIDEND'
1. A distribution of a portion of a
company's earnings, decided by
the board of directors, to a class
of its shareholders. The dividend is
most often quoted in terms of the
dollar amount each share receives
(dividends per share). It can also
be quoted in terms of a percent of
the current market price, referred
to as dividend yield.
Also referred to as "Dividend Per
Share (DPS)."
2. Mandatory distributions of
income and realized capital gains
made to mutual fund investors.

1. Dividends may be in the form of
cash, stock or property. Most
secure and stable companies offer
dividends to their stockholders.
Their share prices might not move
much, but the dividend attempts
to make up for this.
High-growth companies rarely
offer dividends because all of their
profits are reinvested to help
sustain higher-than-average
growth.
Yield



DEFINITION OF 'YIELD'
The income return on an
investment. This refers to
the interest or dividends
received from a security and
is usually expressed annually
as a percentage based on the
investment's cost, its current
market value or its face
value.


This seemingly simple term,
without a qualifier, can be
rather confusing to
investors.
For example, there are two
stock dividend yields. If you
buy a stock for $30 (cost
basis) and its current price
and annual dividend is $33
and $1, respectively, the
"cost yield" will be 3.3%
($1/$30) and the "current
yield" will be 3% ($1/$33).