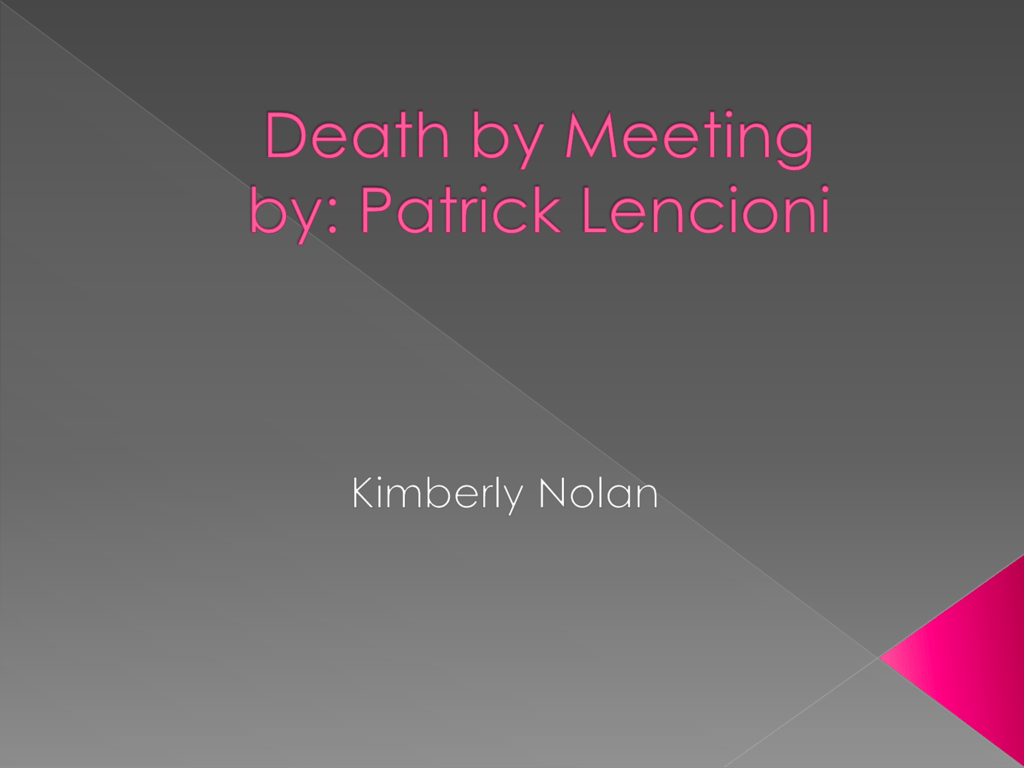 In the book, Death by Meeting, meetings
were conducted in four different ways
based on what was being discussed.
 Daily Check-in
 Weekly Tactical
 Monthly Strategic
 Off-site Review

Book
›
›
›
›
›
›

Purpose: Share daily schedules and activities. (pg. 249)
5 minutes
Face to Face
Standing
Strictly Administrative
Everyone not needed
How to make it work for your team?
› Hold meeting during the first few minutes before or after
›
›
›
›
class
Keep it short and friendly
Plans for the week and items everyone will be working on
Only discuss issues pertaining to meetings, documentation,
communication, or correspondence
If anyone brings up a larger issue, take note and discuss it
at the next strategic meeting

Book
› Purpose: Review weekly activities and metrics, and resolve
tactical issues (pg. 249)
› No agenda
› Approx. 1 hour

How to make it relate to your group
work?
› This is our class time, in which…
› Mr. Brown explains broad plans of our Service Learning
Projects
› Discuss how groups and meetings should run
› Discuss progress, and problems
› Confirm two topics for Monthly Strategic

Book
› Purpose: Discuss, analyze, brainstorm, and decide upon
›
›
›
›

critical issues, impacting the long-term goal (pg. 249)
Limit to one or two topics
1-2 hours
Prepare, research
Engage in conflict
Implementing Monthly Strategic in your
group
› Plan to meet for 1 hour minimum
› Prepare and come ready to argue for your ideas on the
issues decided on in the Tactical Meeting
› Ensure participation from all members

Book
› Review Strategy, industry trends, competitive landscape,
›
›
›
›

key personnel, team development (pg. 249)
1-2 Days
Out of the office
Limit distractions
Don't schedule too much
Off-Sites and your group
› Rare that this type of meeting would be used for our
project
› Could be helpful in getting to know your team members
› A visit to Hospice could be looked at as an Off-Site Review
Spend time ensuring that everyone
provides their opinion
 Organize meetings to discuss like topics
 Focus on one to two topics

Effective meetings will save time and
create results!

Lencioni, Patrick. Death by Meeting; A
Leadership Fable. San Francisco, CA:
Jossey-Bass, 2004.