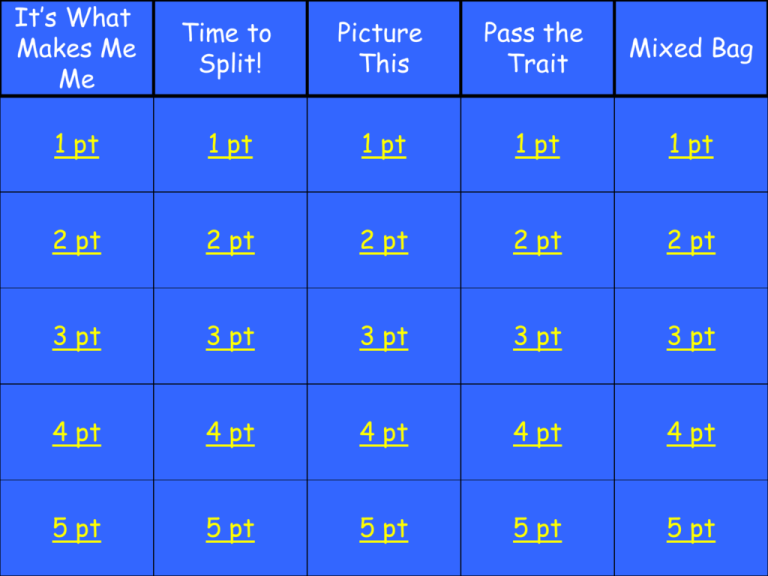 It's What
Makes Me
Me
Time to
Split!
Picture
This
Pass the
Trait
Mixed Bag
1 pt
1 pt
1 pt
1 pt
1 pt
2 pt
2 pt
2 pt
2 pt
2 pt
3 pt
3 pt
3 pt
3 pt
3 pt
4 pt
4 pt
4 pt
4 pt
4 pt
5 pt
5 pt
5 pt
5 pt
5 pt
Who are the
two scientists
credited for
discovering
DNA?
James Watson
and Francis Crick
Scientists
describe the
shape of the
DNA molecule as
this?
Double Helix
Name the 4
nitrogen bases
found in DNA and
explain how they
bond.
Adenine (A), Thymine
(T), Guanine (G) and
Cytosine (C)
A and T bond together.
G and C bond together.
What holds the
nitrogen bases
together to make
up the rungs of the
ladder in DNA?
Nitrogen bases
bond to their
corresponding
nitrogen base by
hydrogen bonds
What is the three
part basic building
block of DNA called
and what are the
three parts?
It is called a
nucleotide. It is made
up of a sugar called
deoxyribose, a
phosphate group and a
nitrogen base.
Name the 6
phases of the
cell cycle in
order.
Interphase,Prophase,
Metaphase,
Anaphase,Telophase
and Cytokinesis
This is the stage of the
cell cycle where the
chromosomes split at the
centromere into two
separate chromatids.
Sister chromatids move
to opposite poles of the
cell.
Anaphase
Explain what
happens during
Interphase.
During Interphase
the cell obtains
nutrients to grow.
The cell prepares to
divide by making a
copy of its DNA.
What stage of the
cell cycle does the
cell spend most of
its time in?
Interphase
Explain how
DNA replication
occurs.
DNA replication is another way of saying the
DNA is copied. This occurs during
interphase.
1) Hydrogen bonds between the nitrogen bases
break and the two strands separate much like
a zipper coming apart.
2) Nucleotides that are floating in the nucleus
fill in correct spots on both strands of DNA.
There are now two complete identical double
helixes of DNA
Describe this phenotype.
Blue eyes
This is a picture of one cell in
one of the phases in the cell
cycle. What phase is it in?
Metaphase
*You can notice that
the chromosomes are
lined up in the center
of the cell.
What is the name of this tool
that is used to predict the
probability of offspring
genotypes?
Punnett Square
What phase comes directly
before this picture? What phase
directly follows it?
This cell is in Anaphase
so the phase that
comes directly before
it is Metaphase and
the phase that directly
follows it is Telophase.
The green shape is Thymine and
the purple shape is Cytosine.
1) What does the red represent?
2) What does the yellow
represent?
3) What is the dark blue on the
sides of molecule?
4) What is the aqua on the side
of the molecule?
5) What do the small circles in
the center of the molecule
represent?
1) Red = Adenine
2) Yellow = Guanine
3) Blue = Deoxyribose
4) Aqua = Phosphate group
5) Circles = Hydrogen bonds
In Mendel's experiments yellow
seed color is dominant to green
seed color. Explain why the
phenotype of a pea plant would
be yellow seed color if it had a
genotype of Yy. You must use
correct vocabulary.
Answers will vary-because
yellow is dominant to green
the one dominant allele (Y)
masks or hides the one
recessive allele and all you
can see is the dominant
color.
Explain the below genotypes
using two different sets of
vocabulary
(purebred/hybrid or
homozygous/heterozygous).
1) FF 2) Ff 3) ff
1) Either Homozygous Dominant
or Purebred Dominant
2) Heterozygous or Hybrid
3) Either Homozygous Recessive
or Purebred Recessive
Angelina Jolie is a hybrid for
straight hairline. Brad Pitt is
homozygous recessive for widow's
peak.
Angelina is pregnant AGAIN! (no
not really) Predict the probabilities
for both genotype and phenotype
by completing a punnett square.
s
S
s
s
Ss
Ss
ss
ss
50% homozygous recessive,
widow's peak
50% heterozygous, straight
hairline
Having a cleft chin is
dominant over not having a
cleft chin. Predict the
percentages for having a
child with a cleft chin if a
hybrid man is crossed with
a woman that does not have
a cleft chin.
c
c
C
c
Cc
cc
Cc
cc
50%
would
have
a
cleft
chin
In rabbits, the allele for a
spotted coat is dominant over
the allele for a solid colored
coat. A spotted rabbit was
crossed with a solid color
rabbit. The offspring all had
spotted coats. What were
the genotypes of the parents.
Explain.
We know that if spotted is dominant
and one parent has a solid coat that
that parent must have a genotype of ss
because the only way you can see the
recessive trait is to have two recessive
alleles. If all offspring had spotted
coats than the other parent must be
SS because if it had a recessive allele
then that allele would be passed down
to 50% of the offspring and 50% would
be solid.
A chromosome is made up
of 2 sister
_______________
and held together by a
___________________.
chromatids ,
centromere
This stage ends with the cell
membrane pinching into two
daughter cells. This stage is
different in an animal cell
compared to a plant cell
because a plant cell has a cell
wall therefore a cell plate
forms to divide cell in two.
Cytokinesis
Below you are given half
a strand of DNA .
What would be the other
half?
ATTTGGCGATG
Given-ATTTGGCGATG
Answer-TAAACCGCTAC
What are the different
forms of a gene called?
Alleles
How many chromosomes
does each sex cell (egg
and sperm) carry?
Each carry 23
chromosomes,
½ the number
needed to make
a human.