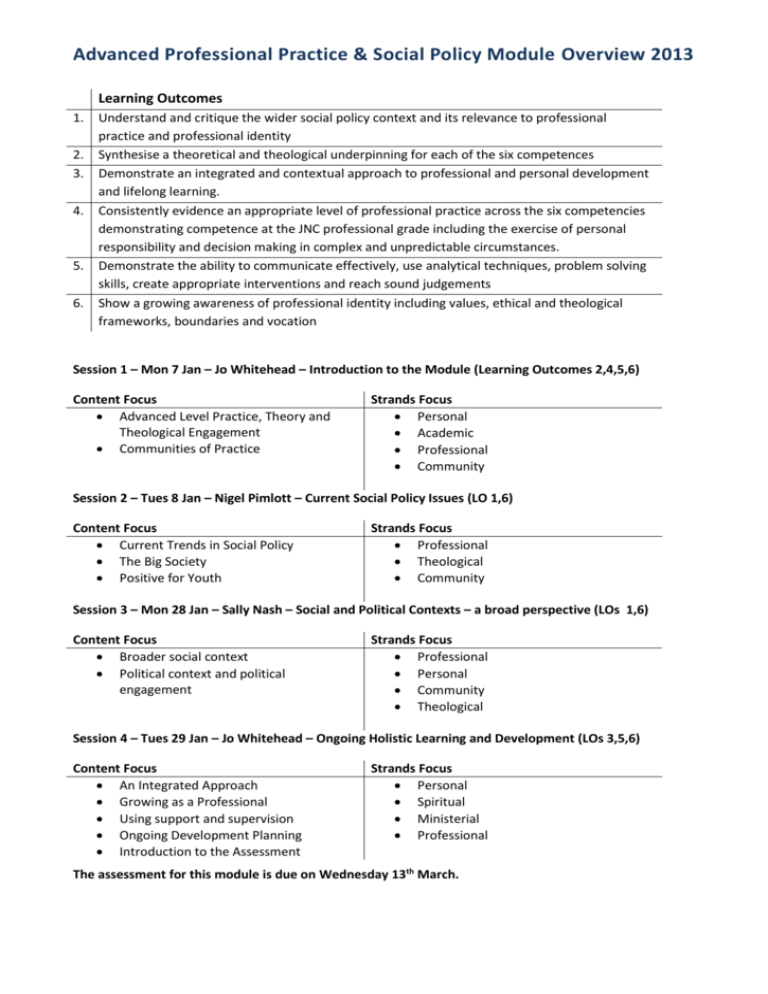 Advanced Professional Practice & Social Policy Module Overview 2013
Learning Outcomes
1.
2.
3.
4.
5.
6.
Understand and critique the wider social policy context and its relevance to professional
practice and professional identity
Synthesise a theoretical and theological underpinning for each of the six competences
Demonstrate an integrated and contextual approach to professional and personal development
and lifelong learning.
Consistently evidence an appropriate level of professional practice across the six competencies
demonstrating competence at the JNC professional grade including the exercise of personal
responsibility and decision making in complex and unpredictable circumstances.
Demonstrate the ability to communicate effectively, use analytical techniques, problem solving
skills, create appropriate interventions and reach sound judgements
Show a growing awareness of professional identity including values, ethical and theological
frameworks, boundaries and vocation
Session 1 – Mon 7 Jan – Jo Whitehead – Introduction to the Module (Learning Outcomes 2,4,5,6)
Content Focus
 Advanced Level Practice, Theory and
Theological Engagement
 Communities of Practice
Strands Focus
 Personal
 Academic
 Professional
 Community
Session 2 – Tues 8 Jan – Nigel Pimlott – Current Social Policy Issues (LO 1,6)
Content Focus
 Current Trends in Social Policy
 The Big Society
 Positive for Youth
Strands Focus
 Professional
 Theological
 Community
Session 3 – Mon 28 Jan – Sally Nash – Social and Political Contexts – a broad perspective (LOs 1,6)
Content Focus
 Broader social context
 Political context and political
engagement
Strands Focus
 Professional
 Personal
 Community
 Theological
Session 4 – Tues 29 Jan – Jo Whitehead – Ongoing Holistic Learning and Development (LOs 3,5,6)
Content Focus
 An Integrated Approach
 Growing as a Professional
 Using support and supervision
 Ongoing Development Planning
 Introduction to the Assessment
Strands Focus
 Personal
 Spiritual
 Ministerial
 Professional
The assessment for this module is due on Wednesday 13th March.