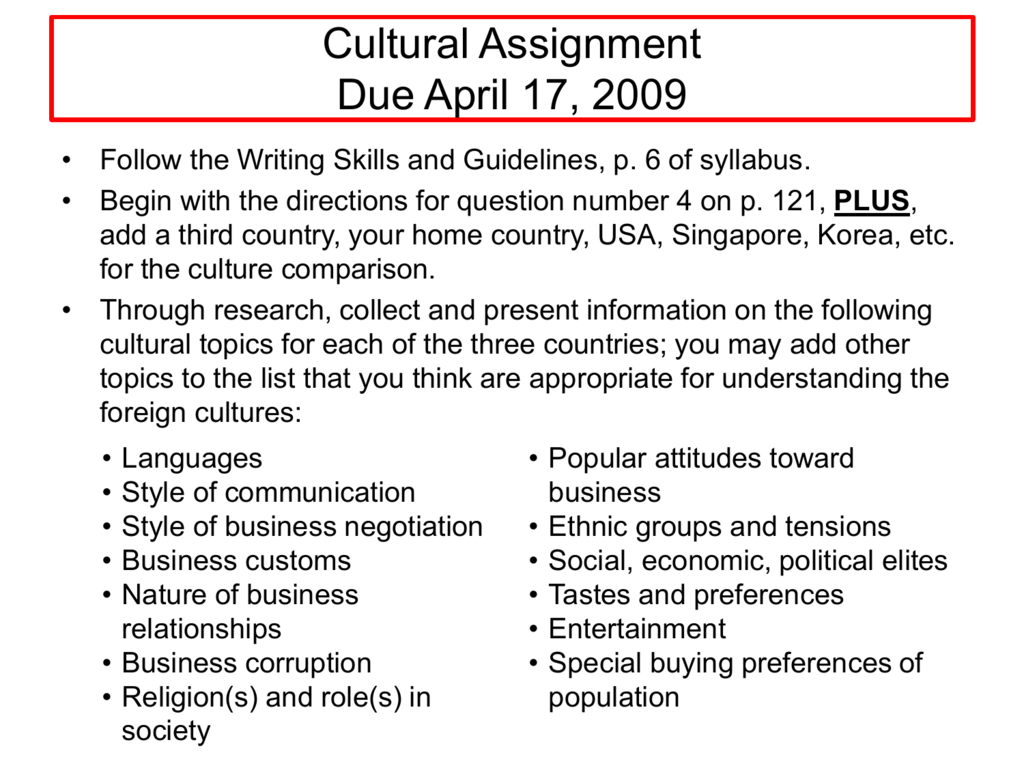 Cultural Assignment
Due April 17, 2009
• Follow the Writing Skills and Guidelines, p. 6 of syllabus.
• Begin with the directions for question number 4 on p. 121, PLUS,
add a third country, your home country, USA, Singapore, Korea, etc.
for the culture comparison.
• Through research, collect and present information on the following
cultural topics for each of the three countries; you may add other
topics to the list that you think are appropriate for understanding the
foreign cultures:
•
•
•
•
•
Languages
Style of communication
Style of business negotiation
Business customs
Nature of business
relationships
• Business corruption
• Religion(s) and role(s) in
society
• Popular attitudes toward
business
• Ethnic groups and tensions
• Social, economic, political elites
• Tastes and preferences
• Entertainment
• Special buying preferences of
population
• Identify and discuss similarities and differences among the three
countries.
• Based on your knowledge and understanding of your own country's
culture from the research and other sources, discuss the cultural
adaptations you would have to make in order to do business in the
other two countries' cultures.
• Provide a BIBLIOGRAPHY arranged in alphabetical order at the
end of the report that identifies major sources of information used in
the report. The Bibliography should identify at least 5 sources.
• PROVIDE INTEXT CITATIONS OR FOOTNOTES FOR ALL SIGNIFICANT
INFORMATION.
• Ask questions throughout the course to clarify and get advice on
information gathering and the content of the report and the presentation.
• A beginning point for the countries' cultural information is the list ofr
cultural internet information sources on the course web page.