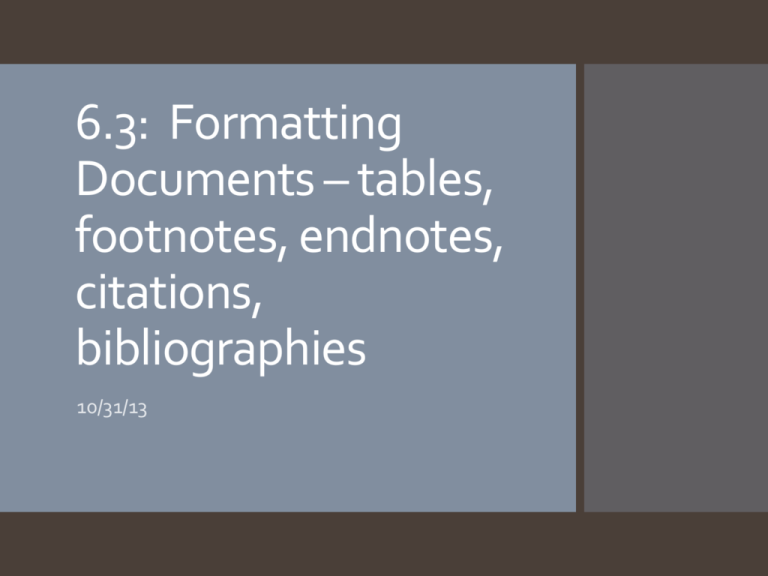 6.3: Formatting
Documents – tables,
footnotes, endnotes,
citations,
bibliographies
10/31/13
Warm-up
When writing a research
paper, how do you keep track
of your sources?
 How do you know what
information came from which
source?
Keyboarding
Practice
You may go online and
complete any keyboarding
practice you like except for
games.
Inserting Tables
 Table = A grid of
columns and rows
that can be filled with
text or graphics
 Cell = a box formed
by the intersection
of columns and rows
 Borders = the lines
that divide the
columns and rows
 AKA = Grid Lines
Footnotes and
Endnotes
 A footnote or endnote is an
explanatory note that consists or
two parts
1. The note or reference mark that
appears in the text to indicate that
additional information is available
2. The corresponding information in
the footnote/endnote
• Footnotes are placed at the end of
each page while endnotes are
placed at the end of an entire
document
• Both are found under the
references tab.
Inserting Citations
 A citation refers to the line/lines of text
within a document or bibliography that
state the source of information.
 In-text Citation = Stating the source and
page number of information within a
document
 AKA = Parenthetical Documentation
 Example: Romantic poetry is characterized
by the "spontaneous overflow of powerful
feelings" (Wordsworth 263).
 MLA Style = Modern Language
Association
 APA Style = American Psychological
Association
 Google Citation Machine
 Available in the Reference tab.
Managing Sources
and Bibliography
 Bibliography = list of sources that
you used to create your document.
 AKA – Works Cited
 The bibliography feature in Word
allows your to quickly create works
cited lists automatically.
 Tip = When working with web
sources, copy and paste the url
address directly from the web site.
 Complete the following
assignments in order
For Today…
 Inserting a table
 Figure D-12 is on the online version
 Adding Footnotes and Endnotes
 Inserting Citations
 Figures D – 17 and D – 18 are on the
online version
 Managing Sources and Bibliography
 Save the document as Your Name
– Healthy Traveler 2
 Submit to the Skydrive.