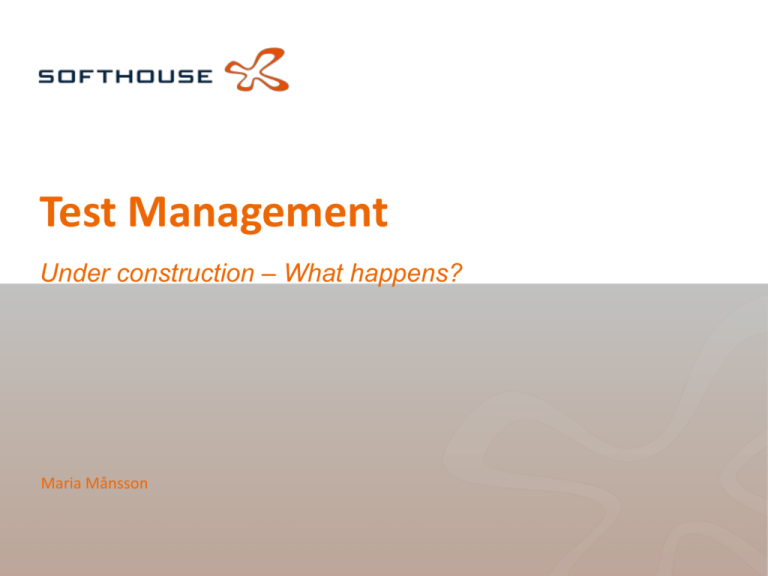 Test Management
Under construction – What happens?
Maria Månsson
Summary:
1. Typical "facts":
•
•
•
•
Things aren´t running smoothly . What to do? Where to start?
Who are the ones complaining at the most in the company and where do we have most problems?
Testers and the Test Process Model! It must be something with that process…
So lets review the process from all aspects to see how we can bring things up to speed!
2. Assignment/Business case:



Current situation (most interesting part)
Put up a Test Process Model based upon the customer needs (pretty easy part)
Implement (not so easy...and when is a model actually considered to be implemented)
Summary:
3. (My) Findings:
•
The most obvious! The Testers got the complete picture!
•
The Test Process is there but not applied since the release date is the (only!) parameter when we are done
anyway..
•
Often other critical "ways of working" are not in place like, requirement handling, environment definitions,
deployment handling, roles and responsibility and so on.
•
Why are the managers questioning test? Why are we to look into Test when lacking in other processes. I
couldn´t agree more!
•
More of a Change Management Process need in combination with Test activities.
•
Often you need to push other processes via the Test process.
•
And finally. Why this differentiation in the "process thinking" – let´s start to work together! We are all
responsible for the overall process only with different perspectives.
My findings - Test Management "under construction"
Teams (Testers):
•
•
•
•
•
Test authority, both as a role but also the importance and purpose of it. Low prio!
Lack of role definitions. Scrum Master vers. Test Manager for example.
Bringing new test resources is a taking a huge effort when a test process model is missing. It all ends up to
the one training the new resource.
Different ways of handling test activities within one company/teams.
Most important of all – you could loose really good Testers in your team having the Test Management
process model under construction for too long time!
My findings - Test Management "under construction"
Management:
•
•
•
•
•
No common measurements / KPI´s. Unknown lead time or bottlenecks.
No common view of what quality actually means, definition of "quality"?
Instability in other processes.
Missing the overall picture!
Lack of knowledge – what is to be tested when and where and how. We need and must inform of our
Test knowledge.
My findings - Test Management "under construction"
Project/Process:
•
•
•
•
•
•
Every project needs to come up with new solutions to handle integration testing and test data for
example.
Difficulties to handle deliverables, what do we mean by "complete". Missing definition of done!
No clear hand-overs. Without these you'll never get that "done feeling". As a tester you could always do
some more testing, and that feeling will drain you.
Test definitions missing, both types, phases and expectations. Sometimes even test phases missing.
Often ends up with all types of testing in User Acceptance Test phase.
No traceability or coverage control when it comes to requirements, tests or defects.
So…what can we do?










Summarize the current status
We identify the bottlenecks, we talk about the things that needs to be discussed. We face it.
We identify activities and we prioritize those.
We start small, identify KPI´s - start with one of those!
We communicate why we are doing this!
We get all on board! Hopefully..
We make the progress visible – make whole company curios of what is going on.
We communicate a vision - take the opportunity to create the place you want to work in!
We implement, we follow-up, and start over again until getting there!
Let the Test Process lead the way 
Thank you!