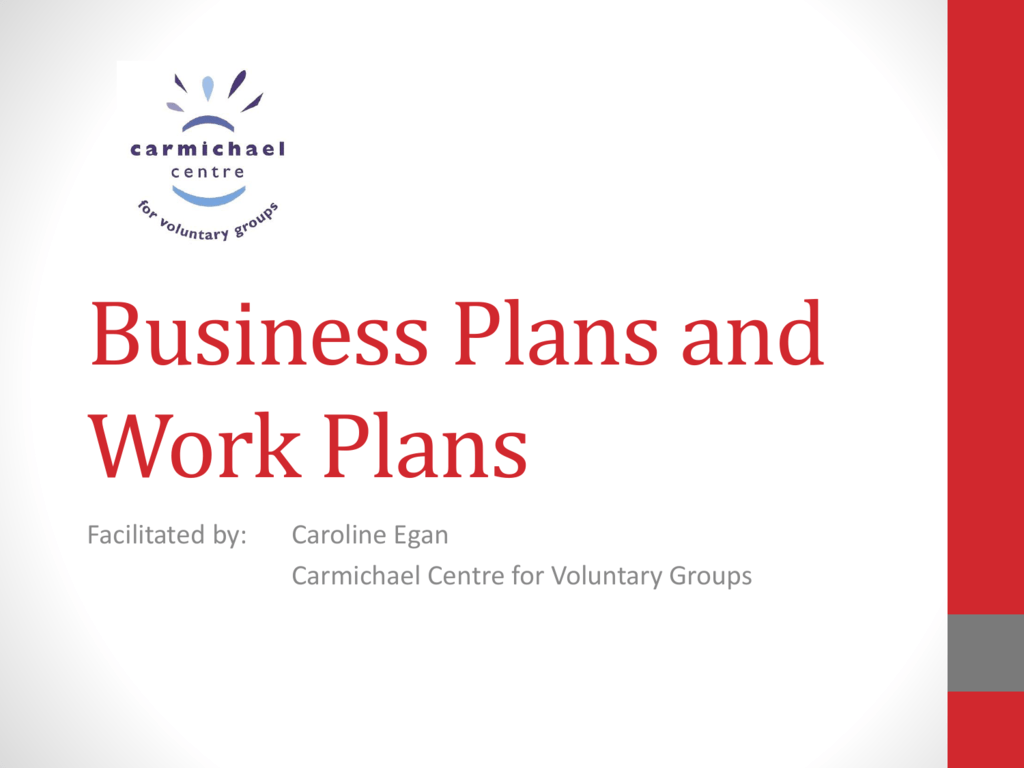 Business Plans and
Work Plans
Facilitated by:
Caroline Egan
Carmichael Centre for Voluntary Groups
Business Planning and
Management Requires:
• Leadership – invest in team development
• Decision-making and structure
• People- get the right people on the bus! Allocate work and key
responsibilities
• Effective work processes and systems (continuous
improvement)
• All revolving around a culture of effective behaviours that
facilitates the capacity to change
• Don't forget "key wins" throughout the year
Where to begin?
Identify Project Outputs and
Outcomes
• Outputs: What and how much gets produced or delivered (usually
expressed in quantitative measures)
• Outcomes: The difference made. What are the short and long term
benefits of the activity?
Example: The Youth Project
The aim of the project is to reduce criminal activity by offering support
and group work to young people
Inputs: staff, budget, venue, advertising
Outputs: One-to-one support sessions, outings, group work
Outcomes: After the project young people will be more confident,
aware of alternatives to crime and training
Long term change: Less social exclusion and less criminal activity
Social Entrepreneurship
"Social entrepreneurship is about innovation and impact. Not
income."
Joseph A. Schumpeter
Social enterprises are organisations whose mission is to bridge
social opportunity into sustainable reality innovatively,
effectively and efficiently.
They focus on the sustainability of their solutions by generating
strategic value to their stakeholders, which have measurable
social/environmental/economic outcomes for their
beneficiaries, develop strategic fit as well as social return on
capital that match their donors/investors' preferences and, in
many cases, earning income from products and services
Social Entrepreneurship
Process
PROCESS
Inputs
Activities
CHANGE
Outputs
Outcomes
Goals
Mission
Social Enterprise Concept
•
•
•
•
•
•
•
The problems (opportunity)
Vision & Mission
Theory of Change
The Solution
Social Impact
The Team
Financial Summary
Scenario Planning: Scenarios
• Tool
… that organisations can use to help them imagine and manage
the future more effectively.
• Process
… highlights the principal drivers of change and associated
uncertainties facing an organisation at present and explores how
they might play out in the future.
• Result
… a set of stories that offer alternative views of what the future
might look like.
Example of 2 x 2 Schematic
Strong Labour Market
Anything Possible
Business Remains the Same
People feel
empowered
Social networking
dominant
People feel
disenfranchised
Society Meltdown
Depressed Labour Market
Business Plans: A Management
Tool
•
•
•
•
•
•
Communicating specific goals and objectives
Promoting efficiencies
Identifying opportunities for improvement
Establishing performance guidelines
Raising funds
Guiding the implementation of capacity building initiatives
ONE SIZE DOES NOT FIT ALL – Tailor business plan to the
audience!
Business Planning – Why do
we plan in non-profits?
•
•
•
•
To understand the deployment of people and resources
To prevent contractual delays and fines
To fulfil contractual agreements
To achieve significant cost savings by ensuring appropriate and
effective allocation of resources
Operational Plan – Typical
Descriptive Content
•
•
•
•
•
•
•
•
•
•
General info e.g. opening hours and days
Physical plant
Equipment
Assets
Special requirements
Materials
Service delivery (production)
Inventory
Feasibility
Cost the Work
SMART Actions
SMART Actions are
•Specific
•Measurable
•Achievable
•Realistic
•Time framed
Practical Question:
• What have been your organisational stumbling blocks in
improving your operations? What have you done to address
them?