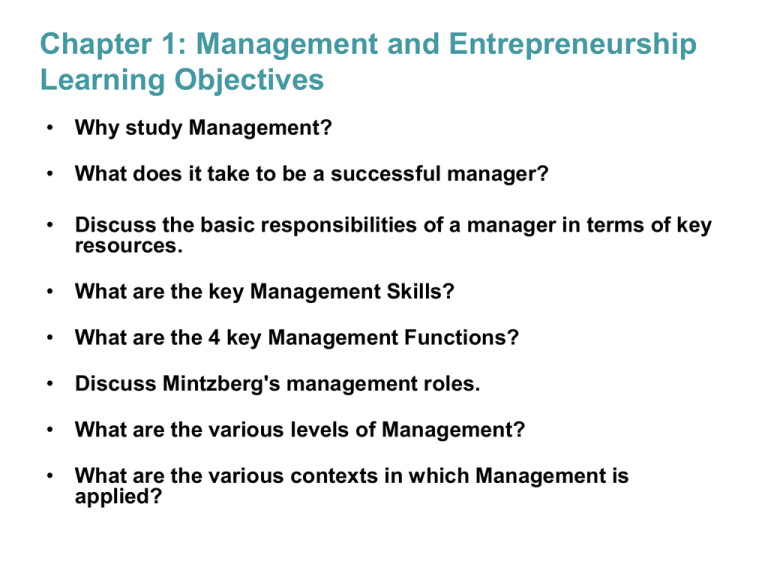 Chapter 1: Management and Entrepreneurship
Learning Objectives
• Why study Management?
• What does it take to be a successful manager?
• Discuss the basic responsibilities of a manager in terms of key
resources.
• What are the key Management Skills?
• What are the 4 key Management Functions?
• Discuss Mintzberg's management roles.
• What are the various levels of Management?
• What are the various contexts in which Management is
applied?
Management and Entrepreneurship
• Why Study Management?
Management and Entrepreneurship
What Does It Take to Be a Successful
Manager?
• Qualities?
• Skills?
Manager's Responsibilities
• To himself or herself?
• Use of Resources?
• Performance of Functions?
Management's Responsibilities
The Manager's Resources
– Human
– Financial
– Physical
– Informational
●Management
Skills
• Conceptual skills
• Diagnostic, analytical,
and critical-thinking
skills
• Quantitative reasoning
skills
• Time management skills
• Communication skills
• Team skills
• Diversity skills
• Power, political, negotiation,
and networking skills
• Motivation skills
• Conflict management skills
• Ethics skills
• Familiarity and competence in the use of
business skills required for success on the
job.
Management Roles
Management Skills, Functions, and Roles
Differences Among Managers
• The Three Levels of Management
– Top managers
• CEO, president, or vice president
– Middle managers
• Sales manager, branch manager, or department
head
– First-line managers
• Crew leader, supervisor, head nurse, or office
manager
– Nonmanagement operative employees
• Workers in the organization who are supervised
by first-line managers
●Management Levels and Functional Areas
Skills/Functions performed at the
different Management levels
Contexts of Management
Management and
Entrepreneurship
1. What resources does Gap Inc. use to sell its
IDEAS ON MANAGEMENT at
merchandise?
Gap
Inc. are performed at
2. What management
functions
Gap stores?
3. What levels and types of managers have
careers at Gap Inc.?
4. Is Gap Inc. entrepreneurial and/or
intrapreneurial?