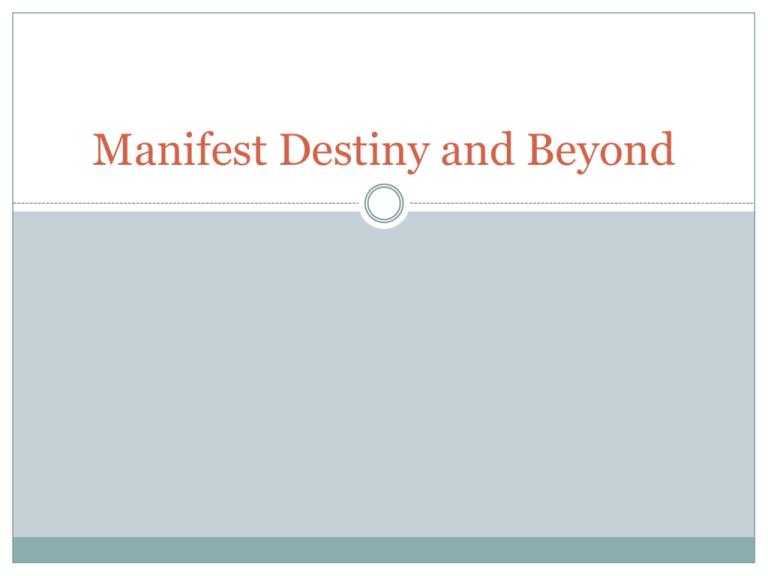 Manifest Destiny and Beyond
John Tyler: His Accidency
 Poor relationships with many in the
political world
 Became president after death of
Harrison
 Greatest rivalry existed with Henry
Clay
 Whig party abandons him
 Ran on platform of Texas annexation
Question of Texas
 Jackson and Van Buren side stepped it,
Tyler embraced it; downfall for him
 Highly fertile region; great for cotton
 By 1830 20,000 Americans making way into
Texas
 Republic of Mexico
Forced Catholicism
 Language barriers
 Outlawing of slavery

Don't Mess with Texas
 Restrictions led to desire for independence
 Skirmishes increased
 The Alamo




February 1836, 6000 Mexicans march into San Antonio
Mission serves as protection for unwilling Texans
10 days held off the attacks from the Mexican military
Results:
Texans lost 187 men
 Mexicans 1500 men
 Renewed effort towards independence…..Remember the Alamo!!

Annexation of Texas
 Politicians thorn
 Fear of war for many
 Public wanted Texas
 Issue of slavery sensitive; fear of war
between the states
Manifest Destiny
 Coined by journalist John L. O'Sullivan
 Providential, the destined goal:
 One
mighty nation
 A refuge for the oppressed
 A showcase to display the virtues of democracy
 Area of focus Mexico, and the suppression of the
Mexican culture
Polk's Rise
• Front runners struggled with Texas issue
• Clay and Van Buren "behind the age" on idea of
expansionism
• Polk: dark horse in the political world
•
•
•
•
•
Good democrat in Jackson term
Supported taking Texas and general expansion
Win of 1844 election a bit of luck, Liberty Party helped
Inaugural address demonstrated his plans and desires toward
expansion
The west was on his radar screen; barriers could be overcome
•
just ask the British!
War with Mexico
 Texas admitted into Union 1845, one hitch, Mexico
never recognized independence
 Negotiations lagged, Polk took matters into his own
hands
 Two effective generals available to Polk
 Polk's Plan:



Clear Mexicans from Texas
Take possession of New Mexico and California
March into Mexico City
Cont…..
 Plan was effective
 Mexico in a state of disarray
 Treaty situation tricky
 Polk saw it as an opportunity for more; those there saw it
differently
 Treaty of Guadalupe Hidalgo; Polk dissatisfied
 In the end:





Americans walked away with a victory
13,000 American lives lost
More land acquired
Slavery issue again!
On to California…….there's gold in them thar hills!