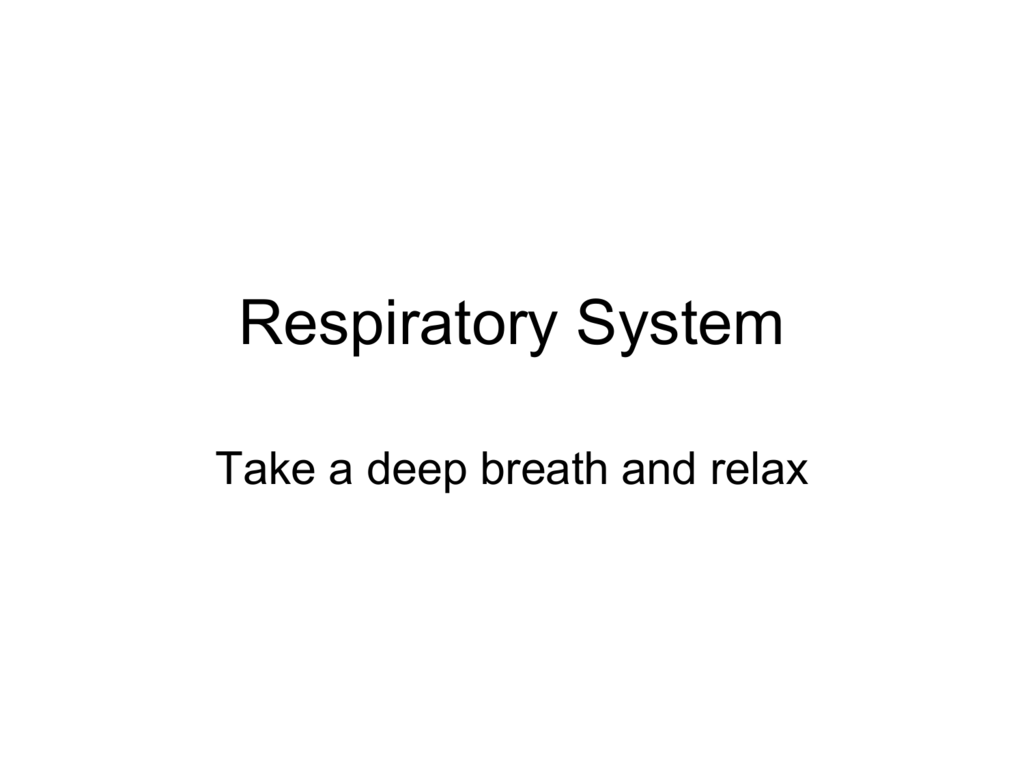 Respiratory System
Take a deep breath and relax
Structure
•
•
•
•
•
•
•
Nose
Pharynx
Larynx
Trachea
Bronchi
Alveoli
Lungs
Nose/Mouth
• When the air comes into your nose it gets
filtered by tiny hairs and it is moistened by
the mucus that is in your nose
• Your sinuses also help out with your
Respiratory System. They help to
moisten and heat the air that you breathe.
• Air can also get into your body through
your mouth/oral cavity but air is not
filtered as much when it enters in through
your mouth (We take in more air here)
Nose/Mouth Picture
Pharynx/Trachea
• Your pharynx (throat) gathers air after it passes
through your nose and then the air is passed down to
your trachea (windpipe).
• Your trachea is held open by "incomplete rings of
cartilage." Without these rings your trachea might close
off and air would not be able to get to and from your
lungs.
Mouth
Pharynx
(Throat)
Trachea
• Bronchi (singular
bronchus)- left and
right transport the
air you breathe
• Bronchiolessmaller divisions of
the bronchi
• Bronchioles end in
small air sacs
called alveoli
Capillary
Capillary
wall
Carbon Dioxide
is dropped off
Oxygen is
picked up
Red Blood
Cell
• Alveoli – tiny air
sacs that
exchange oxygen
and carbon
dioxide.
Lungs
• Lungs: 2
unequal lobes
• Covered in a
membrane
called the
pleura
• Have many
alveoli
Diaphragm
• Diaphragm and
muscles contract,
thoracic cavity
enlarges letting air
into the lungs
• Controls breathing
and lung capacity
Lung Model
Fun Facts
• At rest, the body takes in and breathes out about 10
liters of air each minute.
* The right lung is slightly larger than the left.
* The highest recorded "sneeze speed" is 165 km per
hour.
* The surface area of the lungs is roughly the same size as
a tennis court.
* The capillaries in the lungs would extend 1,600
kilometers if placed end to end.
* We lose half a liter of water a day through breathing. This
is the water vapor we see when we breathe onto glass.
* A person at rest usually breathes between 12 and 15
times a minute.
* The breathing rate is faster in children and women than
in men.