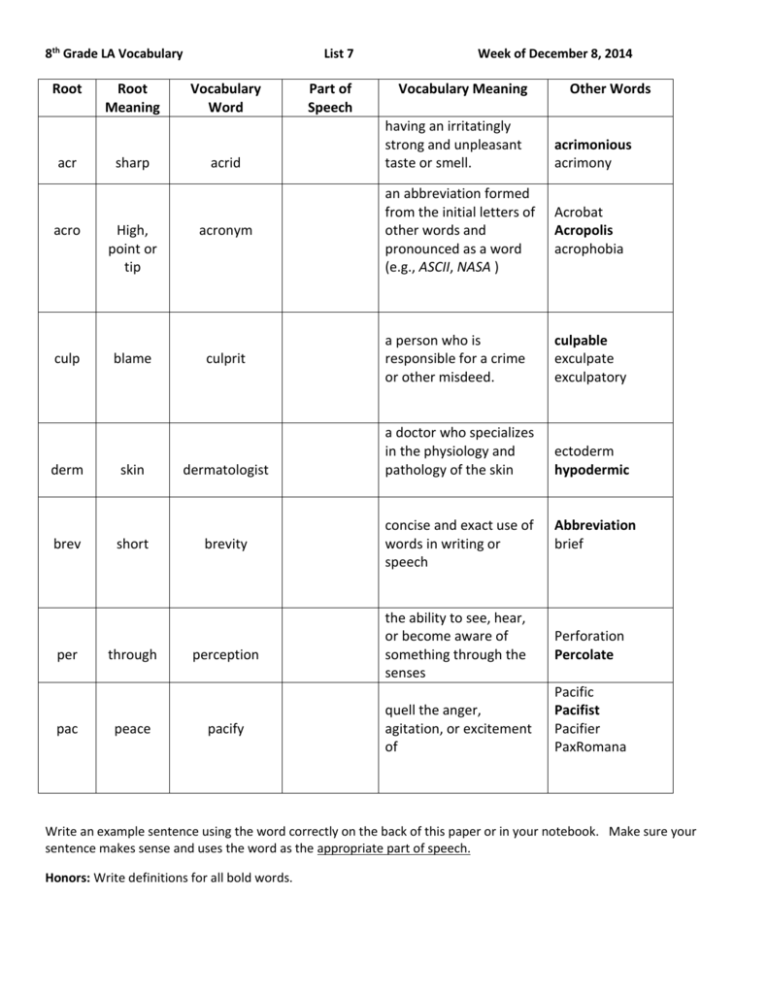 8th Grade LA Vocabulary
Root
acr
acro
culp
derm
brev
per
pac
Root
Meaning
sharp
High,
point or
tip
blame
skin
short
through
peace
List 7
Vocabulary
Word
acrid
acronym
culprit
dermatologist
brevity
perception
pacify
Part of
Speech
Week of December 8, 2014
Vocabulary Meaning
having an irritatingly
strong and unpleasant
taste or smell.
Other Words
acrimonious
acrimony
an abbreviation formed
from the initial letters of
other words and
pronounced as a word
(e.g., ASCII, NASA )
Acrobat
Acropolis
acrophobia
a person who is
responsible for a crime
or other misdeed.
culpable
exculpate
exculpatory
a doctor who specializes
in the physiology and
pathology of the skin
ectoderm
hypodermic
concise and exact use of
words in writing or
speech
the ability to see, hear,
or become aware of
something through the
senses
quell the anger,
agitation, or excitement
of
Abbreviation
brief
Perforation
Percolate
Pacific
Pacifist
Pacifier
PaxRomana
Write an example sentence using the word correctly on the back of this paper or in your notebook. Make sure your
sentence makes sense and uses the word as the appropriate part of speech.
Honors: Write definitions for all bold words.