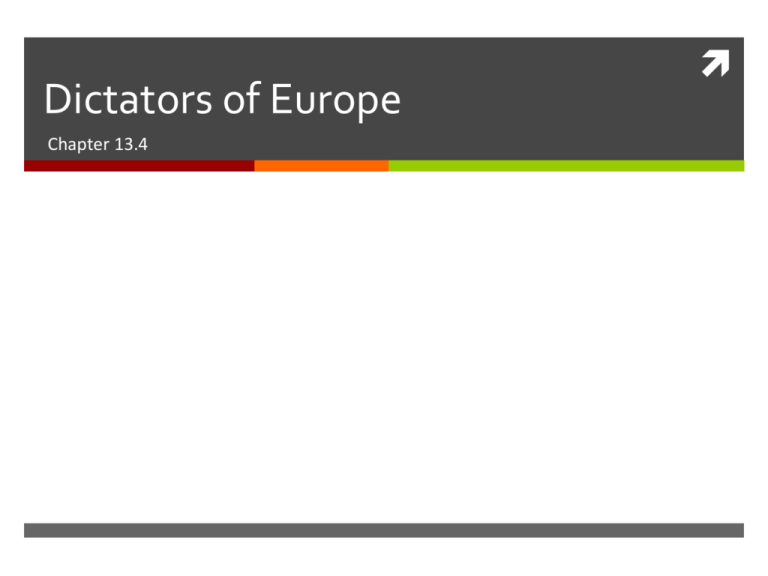 Dictators of Europe
Chapter 13.4

Bellringer April 22, 2015
 The Anti-Comintern Pact was an agreement between the
nations of

a.
China and Japan.

b.
China and Germany.

c.
China and the United States.

d.
Japan and Germany.
Mussolini's Italy
 Fascist Ideology
 Mussolini wanted to build a great, glorious Italian
empire
•
Founded National Fascist Party, 1919
– from Latin fasces, Roman symbol for unity,
strength
– Fascism, authoritarian form of government
– Good of nation above all else
Mussolini's Italy
 Mussolini in Power
•
Fascists significant force in Italian politics, 1922
•
Mussolini wanted more, wanted to rule Italy
•
Called March on Rome
•
Show of force convinced Italy's king to put Mussolini at head
of government
•
Mussolini moved to establish dictatorship
Mussolini's Italy
Mussolini not satisfied merely with political control
Used threats, violence, political skill to outlaw all
opposition
Tried to influence Italians' thoughts, feelings,
behaviors
 Government attempt to control all aspects of life,
totalitarianism
 Used propaganda to promote Italy's greatness
 Established festivals, holidays to remind Italians of
proud Roman heritage
Invasion of Ethopia
 Why Ethiopia? What are its 2 disadvantages?
 Surrounded by two Italian colonies.
 Poorly equipped.
 Result of invasion.
 Italian forces are too strong for Ethiopia.
 Ethiopia's response?
 Haile Selassie asks the League of Nations for
HELP!!
 League of Nation's response?
 League of Nations denies request, no help is offered.
Stalin's Soviet Union
 Became leader of Communist Soviet Union after the death of
Lenin in 1924
--- Hello, Ladies!!
Stalin's Soviet Union
Different Approach
• Karl Marx predicted state would wither away under communism
• Stalin took different approach, worked to return Soviet Union to
totalitarian state, controlling all Soviet life
Stalin's Soviet Union
The Five-Year Plans
• Major part of Stalin's plan to strengthen communism,
modernization of economy
• First Five-Year Plan began 1928, factories and mines
had production goals
The 5-Year Plan
5-Year Plans reflected Soviet system of central planning
Government makes major decisions about production of goods
Differs from capitalist economic system, where market forces are
major influences on production
Plans did lead to increases in Soviet industrial output
During first two Five-Year Plans, oil production doubled, coal and
steel production quadrupled
Demands on Soviet workers were high
Stalin's Soviet Union
Political Purges
• Stalin, absolute power, but feared people
plotting against him
• Began campaign called Great Purge, to get rid of
people, things undesirable
• During Great Purge, thousands executed, sent to
the Gulag
Stalin's Soviet Union
Totalitarian Rule
• Stalin's regime dominated Soviet life
• Children encouraged to join youth organizations,
taught attitudes, beliefs
• Religion discouraged, churches closed
Stalin's Soviet Union
Stalin's Soviet Union
Cult of Personality
• Portraits of Stalin decorated public places, creating heroic,
idealized image
• Streets, towns renaming in Stalin's honor, created cult of
personality
• By ruthlessly removing opposition, Stalin gained stranglehold over
society
Dapper Joe!