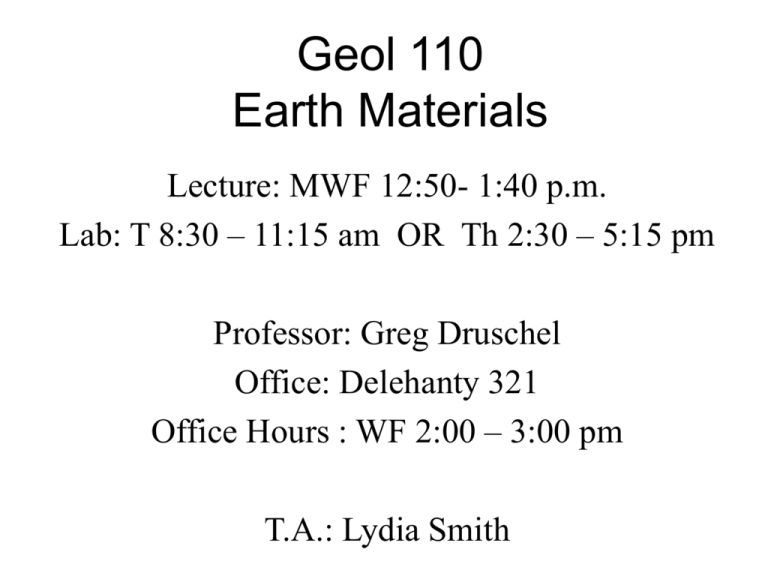 Geol 110
Earth Materials
Lecture: MWF 12:50- 1:40 p.m.
Lab: T 8:30 – 11:15 am OR Th 2:30 – 5:15 pm
Professor: Greg Druschel
Office: Delehanty 321
Office Hours : WF 2:00 – 3:00 pm
T.A.: Lydia Smith
Class Goals
• Recognize major rock-forming minerals and other
selected minerals in hand specimen and thin
section
• Master use of several techniques for the
identification of minerals using the petrographic
microscope
• Develop the ability to relate crystal chemistry,
crystallographic alignment, and physical attributes
of a mineral to guide identification and assess a
mineral's origin and history
Grading
•
•
•
•
•
•
Laboratories
Lab exam
Mid-term exam
Final exam
Homeworks
Participation
30%
10%
20%
20%
10%
10 %
What is a mineral??
Structure of the Earth
Volcanic provinces
Lava
Mt. Pinatubo
Basalt flows
Plutons
Intrusions
Metamorphic settings
Orogenic settings
Ore deposits
Oil
Sedimentary deposition
• Weathering of any rock and transport of that
material to lower E environment followed by
lithification yields sed. rx
Depositional settings
• Keyed to transport of
physical/ chemical
components of parent
material
• Tells 2 stories – who
were the parents and
how far away did it
go?
Chemical deposition
• Formation of minerals
from aqueous solution
requires some
change in
environment for the
ions to precipitate
Fossils
• Here parent material were organisms – usually
ones that were partially composed of a durable
mineral material
• Requires a special depositional setting
– Quick burial, fine/ chemical covering, replacement
reactions
• Also tell us approximate age of deposition
Biominerals
• Microorganisms may
also have a significant
impact on mineralogy!