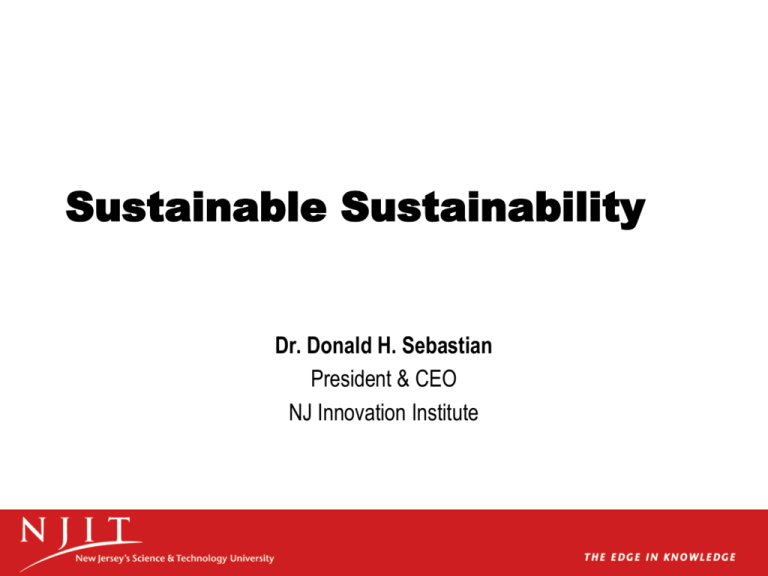 Sustainable Sustainability
Dr. Donald H. Sebastian
President & CEO
NJ Innovation Institute
Research with Impact
Medical
Devices
Cellular
Systems
Convergent Life
Health Science & Eng.
Informatics
Cloud
Computing
Pharmaceutical
Processes
New
Media
Information
Everywhere
Computing
Hardware
Wireless
Communciation
Industrial
Ecology
Energy Systems
Sustainable
Systems
Sustainable
Environment
Infrastructure
Systems
$107M 5th largest R&D
expenditures among US
Polytechnic Universities
Academic Experts
Industrial Processes
Remediation
Transportation
Energy
Materials
Construction
Water
Environment
Academic Experts Hazardous Waste Remediation Center
Multi-Lifecycle Engineering Research Center
Industrial Processes
IUCRC for Membrane Technology
EPA Technical Assistance for Brownfields
Remediation
Center for Natural Resource Development & Protection
Renewable Energy R&D
Transit Oriented Development Program
Solar Decathlon Competition Teams
Energy CTIE New Energy Materials Center
Nano-solar Technology
Novel Energy Storage R&D
Transportation
Intelligent Transportation Center
New Building Materials R&D
Materials
Corn Sugar Petrochemical Replacements Urban Systems PhD Program
Low Energy Desalinization Technology
Construction
Computational Ecology Group
Water
Resilient Design Center
Center
for
Solar
Terrestrial
Research
Engineers Without Borders
Environment Center for Building Knowledge
New Jersey Applied Water Research Center
NJ Marine Science Consortium
Green Computing R&D
Sustainability or Resilience?
In football, they have the clip,
the hit, the block, the tackle, the
blitz, the bomb, the offense and
the defense;
In baseball, they have...
the sacrifice.
Buffer Institutions Bridge Cultures
Smart Region Initiative
Become a living lab that brings the power of the "Internet of
Everything" to bear on the problems of sustainable urban living.