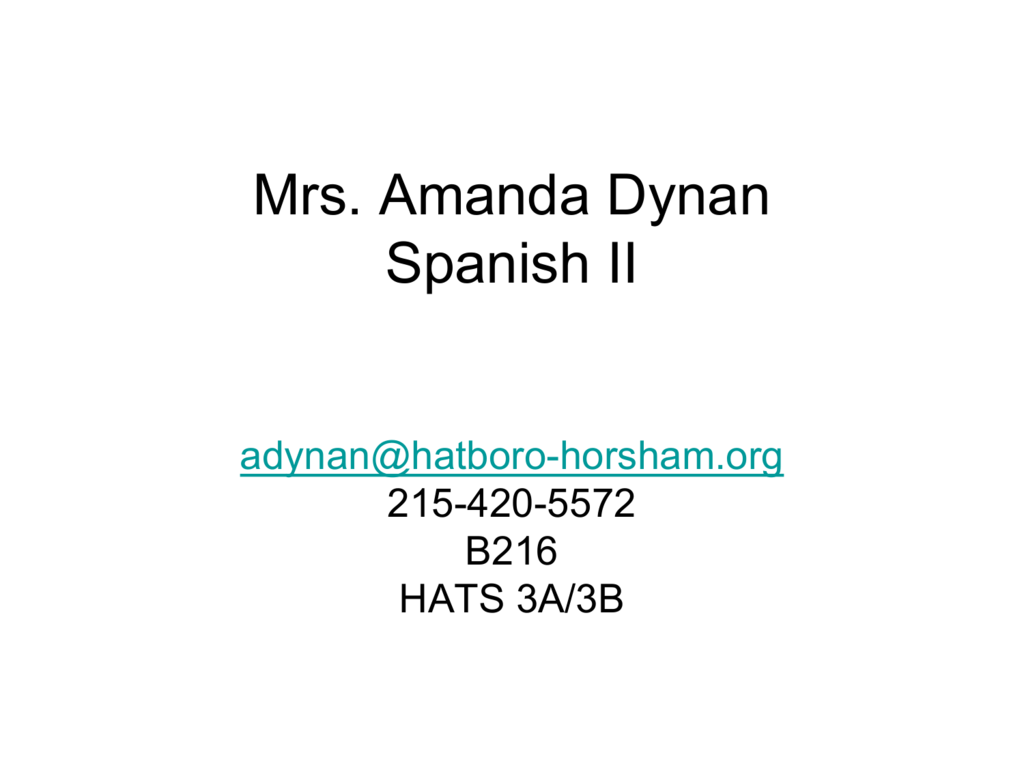 Mrs. Amanda Dynan
Spanish II
[email protected]
215-420-5572
B216
HATS 3A/3B
Spanish II
•
•
•
•
Realidades series
Workbooks $16
Audio activities for the language lab
Emphasis on speaking and writing (both
formal and informal assessments)
• Harder than Spanish I
Grades
• Approximately 2-4 quizzes per chapter
• Theme test-approx. every 2 weeks
(reading, writing/menu, listening, MC,
short answer)
• HW/participation
• Projects
• Mandatory final exam
• 75% to go on—40% 40% 20%
Check out my website!
• Access via the HS site and the staff page
• YOU WILL FIND...
– a resource page according to level with book
information and the first day procedures letter.
– the quiz, test and project calendar
– links to other sites—text book (para practicar)
and others.
– codes for typing accents on a computer.
How can I help my child?
•
•
•
•
•
•
•
Review vocabulary every night
Review class notes every night
Review spelling---IT COUNTS!
Remind about homework
Encourage the use of flashcards/Quizlet
Encourage participation
Expose to Hispanic culture via restaurants
and museums
Important Notes!
• Learning a language is not a passive
activity!
• A common complaint is that spelling
counts.
• Please encourage students to study more
than flash cards.