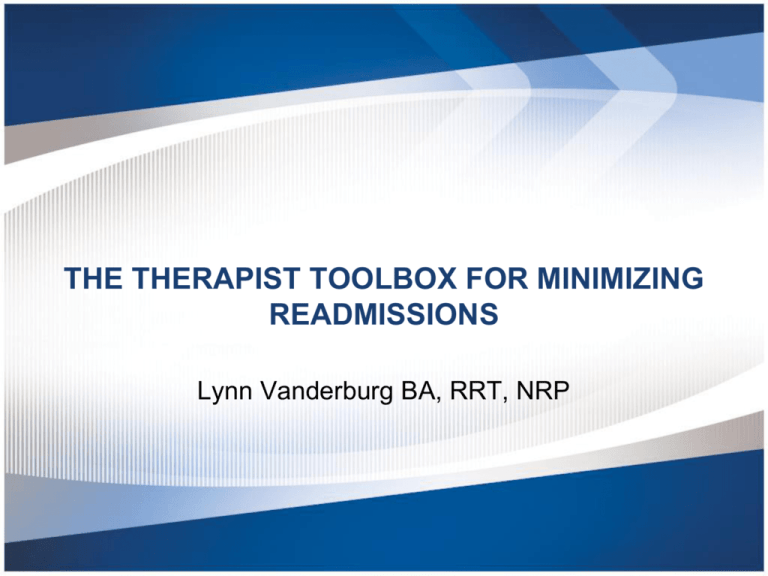 THE THERAPIST TOOLBOX FOR MINIMIZING
READMISSIONS
Lynn Vanderburg BA, RRT, NRP
Hospital Readmissions Reduction Program (HRRP)
• Legislative Context Shapes HRRP
– Patient Protection and Affordable Care Act (2010) was to provide
everyone in America with affordable Health care
• Faced stiff opposition
• To get it passed programs had to be inserted that would reduce the total
cost burden of the bill
– HRRP is one of those cost reduction programs
• Estimated to reduce Medicare payments by $7.1 billion (between 20132019)
http://www.santarosaconsulting.com/santarosateamblog/post/2012/03/29/an-early-look-at-hospital-readmissionsreduction-program
Hospital Readmission Reduction Program
• Brief overview
– The HRRP is a reimbursement penalty approach for general acute
care hospitals that have readmissions deemed "excess" by CMS
• Began fiscal year 2013 (October 1, 2012)
• Reduction is capped at 1% in 2013, 2% in 2014 and 3% in 2015 and
beyond
• Reductions apply to total DRG reimbursement
– But readmissions deemed excess are determined using 3 specific conditions
endorsed by the National Quality Foundation (NQF)
» Acute Myocardial Infarction
» Heart failure
» Pneumonia
http://www.santarosaconsulting.com/santarosateamblo
g/post/2012/03/29/an-early-look-at-hospitalreadmissions-reduction-program
Reimbursement Penalties
•
2,211 American hospitals received reimbursement penalties on Oct 1,
2012 for high readmission rates
– Together they will forfeit about $280 million in Medicare funds over next year
• According to Medicare, 2 out of 3 hospitals evaluated failed to meet its
new standards for preventing 30 day readmissions.
•
(penalty rate up to 1%) x (total Medicare reimbursement/yr) = lost
revenue
Rau, Jordan. Kaiser Health News. "Medicare to Penalize 2,211 Hospitals for Excess Readmissions". Aug 13-12.
Re-hospitalizations among patients in the Medicare
Fee-for-service Program
• New England Journal of Medicine
Stephen F. Jencks, MD, MPH, Mark Williams, MD and Eric A Coleman, MD MPH.
Abstract
• I in 5 Medicare beneficiaries are readmitted within 30 days
– Which equates to 2.3 million patients
•
•
•
•
National cost of over $17 Billion
Half of patients readmitted had no physician contact
70% of surgical readmits were for chronic medical conditions.
Potentially 40% of all Readmissions are preventable
Readmission Factors
•
AARC webcast August 28-12 "Hospital to Home-efforts at Reducing Hospital
Readmissions". Greg Spratt BS, RRT; Kimberly Wiles BS, RRT; Becky Anderson RRT.
•
•
•
•
•
•
69% were non compliant with meds
51% lacked knowledge: How to use Therapy Devices
45% inadequate knowledge of medications
42% unable to self manage care
37% had no follow up visit with Physician
31% develop infection post discharge
Readmissions Not The Only Change
NO MORE FEE FOR SERVICE
• Pay for Performance (P4P) =Value Based Purchasing(VBP)
• Rewards physicians, hospitals, medical groups and other health care
providers for meeting certain performance measures for quality and
efficiency
• Rewarding hospitals for the quality of care they provide to Medicare
patients, not just the quantity of procedures they perform
•
Also eliminating payments for "never events"
http://www.cms.gov/Medicare/Quality-Initiatives-Patient-Assessment-Instruments/hospital-value-basedpurchasing/Downloads/FY-2013-Program-Frequently-Asked-Questions-about-Hospital-VBP-3-9-12.pdf
Find article in my favorites: Readmission 2012 and it has CMS and frequently asked questions.
Hospital Performance
• Value Based Purchasing Program (VBP)
– Begin to pay hospitals for their actual performance
• Requires portion of Medicare reimbursement to be withheld
and returned proportionate to how the Hospital performs
3 Categories
45%
30%
25%
Patient Experience
Outcome Measures
Clinical Processes
Value-based Purchasing:
What Hospitals and Healthcare Systems Need to Know Now to Manage Their Medicare Dollars
Pat Bickley, Jude Odu-Health Care Dataworks
www.HCD.com
Changing Reimbursement
Payment Reform for Hospitals
Fiscal Year
Value Based
Purchasing
Hospital Readmission
Reduction Program
Hospital
Acquired
Conditions
Total
2013
1.00%
1.00%
0
2.00%
2014
1.25%
2.00%
0
3.25%
2015
1.50%
3.00%
1.00%
5.50%
2016
1.75%
3.00%
1.00%
5.75%
2017
2.00%
3.00%
1.00%
6.00%
.
Alexander, K.,LHA Legislative & regulatory Update. LA Assn for Healthcare Quality Annual Education Conference,
April 2012
Patient Satisfaction ‐ HCAHPS
Some of the 20 Key Performance Measures:
• Nurse communication
• Cleanliness and quiet
• Doctor communication
• Responsiveness of hospital staff
• Pain management
• Discharge information
• Communication about medications
• Overall rating of hospital
http://www.mdahq.citymax.com/f/nikolas_matthes.pdf slide 16 of PP presentation listed:Value‐based Purchasing
Higher Per Capita Spending Doesn't Translate into
Higher Life Expectancy
Source: 2006 CIA Fact Book
Life Expectancy-Per Capita Spending
AARC Hospital to Home Program
•
•
•
•
AARC did a survey in September 2011
36% of hospitals do nothing to help COPDers
42% us EBM algorithms, pathways, guidelines or protocols
20% of COPD programs inpatient, discharge, and outpatient
needs
• 12% partner with DME's
• 5.7% had RT Case Managers or discharge planners
• 2.6% had COPD coordinator positions
Time For Disease Management
• COPD was predicted to be #3 cause of death by 2020
• It reached this milestone in April 2011 according to CDC
• Population >65 will increase 73% by 2025
– Baby Boomers are over 80 million strong.
• PCP shortages of 20-27% by 2025.
– Allergists, PCP, anesthesiologists.
• There are over 100 Million patients in the US
classified as having chronic conditions
Kallstrom, T. "The Long Term Implications of the Affordable Care Act". AARC
Times, Oct 2012. pg 20-21
Pulmonary Issues Aren't Going Away!
 RT as a Physician Extender
• Work in PCP office assessing patients
 RT as Case Managers
•
•
•
•
•
•
Teach self management
Modify patients behavior at home
Coach, encourage and give advice
Regular communication between patient and RT
Identify unmet health needs
Keeps patients:
– Out of Hospital
– Out of ED
– Out of Physician office
HARP(Hospital admissions risk program)
• Melbourne, Australia study
• Patient focused and self management of care through acute
and community health sectors
Case Managed COPD
Control Group
ED Visits
10%
ED Visits
Admits
25% Hosp Admits
41%
Hospital LOS
18%
51%
Hosp LOS
45%
Bird, S et al. "An integrated Care Facilitation model Improves QOL & reduces use of Hosp
resources by pts w/ COPD & CHF". 2010:16(4):326-33.
Likely Contributors to the High Rates of
Readmission
1. DRG's
–
–
–
–
Lump payment given by Medicare based on diagnosis
Doesn't look at the level of service given to patient.
To much incentive to deliver care at or below DRG Rate
Pt gets discharged before medically appropriate to do so
2. Lack of communication between hospital healthcare
professionals, Home Care Physicians etc.
– Leads to conflicting and additional care
Both can increase the chance the Patient gets readmitted!
http://www.healthreformgps.org/resources/hospital-readmissionsreduction-program/
It will take a village!
Two areas of fragmentation of Care
a) Hospital

Communication between Physician, RN, RRT, OT, PT, Social Work
etc
b) Various Other Industries

Hospitals, Sniff, LTAC, Rehabilitation, Office Physician, Home Care
services, Hospice etc
• It will take a village to solve the problems of readmission
• We cannot work and manage these patients in isolation
Areas for Change in Potentially Preventable
Readmissions
Improve Quality Of Inpatient Care
1.
Education
–
–
–
Choose a champion
Customize patient education
Use teach back regularly
• especially with regard to understanding discharge instructions
–
–
Teach patient self Managed Care
Involve different disciplines to teach
• For example RRT required to teach respiratory methods
Currently an average of 8 minutes is spent on education of our
patients in the hospital!
•
We don't get reimbursed on education
http://www.ama-assn.org/amednews/2011/02/07/prsa0207.htm
Making it Work?
• Piedmont Hospital, Atlanta
– 481-bed, acute-care hospital
• After implementing changes:
– <70yr olds had readmission rates
of 13.05% before & after 3.97%
– >70yr olds had rates of 15.9% before,
which fell to 11.2%
**And Their Length of Stay dropped **
http://www.ama-assn.org/amednews/2011/02/07/prsa0207.htm
How They did it?
Medication
Reconciliation
• 2/3 of readmissions have
something to do with
medications
• Pharmacist responsible for
drug review with
patient/family/PCP
Identify patient at
high risk for
Readmission
Ensuring good follow up
care
• Hospital secretary
schedules Dr Appt for
patient and insist they be
seen w/in 2 weeks
Patient follow up
phone call within
72hrs of discharge:
Patient PASS (keep
it in their wallet)
• Why were they in
hospital?
• Symptoms they should be
looking for.
• What Medications they are
taking ?
• When is next Dr appt.?
• Single sheet form that
lists:
• Reason for hospitalization
• Medical appts
• Issues to discuss with
PCP
http://www.ama-assn.org/amednews/2011/02/07/prsa0207.htm
What's Wrong with this Picture?
Source: Fischbeck, Paul. "US-Europe Comparisons of Health Risk for Specific Gender-Age Groups." Carnegie Mellon University; September, 2009
"Hospital-acquired infections kill 99,000
Americans each year."
• "That's equivalent of a jumbo jet full of passengers crashing every other
day.¹"
• 35,967 Deaths Annually from Hospital-Acquired Pneumonia²
1www.safepatientproject.org
2Nicolau
et al. "Redefing Success for VAP: 360-Degree approach",
JMCP June 2009, Vol. 15, No. 5
Push Forward
•
•
•
•
•
•
Therapist Driven Protocols
Patient Outcomes aligned with VBP
Member of the Care Continuum
Patient Advocate; Access to RT care
Education Specialist for COPD/Pneumonia Population
Heighten AWARENESS of the Hospital staff that RT's are a valuable
clinical resource
• Airway clearance is a main player in keeping pt out of the hospitals
• Finding devices and techniques that can follow the patient home will
become more and more important
24
Areas for Change in Potentially Preventable
Readmissions
Improve Quality Of Inpatient Care cont'd…
2.
Multidisciplinary rounds
1. Scheduled communication times to discuss patient as a team
2. Set up a discharge plan that is looked at and signed off on by all
disciplines
RRT should always be involved with chronic lung pt discharge plan
3.
Use Pulmonary Rehabilitation Facilities
1. Within 3 days of discharge
2. Teach and explain medications and lifestyle changes, exercises etc
 It is shown when pts go to an LTACH before they go home there are
three times fewer readmission bounce backs
4.
Establish follow up plan before discharge
1. Provide pt meds at discharge
2. Have a dedicated advocate/coach for pt at discharge and beyond
Areas for Change in Potentially Preventable
Readmissions
5. Early post discharge follow up
– Remote monitoring/telehealth
• It was shown that an RN or RRT giving patient education over the phone
reduced hospital admissions by 40% and ER visits by 41% for COPD
patients.1
6. Reconciliation of Medication
– Piedmont Hospital In Atlanta
• Improving their process fixed a 46% discrepancy rate.1
7. Need Proactive Thinking rather than Reactive
– There is a lack of preventative healthcare
– Symptoms treated, not the root cause
1. J. Bourbeau, M. Julien, et al, "Reduction of Hospital Utilization in Patients with Chronic Obstructive Pulmonary Disease: A
Disease-Specific Self-Management Intervention," Archives of Internal Medicine 163(5), 2003. S
2. http://www.ama-assn.org/amednews/2011/02/07/prsa0207.htm
Proactive Not Reactive
Respiratory Issues from Retained Secretions
Proactive Behavior
Respiratory Protocols
Patient as active member of the team
Communicate and Educate
Routine Assessments
Early intervention with lung expansion and/or airway clearance therapies
Discharge planning involvement
Could result in:
Prevention of respiratory
complications
Faster
weaning
Decreased ICU/
Hospital LOS
Improved
morbidity/
mortality
Health
care Savings
DASH= Discharge + Assessment & Summary @
Home
• DASH is a Homecare Respiratory Services program
– Driven by novel respiratory software, protocols & improved reporting
– Begins prior to discharge
• Risk evaluation
• COPD order set includes DASH (Risk evaluation, Assessment & transition)
28% readmission in Philadelphia for COPD pts
Incorporation of DASH has reduced it to <4%
http://homecaremag.com/provider_profiles/chronic-disease-management-201105
DASH
• COPD/CHF/Pneumonia all require specialization
• Early on: < 10% were coming home with a follow up appointment
• Now 90% get a follow up appt
– RT calls them at home and sets up appt with them
Changed Name from the Pulmonary Rehabilitation clinic to
"COPD Independence Program"
Systematic Assessment and Early Intervention
30
Role of Respiratory Therapist in Re-Admission
Prevention
•
RT's stepping up and taking an active roll
–
–
–
–
Properly assessing and identifying patients at risk for retained secretions
Providing Patient Education
Ensuring proper follow-up after discharge
Assessment of needs at discharge
• Effective Communication with:
–
–
–
–
–
–
Discharge Planner
Nursing
Physician
PT / OT
Homecare /transitional care RT
DME companies / vendors
Closing the gap between hospitals, extended care and
homecare by working as a team!
Taking the Team Approach…
Physicians
PA's & NP's
Insurance
Companies &
other payers
Manufacturers
Distributors
Respiratory
Therapists
For
Best
Patient
Outcomes
Post Acute
Care Team
Nurses
PT/OT &
Speech
Discharge
Planners &
Case
Managers
Comparing Hospitals
33
Conclusion
•Health care reform is here and Respiratory Care both
home and hospital based need to position themselves
as invaluable.
•The causes of Readmissions span multiple providers
along the whole continuum of patient care.
•Many of the solutions to these problems are in front of
us. Now its up to us.