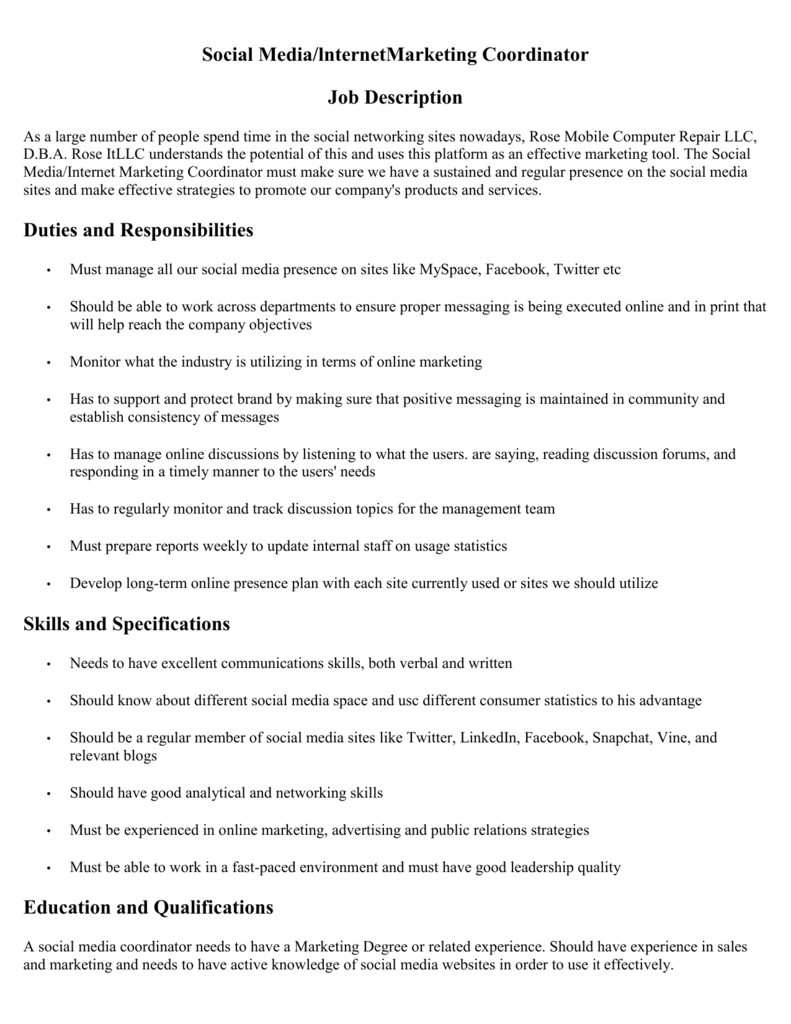 Social Media/lnternetMarketing Coordinator
Job Description
As a large number of people spend time in the social networking sites nowadays, Rose Mobile Computer Repair LLC,
D.B.A. Rose ItLLC understands the potential of this and uses this platform as an effective marketing tool. The Social
Media/Internet Marketing Coordinator must make sure we have a sustained and regular presence on the social media
sites and make effective strategies to promote our company's products and services.
Duties and Responsibilities
•
Must manage all our social media presence on sites like MySpace, Facebook, Twitter etc
•
Should be able to work across departments to ensure proper messaging is being executed online and in print that
will help reach the company objectives
•
Monitor what the industry is utilizing in terms of online marketing
•
Has to support and protect brand by making sure that positive messaging is maintained in community and
establish consistency of messages
•
Has to manage online discussions by listening to what the users. are saying, reading discussion forums, and
responding in a timely manner to the users' needs
•
Has to regularly monitor and track discussion topics for the management team
•
Must prepare reports weekly to update internal staff on usage statistics
•
Develop long-term online presence plan with each site currently used or sites we should utilize
Skills and Specifications
•
Needs to have excellent communications skills, both verbal and written
•
Should know about different social media space and usc different consumer statistics to his advantage
•
Should be a regular member of social media sites like Twitter, LinkedIn, Facebook, Snapchat, Vine, and
relevant blogs
•
Should have good analytical and networking skills
•
Must be experienced in online marketing, advertising and public relations strategies
•
Must be able to work in a fast-paced environment and must have good leadership quality
Education and Qualifications
A social media coordinator needs to have a Marketing Degree or related experience. Should have experience in sales
and marketing and needs to have active knowledge of social media websites in order to use it effectively.