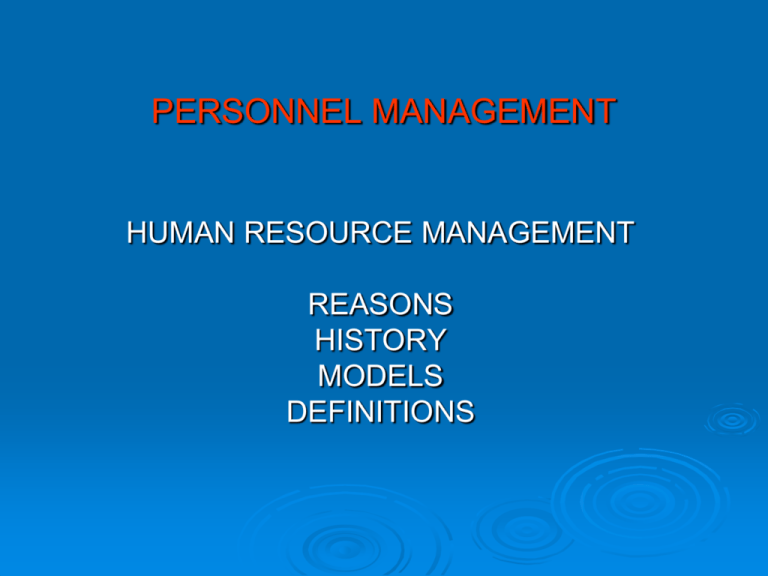 PERSONNEL MANAGEMENT
HUMAN RESOURCE MANAGEMENT
REASONS
HISTORY
MODELS
DEFINITIONS
"MAUT HALTEN UND WEITER DIENEN"
("SHUT UP DO AS WAS TOLD.")

The motto of the prussian army's sergeant.

"People become resources to be developed,
rather than human beings who are valued in
themselves and who are encouraged to choose
and shape their own future."
Gareth Morgan

"The assets make things possible
The people make things happen."
THE STAGES OF THE DEVELOPMENT OF
THE PERSONNEL POLICIES
 AGE
OF SOCIAL REFORMERS (1800)
 AGE OF WELFARE (1880-1920)
 AGE OF PERSONNEL
ADMINISTRATION (1920-40)
 AGE OF PERSONNEL MANAGEMENT
(1951-80)
 AGE OF HUMAN RESOURCE
MANAGEMENT (1980-1990)
Definition:
 The
profession of personnel management
has its principal aim the task of ensuring
the optimum use of human resources to
the mutual benefit of the enterprise, each
person and the community at large.
Personnel management is
concerned with:
 obtaining,
developing and motivating the
human resources required by the
organization to achive its objectives,
 developing
an organization structure and
climate and evolving a management style
which will promote co-operation and
commitment thorughout the organization,
 Making
the best use of the skills and
capacities of all those employed in the
organization,
 Ensuring
that the organization meets its
social and legal responsibilities towards its
employees, with particulare regard to the
condition of employment and quality of
working life provided for them.
The HRM policy goals
 Strategic
integration is concerned with
fully integrating HRM into strategic
planning, with developing coherent
policies throughout the organization.
 Commitment
is concerned with binding
employees to the organization and getting
them dedicate their efforts to high
performance
 Flexibility
is concerned with developing an
organization structure which is adaptive
and receptive to innovation
 Quality
is concerned with obtaining and
developing the high quality of staff
required to produce high quality goods and
services
The human resource management
– a new approach
Strategic approach
 The strategic approach to personnel links
it firmly to the long-term strategies of the
organization and ensures that personnel
staff provide the quidance and expert
support needed to accomplish the
strategies
System approach
 The
system approach recognizes that
personnel management policies and
procedures have to take account of the
fact the organization is an open system in
which social and technological processes
must be combined in oder to convert
inputs into outputs within the
organization's external environment.
Contingency approach
 The
contingency approach to personnel
management is function of the strategic
and system approaches and based on
continquency theory. It means that all
personell policies and activities will be
dependent on the situation in which the
organization operates.
Social responsibility approach
 The
social responsibility approach means
a social obligation, beyond that required
by the law and economics, for a firm to
persue long-term goals that are good for
society
Definiton:
 The
HRM is a strategic approach to
acquiring, developing, managing,
motivating and gaining the commitment of
the organization's key resource – the
people who work in and for it.