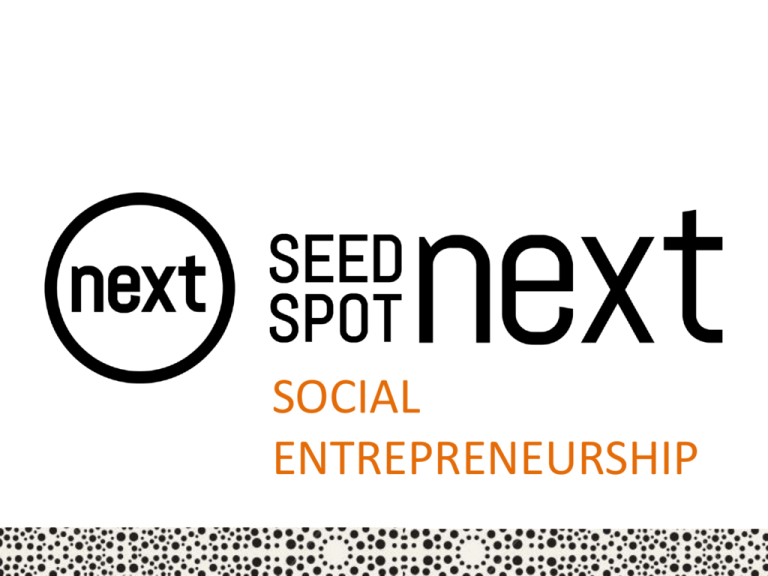 SOCIAL
ENTREPRENEURSHIP
HISTORICALLY ENTREPRENEURS HAD TO CHOOSE BETWEEN…
?
MAKING MONEY
DOING GOOD
For-profit businesses
Nonprofit organizations or Charity
https://www.youtube.com/watch?v=1ecKK3S8
DOE
SOCIAL ENTREPRENEURS…
• CREATE SYSTEMIC SOLUTIONS TO SOCIAL
ISSUES THROUGH THE USE OF BUSINESS
PRINCIPLES
SOCIAL ENTREPRENEURSHIP
• RECOGNIZING AND RESOURCEFULLY
PERSUING OPPORTUNITIES TO CREATE
SOCIAL VALUE
• CRAFTING INNOVATIVE APPROACHES TO
ADDRESSING CRITICAL SOCIAL NEEDS
SOURCE: DUKE UNIVERSITY
SOCIAL ENTREPRENEURSHIP IS…
• APPLYING PRACTICAL AND
SUSTAINABLE APPROACHES TO THE
GOOD OF SOCIETY
• A MELDING OF BEST BUSINESS
PRACTICE WITH SOLVING SOCIAL
PROBLEMS
UNDERSTAND THE PROBLEM
CREATIVE AND INNOVATIVE
STIMULATES ECONOMY
SOCIAL ENTERPRISE IS
TRENDING…
•
9-IN-10 CONSUMERS
• 90% OF MILLENIALS WANT TO WORK FOR
SOCIALLY CONSCIOUS COMPANIES
• $3.7 TRILLION DOLLARS INVESTED IN
SOCIAL IMPACT COMPANIES IN 2013
• TOP IVY LEAGUE SCHOOLS HAVE COURSES
ON SOCIAL ENTREPRENEURSHIP
• B-CORPRATION LEGISLATION
BENEFIT CORPORATIONS…
• HAVE A CORPORATE PURPOSE TO CREATE
A MATERIAL POSITIVE IMPACT ON
SOCIETY AND THE ENVIRONMENT
• ARE REQUIRED TO CONSIDER THE IMPACT
OF THEIR DECISIONS NOT ONLY ON
SHAREHOLDERS BUT ALSO ON WORKERS,
COMMUNITY, AND THE ENVIRONMENT
• ARE REQUIRED TO MAKE ABAILABLE TO
THE PUBLIC AN ANNUAL BENEFIT REPORT
THAT ASSESSES THEIR OVERALL SOCIAL
AND ENVIRONMENTAL PERFORMANCE
AGAINST A THIRD PARTY STANDARD
PBS states social entrepreneurs are individuals with
innovative solutions to society's most pressing social
problems. They are ambitious and persistent, tackling
major social issues and offering new ideas for widescale change.
CHECK OUThttp://www.pbs.org/opb/thenewheroes/whatis/
EXAMPLES OF SOCIAL
VENTURES…
"For us at Patagonia, a love for nature
demands participation in the fight to
save it, and to help reverse the decline in
the overall environmental health of our
planet. We donate our time, services,
and money to hundreds of grassroots
environmental groups worldwide."
"Our goal is to holistically equip people living in
poverty with the skills, education, and resources
to change their circumstances forever. Work
provides worth. Education breeds innovation.
Mentorship nourishes relationships. Through
this multi-faceted and measured approach, we
work with each beneficiary to create a path
toward independence."
"We created this company because we
care passionately about helping
families and giving all children their
best and healthiest start in life. There
are 2.2 billion children in the world,
and 75 million in the United States, and
through our Social Goodness work, we
believe it is our job to make a
difference in the lives of all families."
DO YOU KNOW OF ANY
SOCIAL VENTURES?
REFLECTION
•
WHAT IS SOCIAL ENTREPRENEURSHIP?
•
WHY DOES IT MATTER?
•
DOES IMPACT AFFECT EVERY AREA OF
SOCIAL ENTERPRISE?