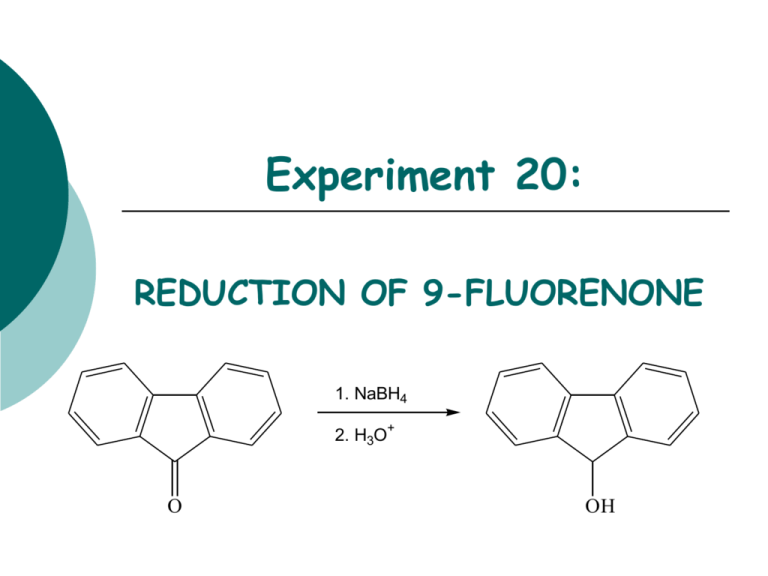 Experiment 20:
REDUCTION OF 9-FLUORENONE
1. NaBH4
2. H3O+
O
OH
Objectives:




To synthesize a secondary alcohol from a
ketone using a sodium borohydride
reduction.
To purify and isolate the product using
recrystallization.
To analyze the purity of the product using
TLC, HPLC and melting point analysis.
To characterize the reactants and
products using NMR spectroscopy.
Before coming to lab…

Review these techniques:

Fractional distillation

Vacuum filtration

GC Analysis
REDUCTION USING NaBH4


NaBH4 (sodium borohydride) is a versatile and
useful reducing agent in organic chemistry.
A reducing agent causes a reaction (a reduction)
in which the product has more bonds from
carbon to hydrogen (or fewer bonds to oxygen)
OH
O
4 R C
4 R C
R' + 1 NaBH4
then H2O
H
R'
MECHANISM
NaBH4 transfers a
hydride ion to the
carbonyl carbon.
The oxygen anion
eventually removes a
proton from water.
EXPERIMENTAL PROCEDURE
(Synthesis)

Weigh 9-fluorenone into 50 mL flask
with stir bar.

Dissolve in ethanol.

Add NaBH4 slowly. Stir 20 minutes.

Add deionized water.

Add 0.1 M HCl dropwise until pH = 7.
EXPERIMENTAL PROCEDURE
(Purification)






Suction filter.
RINSE SOLID WITH 10 ML
COLD WATER!
Prepare TLC and HPLC samples.
Place product in warm oven for
10 minutes on a preweighed watch
glass.
Obtain final product yield,
calculate % yield.
Proceed to PRODUCT ANALYSIS.
EXPERIMENTAL PROCEDURE
(Product Analysis)




TLC analysis
 Identify components present in product solution and
determine purity.
HPLC analysis
 Identify components present in product solution and
determine purity.
MP analysis
 Compare to literature value of melting point to
determine purity.
NMR analysis
 Characterize reactant and product using spectra on
page 169.
Table 20.1
Determine whether 9fluorenone or sodium
borohydride is the limiting
reagent first.
 Remember stoichiometry!

Theoretical yield (g)
Actual yield (g)
% yield
Melting Range (oC)
Product Appearance
Record physical state and
color of product.

Table 20.2
calculate based on 9fluorenone and sodium
borohydride ONLY!
 Review Experiment 13 for
calculation!

Atom Economy
Experimental Atom Economy
Eproduct
Cost per gram
Review Experiment 13 for
calculation!

Review Experiment 13 for
calculation!

Calculate COST PER
SYNTHESIS 1st based on
all reactants and solvent!

Tables 20.3 and 20.4
Compound
9-fluorenone
9-fluorenol
TLC Rf values
Standards Sample
Compound
Rf values are
unitless and 2
decimal places
ONLY!
9-fluorenone
9-fluorenol
HPLC
Retention times
(min)
Standards Sample
Area
%
NMR Spectroscopy
9-fluorenone
O
Aromatic protons
9
Aromatic
carbons
194d
NMR
solvent
NMR Spectroscopy
9-fluorenol
Aromatic protons
5.54d
TMS
1.75d
Aromatic carbons
NMR
solvent
75d
SAFETY CONCERNS
All compounds used in today's
experiment are FLAMMABLE
and TOXIC! Use extreme caution
when in use!
•
WASTE MANAGEMENT





Place aqueous filtrate from suction filtration in
container labeled "AQUEOUS WASTE (Ketones)".
Place TLC solvent in container labeled "ORGANIC
WASTE (Ketones)".
Place MgSO4, filter papers, and used TLC plates in
yellow "SOLID WASTE" can.
Place used TLC and melting point capillaries in BROKEN
GLASS CONTAINER.
Place product in container labeled "9-FLUORENOL
(Student Prep).
CLEANING



Clean all glassware with soap, water,
and a brush if necessary.
Rinse all glassware with wash acetone
before returning it to the lab drawer!
DO NOT return glassware to lab
drawer dirty or wet!