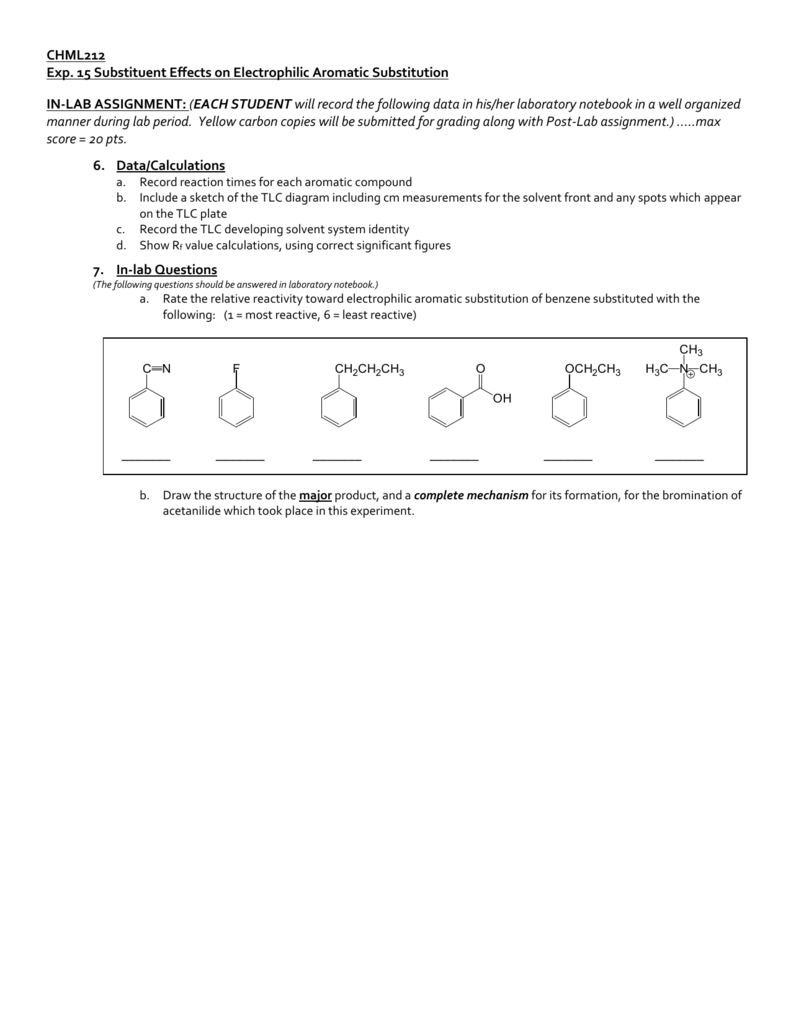 CHML212
Exp. 15 Substituent Effects on Electrophilic Aromatic Substitution
IN-LAB ASSIGNMENT: (EACH STUDENT will record the following data in his/her laboratory notebook in a well organized
manner during lab period. Yellow carbon copies will be submitted for grading along with Post-Lab assignment.) …..max
score = 20 pts.
6. Data/Calculations
a.
b.
c.
d.
Record reaction times for each aromatic compound
Include a sketch of the TLC diagram including cm measurements for the solvent front and any spots which appear
on the TLC plate
Record the TLC developing solvent system identity
Show Rf value calculations, using correct significant figures
7. In-lab Questions
(The following questions should be answered in laboratory notebook.)
a.
Rate the relative reactivity toward electrophilic aromatic substitution of benzene substituted with the
following: (1 = most reactive, 6 = least reactive)
CH3
C N
F
CH2CH2CH3
O
OCH2CH3
H3C N CH3
OH
_______
b.
_______
_______
_______
_______
_______
Draw the structure of the major product, and a complete mechanism for its formation, for the bromination of
acetanilide which took place in this experiment.
CHML212
Exp. 15 Substituent Effects on Electrophilic Aromatic Substitution
POST-LAB ASSIGNMENT: (EACH LAB GROUP will submit one copy of a typewritten, paragraph style report addressing
all of the points listed below. Must be written using PAST TENSE, PASSIVE VOICE. ) …..max score = 50 pts.
8. Experimental




(Write 1-2 paragraphs including all of the following. Do NOT present a bulleted outline.)
What type of reaction did you perform?
Describe your actual synthetic procedure. Include names of any reactants used and desired product, as well as
name of solvent and catalyst used (if any). Be sure to give names and actual volume/mass of any compound used
during the synthesis (not just what the lab manual tells you to use).
Describe the purification technique used to isolate the desired product, including names and actual volume/mass
and any compound used during purification process.
Describe the analytical technique used to evaluate the product, including name and actual volume/mass of any
compounds used during TLC analysis.
9. Results (Cut and paste the completed tables into your document. May complete substituents and TLC diagram by hand once placed in document.)
Compound
ethyl benzene
Table 15.1 Reactivity rates of aromatic compounds
anisole
acetanilide
phenol
benzaldehyde
nitrobenzene
Structure
OPA, OPD,
or MD
Reaction
Order
(1 = most reactive, 6 = least reactive)
Table 15.2 TLC results
TLC Diagram
Name of Compound
Rf Values
Standard
Sample
Solvent Front= _________cm
o-bromoacetanilide
m-bromoacetanilide
TLC developing solvent used:
_________________________
p-bromoacetanilide
10. Discussion (Write 1-2 paragraphs including the following.)




Discuss the reaction order of the compounds listed in Table 15.1.
Are the observed reaction rates consistent with what one would expect based on knowledge of activating and
deactivating substituents? Describe what was expected to happen and what actually happened. If the obtained
results are different than expected, explain the difference.
In this experiment, the aromatic compound is used in excess and the bromine is the limiting reagent. Would one
be able to determine the reaction rates based on the disappearance of color if bromine was used in excess?
Briefly explain.
Include a short comment addressing what could be done differently to improve the experimental results, if
repeated.