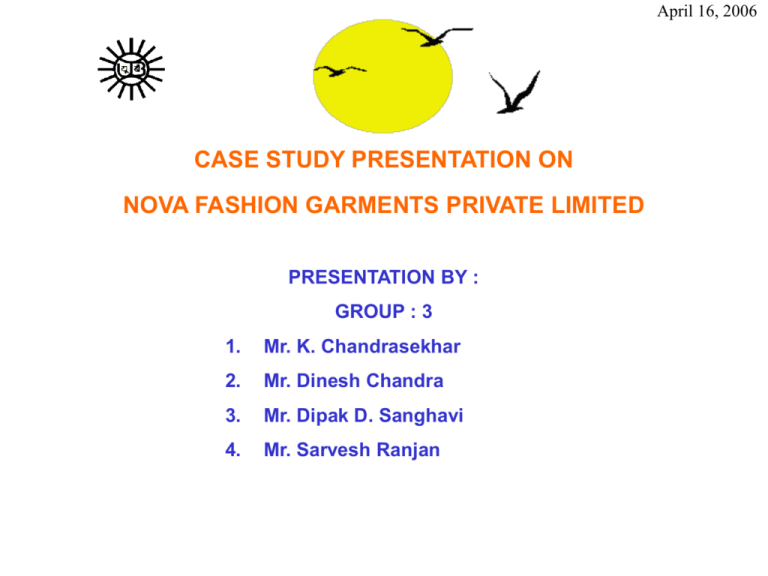 April 16, 2006
CASE STUDY PRESENTATION ON
NOVA FASHION GARMENTS PRIVATE LIMITED
PRESENTATION BY :
GROUP : 3
1.
Mr. K. Chandrasekhar
2.
Mr. Dinesh Chandra
3.
Mr. Dipak D. Sanghavi
4.
Mr. Sarvesh Ranjan
Background of the Case
•well-known manufacturer of ready-made garments
•established in 1970
•Mr. Arun Kumar Jain is the Managing Director
•company manufactures
especially in gents' wear.
a
wide
line
of
products
• The company has a network of branches and dealers
throughout the country.
•A young management trainee was asked to collect the
successful strategic examples from various sources
Issues in the Case
•
The company is facing several problems in increasing its
market share.
– High taxes leading to high prices
– Fashion changing very fast / Dead stocks
– New players / Unhealthy competition
–
•
wider choice at competitive price
The company is in the process of evolving a strategic market
orientation in order to compete successfully in the changing
marketing environment.
Strategy Examples
Rolls Royce
Beecham
Du-Pont Nylon
Reliance
Nirma
Procter & Gamble
Balsara
Ponds
Maggie Noodles
Amul
Hyundai
Bisleri
Pioma Industries
Common successful strategies drawn from examples
*

Creation of Brand Equity

Product Differentiation/Diversification

Market Segmentation/New market expansion

Aggressive Advertising/Unique Selling Proposition

Effective Distribution System

Competitive pricing strategy
Global Economic Prospects 2004, World Bank Study Table 2.2 Page 74.
ASSUMPTIONS
1. Assumed that the relevant period is during
late
80's.
2. Sufficient Financial strength to make investment
for expansion / diversification.
3. Poor integration of distribution channels of the
company.
4. Company having proper succession planning.
Methodology of Analysis
Environmental Analysis
Industry Analysis
SWOT Analysis
Customer Analysis
Competitor Analysis
Environmental Analysis
Political
Govt. Policies not very conducive.
Economical
High taxes leading to high prices.
High taxes & controls.
Quota
Social
Demographic changes
Change in buying behavior
Technical
Technical know-how
Change in manufacturing process
INDUSTRY ANALYSIS
•Apparel Industry is one of India's largest foreign exchange earners.
•It accounts for 12% of country's total exports.
•Very diverse in terms of size, production facilities, types of apparel
manufactured, quality of output, fabric requirement, price sensitivity
etc.
•Garment industry is extremly fragnented.
SWOT ANALYSIS
Strengths-Established manufacturer of readymade garments.
-Wide line of products.
-Specializing exclusively in gents wear.
-Network of branches & dealers throughout the country.
-Financial soundness
Weakness-Rising manufacturing costs
-Poor marketing plan
-Poor inventory/materials management
-Poor R & D.
-Poor brand image.
-Lacks corporate direction
-High price compared to competitor
-Poor market survey/ Customer trends
-Lack of strategic market orientation.
-Poor integration of distribution channels
Opportunities- Identification of new market segments.
-Strengthening the brand.
-Driving new product development based on customer's need
-Improving customer experience
-Utilizing new marketing technology.
-Gathering meaningful customer insight
-Vertical integration.
-Exports.
Threats
-Attack on core business.
-Compressed product life cycle
-Increase in domestic competition
-Fast changes in customer tastes
-Down trend in pricing
-Low market growth rate Opportunities-
Competitors' Analysis:
Competitive Pricing
Strategy Driven
Unhealthy Competition
Large in Number
Marketing Oriented
CUSTOMER ANALYSIS
•fashion conscious
• knowledgeable
• price conscious
• younger
generation's
preference for trendy fashion
garments at an affordable
price.
Observation and Research:
The company is facing several problems in increasing its market share.
High cost, company's inability to identify the customers' changing taste
resulting in accumulation of dead stock and weak sales team are taking its
toll on company's profitability.
The competition has also intensified in the market and the consumers are
offered wide choices at a competitive price. Hence the company has to
evolve a new market strategy for increasing the market share.
The Gap analysis unveils the areas where the company needs to reinforce
the strategies for cornering a substantial market share. Garment industry is
a growing market and being the market mover gives the firm an upstart.
Nova Garments is an established company but lacks the market research
wing, which can capture the emerging fashion trends. The company also
lacks an in-house Designing Centre which is essential for success of any
garment manufacturer. The Brand building exercise has never been given
the due importance for creating everlasting customer affiliations. Various
promotional avenues have not been harnessed.
The Recommendations:
1. company needs to be customer centered, win customers from
competitors, keep and grow by delivering greater value. The company
has to target customers' activities, lifestyle and social space.
2.
Market
segmentation,
target
marketing
and
market
positioning
3. Company must think through the four C's of Customer
solution, Customer cost,
Convenience and Communication first and
then build the four P's of Product, Price, Place and Promotion.
4. focusing on shorter response time , identify and catch a
winning fashion trend while its competitors are struggling to catch
up.
5. company can either establish a design team to identify the
prevalent fashion trends and styles or outsource the same keeping in
mind the cost benefit analysis.
The Recommendations
(Cont.)
6. Company can adopt a strategy of reducing the quantity of
manufactured items and reducing its exposure to any single product.
7. Instead of more quantities per style, the company has to
devote efforts for more styles so that even if a style fails, there are
new styles already waiting to take up the space.
8. For flexibility and control, the company has to work as
vertically integrated group with up-to-date equipment.
9. Super charged product development would give the creative
edge in the highly competitive market. Even if the cost of product
development is high, it will be adequately compensated by higher
realized margins. The entire product development cycle begins with
market research.
The Recommendations
(Cont.)
10.This will require investment in information technology and
communication infrastructure to keep streaming up-to-date trend
information to the people making the product and business decisions.
11.Rather than concentrating on forecasting accurately, the
company has to develop its business around reacting swiftly and
responds to the actual need.
12. The company should diversify in to highly lucrative
women's wear and should exploit the massive export potential.
Conclusion
With the abolition of the export quota regime for garments under WTO since 2005, the company
should capitalize the export potential available for the company's product.
The industry will be restructured as follows:
i) Joint ventures and strategic alliances with leading world manufacturers will be promoted.
ii) Schemes with necessary infrastructural facilities for the establishment of textile/apparel parks
will be designed with the active involvement of State Governments, Financial Institutions and the
private sector.
iii) Setting up of strong
domestic retail chains to ensure easy availability of branded Indian
products will be encouraged.
iv) As the International borders blur Supply Chain Management and Information Technologies take
a crucial role in Apparel manufacturing. Global partners in
the clothing supply chain are
exchanging information electronically, thus the need for Indian Clothing Industry to spruce up.
Conclusion
v) The 3C's of Commitment, Co-ordination and Co-operation need to be applied at all levels by the
industry to be able to maintain its presence in the global market.
The industry view is currently positive, and it is felt that most clothing firms have
improved in technology and in operational performance. Two alternative strategies are
suggested for future competitiveness:
A strong combination of design and marketing. This would allow the firm to build a
brand with a strong reputation.
Strength in service, particularly in efficient turnaround of orders. This would allow the
company to build strength as a contract manufacturer.
Conclusion
•
"The company's vision should be of a knowledgeintensive industry that is equally strong on
design,
marketing,
logistics
management,
technology...and positioned in markets where
these strengths make sense. It could make
reference to fashion and to branding."
THANK YOU
FOR YOUR TIME, PATIENCE
AND CONSIDERATION !!!