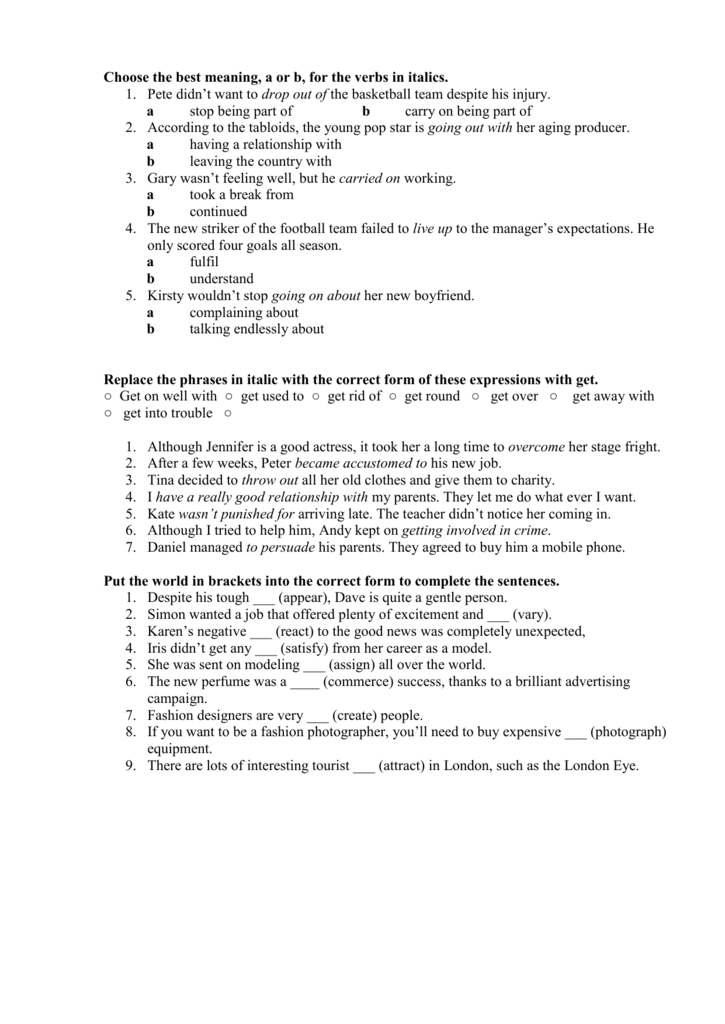 Choose the best meaning, a or b, for the verbs in italics.
1. Pete didn't want to drop out of the basketball team despite his injury.
a
stop being part of
b
carry on being part of
2. According to the tabloids, the young pop star is going out with her aging producer.
a
having a relationship with
b
leaving the country with
3. Gary wasn't feeling well, but he carried on working.
a
took a break from
b
continued
4. The new striker of the football team failed to live up to the manager's expectations. He
only scored four goals all season.
a
fulfil
b
understand
5. Kirsty wouldn't stop going on about her new boyfriend.
a
complaining about
b
talking endlessly about
Replace the phrases in italic with the correct form of these expressions with get.
○ Get on well with ○ get used to ○ get rid of ○ get round ○ get over ○ get away with
○ get into trouble ○
1.
2.
3.
4.
5.
6.
7.
Although Jennifer is a good actress, it took her a long time to overcome her stage fright.
After a few weeks, Peter became accustomed to his new job.
Tina decided to throw out all her old clothes and give them to charity.
I have a really good relationship with my parents. They let me do what ever I want.
Kate wasn't punished for arriving late. The teacher didn't notice her coming in.
Although I tried to help him, Andy kept on getting involved in crime.
Daniel managed to persuade his parents. They agreed to buy him a mobile phone.
Put the world in brackets into the correct form to complete the sentences.
1. Despite his tough ___ (appear), Dave is quite a gentle person.
2. Simon wanted a job that offered plenty of excitement and ___ (vary).
3. Karen's negative ___ (react) to the good news was completely unexpected,
4. Iris didn't get any ___ (satisfy) from her career as a model.
5. She was sent on modeling ___ (assign) all over the world.
6. The new perfume was a ____ (commerce) success, thanks to a brilliant advertising
campaign.
7. Fashion designers are very ___ (create) people.
8. If you want to be a fashion photographer, you'll need to buy expensive ___ (photograph)
equipment.
9. There are lots of interesting tourist ___ (attract) in London, such as the London Eye.