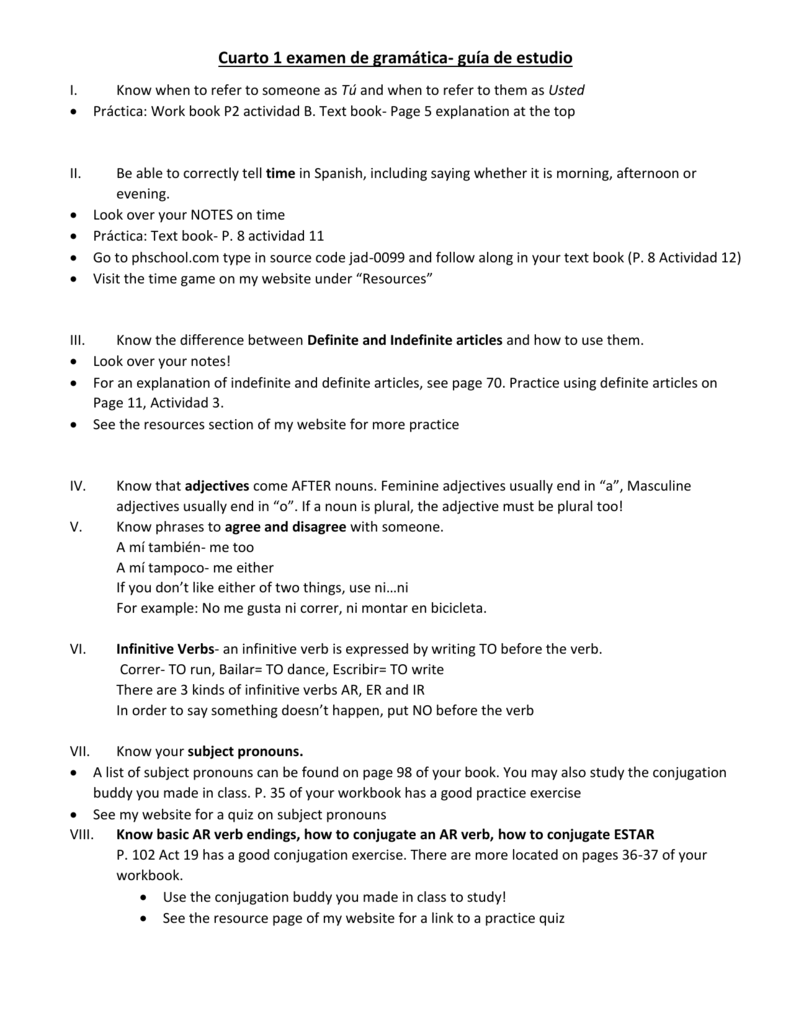 Cuarto 1 examen de gramática- guía de estudio
I.

Know when to refer to someone as Tú and when to refer to them as Usted
Práctica: Work book P2 actividad B. Text book- Page 5 explanation at the top
II.
Be able to correctly tell time in Spanish, including saying whether it is morning, afternoon or
evening.
Look over your NOTES on time
Práctica: Text book- P. 8 actividad 11
Go to phschool.com type in source code jad-0099 and follow along in your text book (P. 8 Actividad 12)
Visit the time game on my website under "Resources"




III.
Know the difference between Definite and Indefinite articles and how to use them.
 Look over your notes!
 For an explanation of indefinite and definite articles, see page 70. Practice using definite articles on
Page 11, Actividad 3.
 See the resources section of my website for more practice
IV.
V.
VI.
Know that adjectives come AFTER nouns. Feminine adjectives usually end in "a", Masculine
adjectives usually end in "o". If a noun is plural, the adjective must be plural too!
Know phrases to agree and disagree with someone.
A mí también- me too
A mí tampoco- me either
If you don't like either of two things, use ni…ni
For example: No me gusta ni correr, ni montar en bicicleta.
Infinitive Verbs- an infinitive verb is expressed by writing TO before the verb.
Correr- TO run, Bailar= TO dance, Escribir= TO write
There are 3 kinds of infinitive verbs AR, ER and IR
In order to say something doesn't happen, put NO before the verb
VII.
Know your subject pronouns.
 A list of subject pronouns can be found on page 98 of your book. You may also study the conjugation
buddy you made in class. P. 35 of your workbook has a good practice exercise
 See my website for a quiz on subject pronouns
VIII. Know basic AR verb endings, how to conjugate an AR verb, how to conjugate ESTAR
P. 102 Act 19 has a good conjugation exercise. There are more located on pages 36-37 of your
workbook.
 Use the conjugation buddy you made in class to study!
 See the resource page of my website for a link to a practice quiz
Know how to answer the following questions using complete sentences in Spanish:
¿Qué te gusta hacer?
¿Te gusta más nadar o esquiar?
¿Cómo eres?
¿Qué tiempo hace hoy?
¿Qué clase tienes en la tercera hora?
¿Cuál es tu clase favorita?
¿Cuántos estudiantes hay en tu clase de español?