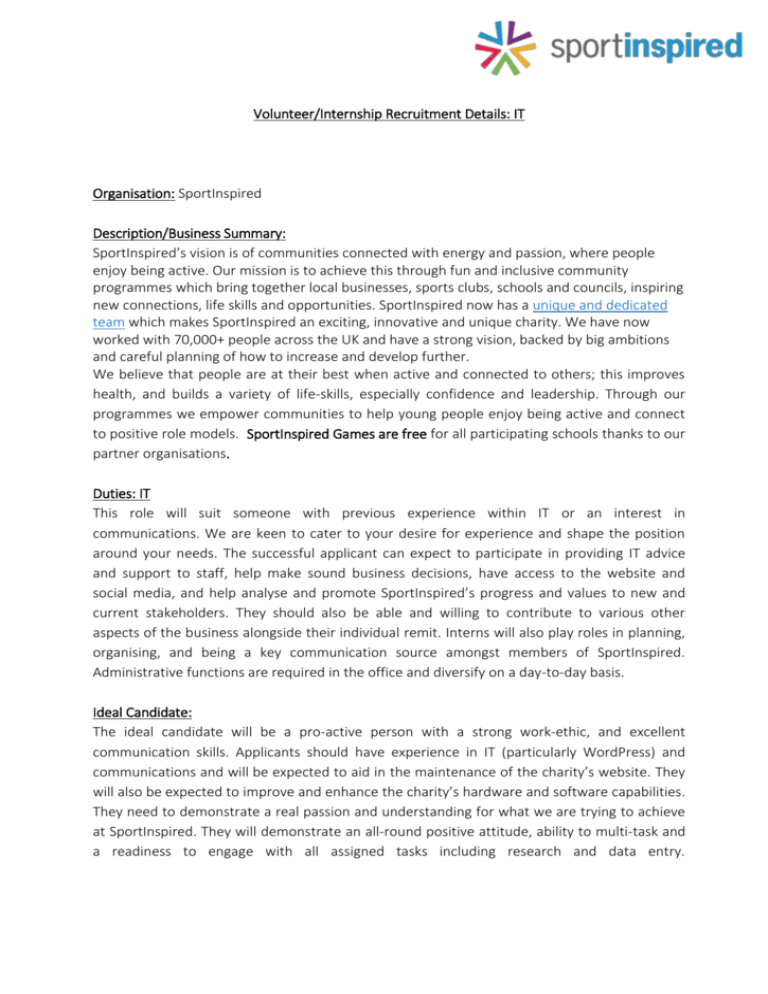 Volunteer/Internship Recruitment Details: IT
Organisation: SportInspired
Description/Business Summary:
SportInspired's vision is of communities connected with energy and passion, where people
enjoy being active. Our mission is to achieve this through fun and inclusive community
programmes which bring together local businesses, sports clubs, schools and councils, inspiring
new connections, life skills and opportunities. SportInspired now has a unique and dedicated
team which makes SportInspired an exciting, innovative and unique charity. We have now
worked with 70,000+ people across the UK and have a strong vision, backed by big ambitions
and careful planning of how to increase and develop further.
We believe that people are at their best when active and connected to others; this improves
health, and builds a variety of life-skills, especially confidence and leadership. Through our
programmes we empower communities to help young people enjoy being active and connect
to positive role models. SportInspired Games are free for all participating schools thanks to our
partner organisations.
Duties: IT
This role will suit someone with previous experience within IT or an interest in
communications. We are keen to cater to your desire for experience and shape the position
around your needs. The successful applicant can expect to participate in providing IT advice
and support to staff, help make sound business decisions, have access to the website and
social media, and help analyse and promote SportInspired's progress and values to new and
current stakeholders. They should also be able and willing to contribute to various other
aspects of the business alongside their individual remit. Interns will also play roles in planning,
organising, and being a key communication source amongst members of SportInspired.
Administrative functions are required in the office and diversify on a day-to-day basis.
Ideal Candidate:
The ideal candidate will be a pro-active person with a strong work-ethic, and excellent
communication skills. Applicants should have experience in IT (particularly WordPress) and
communications and will be expected to aid in the maintenance of the charity's website. They
will also be expected to improve and enhance the charity's hardware and software capabilities.
They need to demonstrate a real passion and understanding for what we are trying to achieve
at SportInspired. They will demonstrate an all-round positive attitude, ability to multi-task and
a readiness to engage with all assigned tasks including research and data entry.
Application:
If you want to be part of the team, fill out the form located in the following link:
http://sportinspired.org/internship-programme/
Additional Information:
Salary: This is voluntary position.
Internship Duration: 12 weeks/3 months
Days/times of work: Full time or Part Time
Dress Code: Casual unless advised otherwise.
Application Deadline: We accept applications on an ongoing basis
Starting date: To be discussed
Contact:
Postcode: E1 8FA
E-mail: [email protected]
Website: www.sportinspired.org
Good luck!