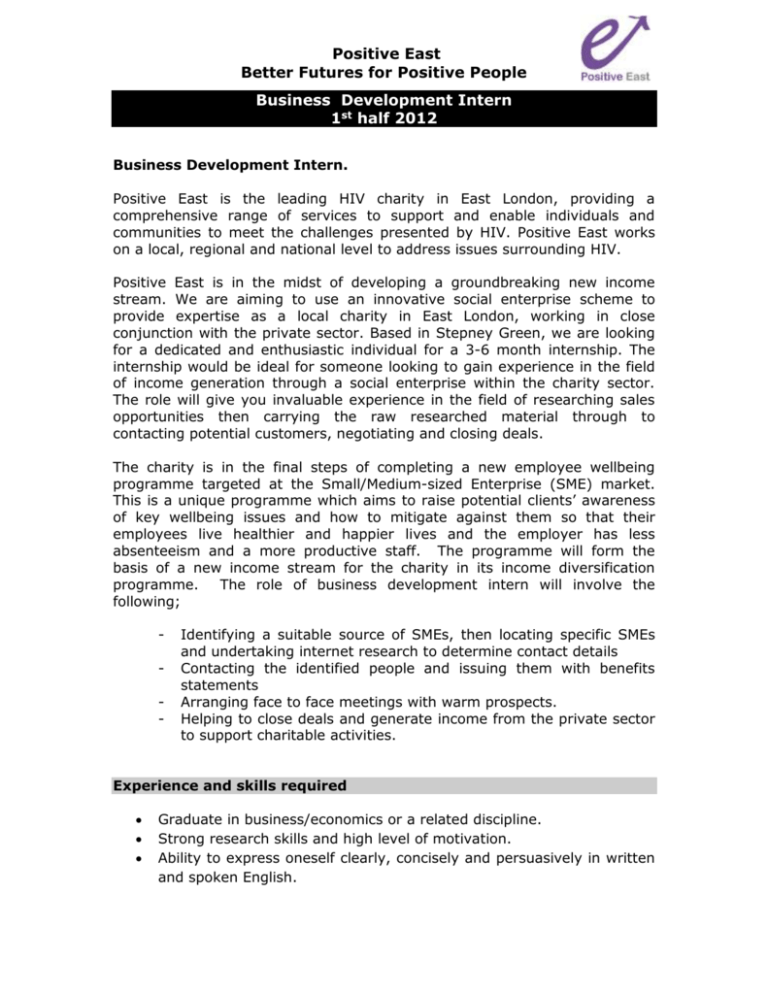 Positive East
Better Futures for Positive People
Business Development Intern
1st half 2012
Business Development Intern.
Positive East is the leading HIV charity in East London, providing a
comprehensive range of services to support and enable individuals and
communities to meet the challenges presented by HIV. Positive East works
on a local, regional and national level to address issues surrounding HIV.
Positive East is in the midst of developing a groundbreaking new income
stream. We are aiming to use an innovative social enterprise scheme to
provide expertise as a local charity in East London, working in close
conjunction with the private sector. Based in Stepney Green, we are looking
for a dedicated and enthusiastic individual for a 3-6 month internship. The
internship would be ideal for someone looking to gain experience in the field
of income generation through a social enterprise within the charity sector.
The role will give you invaluable experience in the field of researching sales
opportunities then carrying the raw researched material through to
contacting potential customers, negotiating and closing deals.
The charity is in the final steps of completing a new employee wellbeing
programme targeted at the Small/Medium-sized Enterprise (SME) market.
This is a unique programme which aims to raise potential clients' awareness
of key wellbeing issues and how to mitigate against them so that their
employees live healthier and happier lives and the employer has less
absenteeism and a more productive staff. The programme will form the
basis of a new income stream for the charity in its income diversification
programme.
The role of business development intern will involve the
following;
-
Identifying a suitable source of SMEs, then locating specific SMEs
and undertaking internet research to determine contact details
Contacting the identified people and issuing them with benefits
statements
Arranging face to face meetings with warm prospects.
Helping to close deals and generate income from the private sector
to support charitable activities.
Experience and skills required



Graduate in business/economics or a related discipline.
Strong research skills and high level of motivation.
Ability to express oneself clearly, concisely and persuasively in written
and spoken English.
Positive East
Better Futures for Positive People







Clear and concise telephone manner.
Excellent organisational skills and attention to detail.
Good IT skills, computer literate.
Strong interpersonal skills; ability to engage with a range of people
and an interest in a career in sales and/or business development.
Ability to use own initiative and manage own workload while working
as part of a team
Good understanding of business practice and sales techniques.
Ability to work closely with the finance and fundraising departments of
Positive East.
The ideal candidate will be committed,
enthusiastic about the work of the charity.
pro-active,
personable
and
This is a voluntary position however travel and lunch expenses will
be covered. The internship is available as a part time position (15 hours a
week) and based at Positive East's Stepney Centre.
For more information please visit: www.positiveeast.org.uk
Or call Alastair Thomson for an informal chat on 020 7791 9307.
To apply, please send your CV and covering letter to:
[email protected]
Or post for Liz Lesley at Positive East, 159 Mile End Road, London E1 4AQ
Closing date: January 6th 2012 5pm.