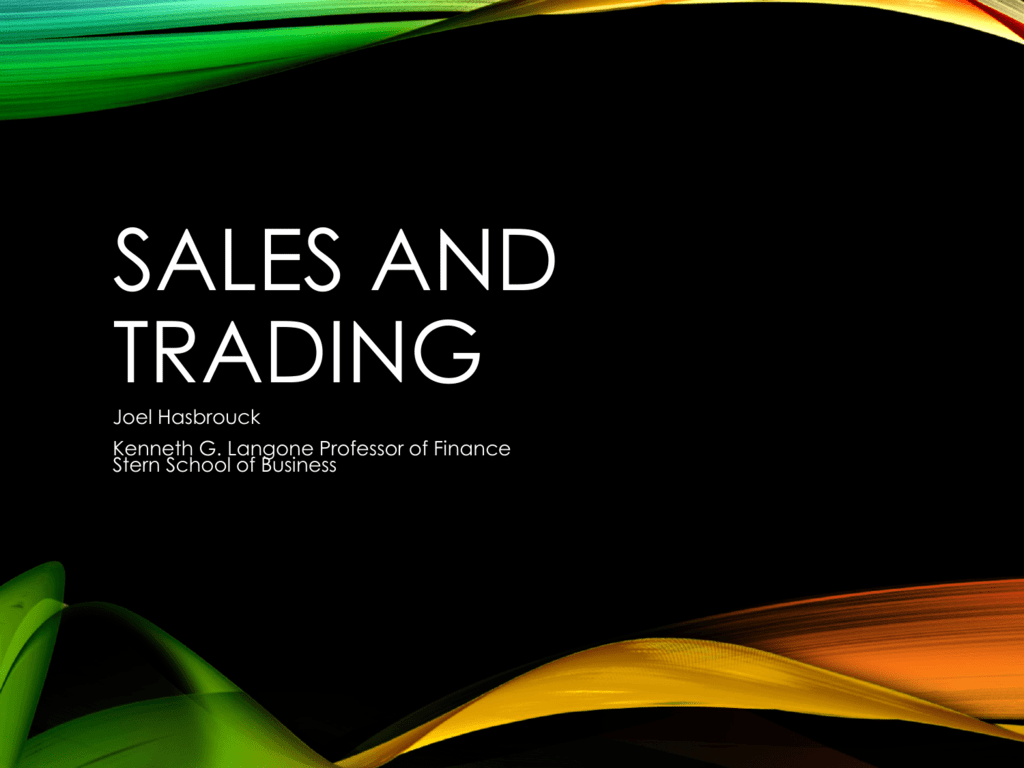 SALES AND
TRADING
Joel Hasbrouck
Kenneth G. Langone Professor of Finance
Stern School of Business
WHAT IS IT?
• The basic products of bank/brokerage are securities
• Stocks, bonds, options, futures, foreign exchange.
• The customers need to buy and sell securities
• To raise capital, invest long-term, or manage risk.
• A sales and trading desk
• Educates customers about the securities and their uses
• Supplies the customers with market information
• Makes the trade happen.
PEOPLE WHO SUCCEED IN
SALES AND TRADING …
• Know their products
• The securities available today, and new securities that might be
created in the future.
• Know their customers
• What do they want?
• How can we add value to their activities?
• Know their markets
• How do these markets work?
• How do we execute our customers' trades at the lowest possible
cost?
• Where might you learn these things in the Stern finance
curriculum?
The Stern finance courses
Foundations of finance
Corporate finance
Debt
instruments
Mergers and
acquisitions
Equity
valuation
Investment banking
Futures and
options
KNOW THE MARKETS …
HOW ARE SECURITIES
ACTUALLY TRADED?
• Every trade has a buyer and seller …
• But what's the procedure?
• The price adjusts so that supply=demand …
• But how?
• What if the price doesn't adjust?
• What will markets look like next year and beyond?
WHAT DID MARKETS
LOOK LIKE IN THE PAST?
• The stock market used to have a well-defined physical
presence, a trading floor
• The New York Stock Exchange
• The Tokyo Stock Exchange
• The London Futures Exchange
• Nowadays the market is now a geographically
dispersed network.
• In which US state does the highest volume of stock
trading occur?
• New York Stock Exchange
trading occurs in Mahwah
• NASDAQ: Carteret
• BATS Y and Z: Weehawken
• DirectEdge: Secaucus
• If the market is "virtual" does physical presence matter?
• Market operations have moved out of Manhattan, but
not far, far away.
• Will everything be done by machine?
• People still need to conceptualize, design, and manage
the big picture.
• Does Stern have a course that covers this stuff?
INTERFACE: UNIVERSITY
AND INDUSTRY
• NYU Faculty maintain industry and government
contacts at all levels in many countries.
• NYU students are immersed in a city and culture of
business and finance.
• New York is home to many world-class financial firms.
• Credit Suisse stands out among them.