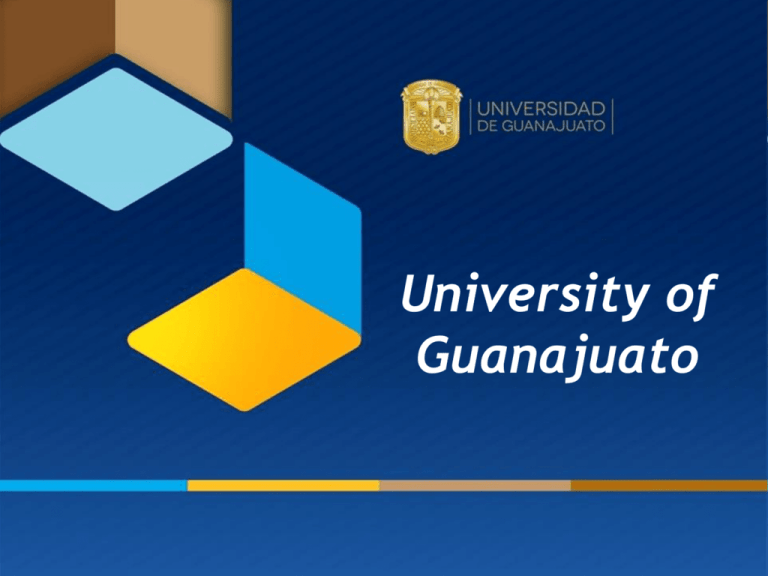 University of
Guanajuato
Content
Mexico Fast Facts
State of Guanajuato Fast Facts
The University of Guanajuato Facts
Guanajuato Facts
Total surface
30,684.44 sq. km
(Mx: 1,959,247.98 sq. km)
Mexico Fast Facts
Area
Total; 1,964,375 sq.km
Population
116,220,947 (Jul 2013)
Administrat 31 states and one
ive
Federal District (Mexico
Divisions
city)
(States)
Population
5,486,372
Migrants
1.6 (recent in 2010)
Inmigrants
1.9 (recent in 2010)
World Heritage sites
Total 31. Guanajuato 2:
Guanajuato city and San
Miguel de Allende city.
Source: https://www.cia.gov/library/publications/the-world-factbook/geos/mx.html
http://www.inegi.org.mx/
The state of Guanajuato is ranked in Mexico as the....
6th most populous
4th the largest number of municipalities with
more than 100 000 inhabitants (14)
6th in labor force and employment
7th economy
6th in companies and 9th in added value
Source: http://sde.guanajuato.gob.mx/
The State of Guanajuato Exports by Economic Sector (US Dollars)
ECONOMIC SECTOR
2003
2011
Auto parts – Automotive
6,938,204,840.20
7,443,828,886.00
Metal mechanical industry
58,770,869.67
1,159,582,197.80
Chemical products
89,251,422.31
869,126,219.29
Source: Ministry of Economic Development, , Guanajuato.
http://sde.guanajuato.gob.mx/index.php?option=com_content&task=view&id=365
3
2
1
Doctorado
Doctorate
3
2
1
Maestría
Master
5
4
3
2
1
Licenciatura
University (Undergraduate)
Educación
Profesional Técnica *
Technical (Vocational)
The Mexican
educational system
Media Superior
High School
Secundaria
Secondary
Primaria
Primary
Preescolar
Pre-School
*
Educación Básica / Basic
No articulado con la
Universidad / Does not
Años de
estudio /
Years of
Study
3
2
1
12
11
10
3
2
1
9
8
7
6
5
4
3
2
1
6
5
4
3
2
1
3
2
1
Pre
K
Grade
Level
USA
The University of Guanajuato facts
Multi-campus: UG has four campuses in the State of Guanajuato
Campus
Guanajuato
Campus
León
Higher
Education
High School
Campus
CelayaSalvatierra
Campus
IrapuatoSalamanca
CAMPUS AND DIVISIONS
CELAYASALVATIERRA
Health &
Engineering
Social Sciences
&
Administration
GUANAJUATO
Social
Sciences &
Humanities
Natural &
Exact
Sciences
Architecture,
Art &
Design
One-person authorities:
• General Rector
• Campus Rectors
• Divisions and Department
Directors
• High School System
Director
• High School directors
IRAPUATOSALAMANCA
LEÓN
Life Sciences
Sciences &
Engineering
Engineering
Health
Sciences
Social
Sciences &
Humanities
Engineering
Economy and
Administration
Law, Politics &
Government
High School System
UG EDUCATION HIGHLIGHTS
Academic programs
(193)
Faculty members
(3,011)
Student population
(34,111)
Doctorate: 21
Masters: 42
Bachelor: 96
Graduate Specialization: 27
Terminal High School: 6
High School: 1
Full-time: 803
Part-time 56
Fixed-term contract: 2,152
Doctorate: 358
Master: 1,028
Graduate Specialization: 914
Total graduate: 2,300
Bachelor: 19,236
Total B.Sc., M.Sc. & D.Sc.: 21,536
Terminal High School: 143 (Music programs)
High School: 12,432.
TOTAL: 34,111
From: UG annual report 2013-2014.
GRADUATE PROGRAMS REGISTERED BY CONACYT
Celaya-Salvatierra Campus
D.Sc. & M.Sc. In Nursing Sciences
Guanajuato Campus
Guanajuato Campus
Doctorate in Architecture (Multi-institutional)
D.Sc. & M.Sc. in Water Sciences
Master in Arts
Master in Management
D.Sc. & M.S. in Philosophy
Master in Economics
M.S. in History
Doctorate in Law (Multi-institutional)
M.S. in Hispano-american literature
Master in Educational Research
D.Sc. & M.S. in Astrophysics
Master in Criminal Law
D.Sc. & M.Sc. In Biology
Master in Constitutional Justice
D.Sc. & M.Sc. Chemical engineering
D.Sc. & M.Sc. in Chemistry
From: www.daip.ugto.mx
GRADUATE PROGRAMS REGISTERED BY CONACYT
Irapuato-Salamanca Campus
D.Sc. & M.Sc.** in Electrical Engineering
D.Sc. & M.Sc. in Mechanical Engineering
D.Sc. & M.Sc. in Biosciences
M.Sc. in Livestock production
Leon Campus
D.Sc.** & M.Sc.** in Physics
D.Sc. & M.Sc. in Medical Sciences
Master in Clinical Research
D.Sc. in Psychology (Multi-institutional)
Specialty in Spine Surgery
Specialty in Geriatrics
Specialty in Cardiology
Specialty in Anesthesiology
Specialty in General Surgery
Specialty in Neonatology
Specialty in Otorhinolaryngology
D.Sc. in Art and Culture
**Programs hold international accreditation by CONACYT
From: www.daip.ugto.mx
BACHELOR PROGRAMS WITH
INTERNATIONAL ACCREDITATION
Guanajuato Campus
Law
IIDEA (International Institute for Accreditation of Law)
Tourism Resource Management
UNWTO Themis Fundation (United Nations World Tourism
Organization)
From: UG annual report 2013-2014.
The University of Guanajuato is a public state
institution
• Funds are provided by the
Federal and State Government.
• To study at the UG, student must
approve an examination test.
• Additional funding comes from
special programs bases on quality
standards and by competition
(PIFI) at national level.
• The rate of acceptance is about
10% of the applicants in Medicine
and Law is less than 5%,
• Medical services to faculty and
staff are provided by the
University (Medical Net).
• In Mexico, the education is a
social value (based on merits).
Quality Standards
Members in National System of Researchers (CONACYT) : 343
(Second place among HEI in México)
Faculty members holding PROMEP profile (Ministry of Education): 530
Certified administrative processes (ISO 9001-2008): 239
Externally evaluated programs: 48
Student population enrolled in evaluated programs: 77%
(Ministry of Education awarded a recognition in 7 consecutive occasions)
From: UG annual report 2013-2014.
From: www.rectoria.ugto.mx
According to the SIR SCIMAGO 2014 Iberoamerican Ranking, for
its scientific papers published in the years from 2008 to 2012
UG ranks :
112th of 1,636 institutions in Latin America and Spain.
59nd of 1,464 institutions in Latin America.
8th of the 393 institutions in Mexico.
In addition, among Mexican institutions with over 1000 scientific publications, it
has the highest rate of international collaboration.
From: UG annual report 2013-2014.
UG foster research and technological activities.
The State of Guanajuato counts on 682 researchers,
343 out of them work at the Universidad de
Guanajuato.
Around 112 million pesos are granted by CONACYT,
CONCYTEG, SEP-PRODEP and UGTO to foster
research and producitivy.
From: UG annual report 2013-2014.
www.concyteg.gob.mx
Summer Research Program
•
•
•
•
•
Program specially designed for Bachelor
students.
Participants from all the disciplines.
More than 200 participating students.
Congress for participants with oral
presentations
Proceedings of the congress is published
•
SUMMER RESEARCH AND CULTURAL
IMMERSION PROGRAM
•
The 100K Strong in the Americas (2014)
•
•
Promotion 2015
To promote research and developing
intercultural skills for foreign students.
•
•
Mentors are recognized and experienced
researchers.
Program operation for about 20 years.
Guanajuato Tecno Parque
Transversal projects
Information and
Communication
Technologies
Projects for industry sectors
Manufacturing for
Automotive
Aeronautical
Metal-mechanics
New materials design
Energy, environment
and water
Health
Agro-industry
Nanotechnology
Leather and shoe
Mexican Center for Renewable Energy
Technologies: Solar-thermic, photovoltaic, eolic,
energy; bioclimate architecture.
Certification of products and sustainable processes,
technological advising, services, human resources
formation, technology transfer.
CENTRO MEXICANO DE ENERGÍAS
RENOVABLES S.C.
National Laboratory for Characterization of Physical
Chemistry Properties and Molecular Structure
• Scanning Electron Microscopy
• Mass Spectroscopy
• Nuclear Magnetic Resonance
• Supercomputer for High Performance
Computing.
TIGRE*
the new robotic spectroscopy telescope
TIgre (Guanajuato International Robotic
Spectroscopic Telescope)
It is the most modern telescope in Mexico and
one of the best in Latin America and can be
operated from anywhere in the world.
Located in Mineral de la Luz, near Guanajuato city
Partners:
University of Guanajuato,
University Hamburg in Germany
University of Liege in Belgium
*TiGRE: Telescopio internacional de Guanajuato
Robótico Espectroscópico.
Preservation, rescue and dissemination of art and culture
Folkloric ballet
Classical ballet workshops
Symphonic orchestra
Book fairs
Estudiantina
University theater
International Cooperation
Active
agreemets
120
Five
continents
Incoming
students 300
per year
Outgoing
students 200
per year
Double
diploma
programs 4
International
Memberships
Short-Term Program
Special programs for academic,
cultural trips, or organized cultural
academic at the request of an
external institution, or offered by
the University of Guanajuato.
ISEP
OUI
HACU
ERASMUS
CONAHEC
BRAMEX
JIMA
UDUAL
UMAP
International Academic Cooperation at UG
•
Academic Exchange – Semester / year
•
Research Collaboration – Short stays for graduate students
•
Summer Research Program for Intl partners– 10 weeks
•
Spanish Language and Mexican Culture – Monthly -Summer-SemesterYear courses
•
Internships
•
Short-term Programs /Faculty Lead Programs
•
Double degree programs
•
Visiting Professors
•
Online courses / subjects – Internationalisation at home
¡Muchas gracias!
Thanks!