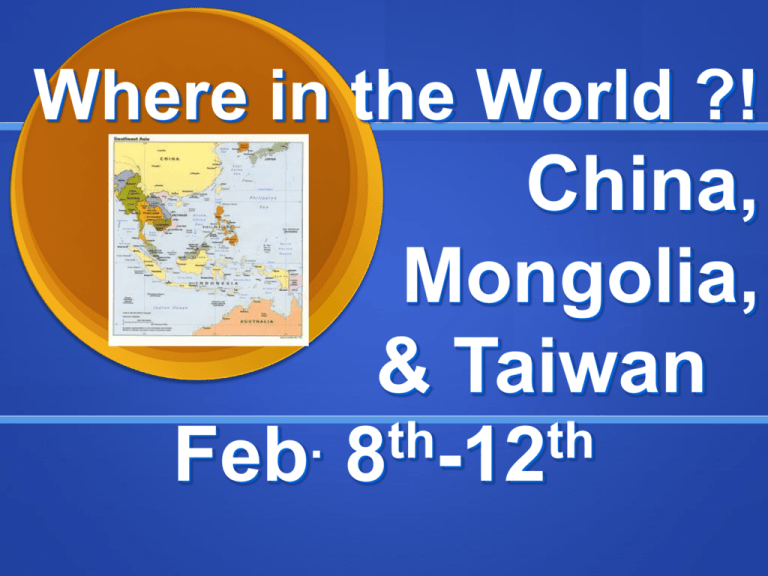 Where in the World ?!
China,
Mongolia,
& Taiwan
.
th
th
Feb 8 -12
1) China has some of the worlds record
breaking physical features. What are
they?
2) a- What is the world's tallest
mountain range?
b- What is the world's tallest mountain?
3) In which country is the Gobi desert?
What makes it a world record
holder?
4) a- When translated in English,
what does "Huang" mean?
b- How does the Gobi desert affect
the Huang River?
5) a- What are two other rivers in
China?
b- Which is the longest?
c- Translated, what does it mean?
6) Define:
a- Monsoon
b- Typhoon
7) Define: a- emperor
b- dynasty
8) The Chinese began building the
Great Wall in around what year?
9) What was the first emperor of the Qin
dynasty buried with after he died?
10) a- Define: Khan
b-Genghis Khan invaded China from
which modern country?
c- What did the Ming dynasty do
after several battles with the Mongols?
11) Which European is one of the few
who visited China before the
1500"s.
12) Which European countries
controlled ports in China until the
mid-1900s?
13) When was the last emperor of
China forced to give up power?
14) The first Republic of China was
established by Sun Yat-sen. After he
died the Republic was divided
between the Nationalists and the
Communists.
A- who was the leader of the
Nationalists?
B- who was the leader of the
Communists?
15) How did China's economy change
under Mao's rule?
16) What was Mao's Cultural
Movement?
17) Tibet, a territory of China, is
sometimes called what?
18)What problems does the Chinese
government have with Tibet?
19) a- 92% of the people of China
consider themselves members of what
culture?
b- How many Chinese dialects are there?
c- which is the official language of China?
20) a- what is Taoism (also known
as Daoism)?
b- Who was Confucius?
c- What is Buddhism?