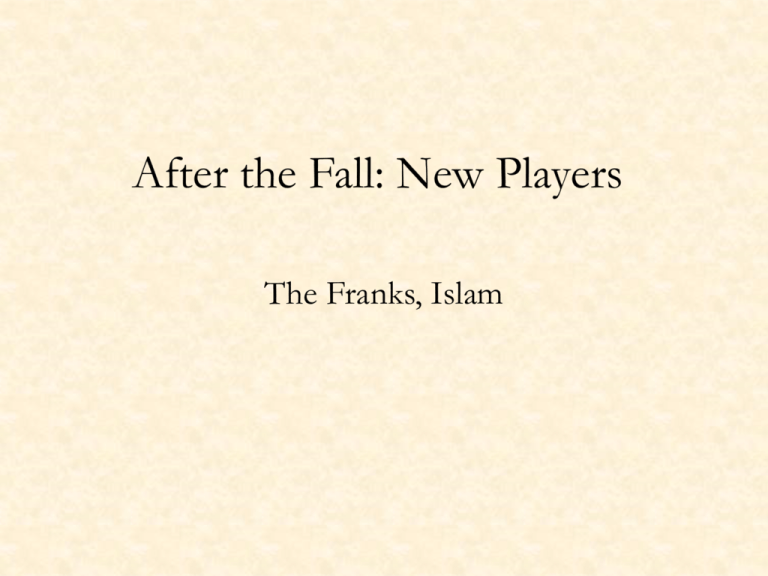 After the Fall: New Players
The Franks, Islam
The early Franks
•
•
•
•
Franks
Gregory of Tours
Clovis
Merovingian
• In what ways were the
Franks under the
Merovingians similar to
Rome? In what ways
were they different?
• How did the Frankish
government and people
regard taxes?
• How did Frankish
marriage customs allow
women access to power?
Islam
•
•
•
•
•
•
•
•
•
•
•
•
•
Islam
Mohammed
Quran
Five pillars of Islam
Peoples of the book
Dhimmis
Caliph
Sunni / Shia
Ali
Abbassids
imam
Avicenna
Averroes
• How is Islam like Judaism
and Christianity? How is it
different?
• How did Mohammed
convert the Arabs from
pagan polytheism to Islam?
• What sort of balance does
Islam strike between
orthodoxy and orthopraxy?
• What was the influence of
Greek philosophy and
science on the Islamic world?
The Carolingians
•
•
•
•
•
•
•
•
Charles Martel
Pepin
Charlemagne
papal states
Carolingian renaissance
Carolingian minuscule
missi dominici
Donation of Constantine
• How did the Carolingian dynasty
supplant the Merovingians?
• How was the dominance of the
Roman pontiffs over Christendom
validated?
• What was the significance of
Charlemagne's coronation by the
pope in 800?
• What kind of learning did
Charlemagne value and promote in
his empire?
• How would you characterize
Charlemagne's relationship with his
aristocratic subordinates? How was
he able to control them?
• What were the weak points of
Charlemagne's authority?
• What was the relationship between
emperor and pope in the
Carolingian empire?
Questions on Einhard
1.
2.
3.
4.
How Roman was Charlemagne's empire? How great was
Charlemagne's identification with Rome? What about Einhard?
To what extent was Charlemagne's empire held together by an
abstract notion of the state, and to what extent by personal ties to
the ruler?
Contemporary sources referred to Charlemagne's realm as a
"Christian empire." How might this description explain some of
Einhard's discussion? Do Charlemagne and/or Einhard seem to
distinguish between Christianity on the one hand and society on the
other?
Medieval society could be described as a fusion of Roman, Christian,
and Germanic elements. What evidence do you find of this in
Einhard's Life?