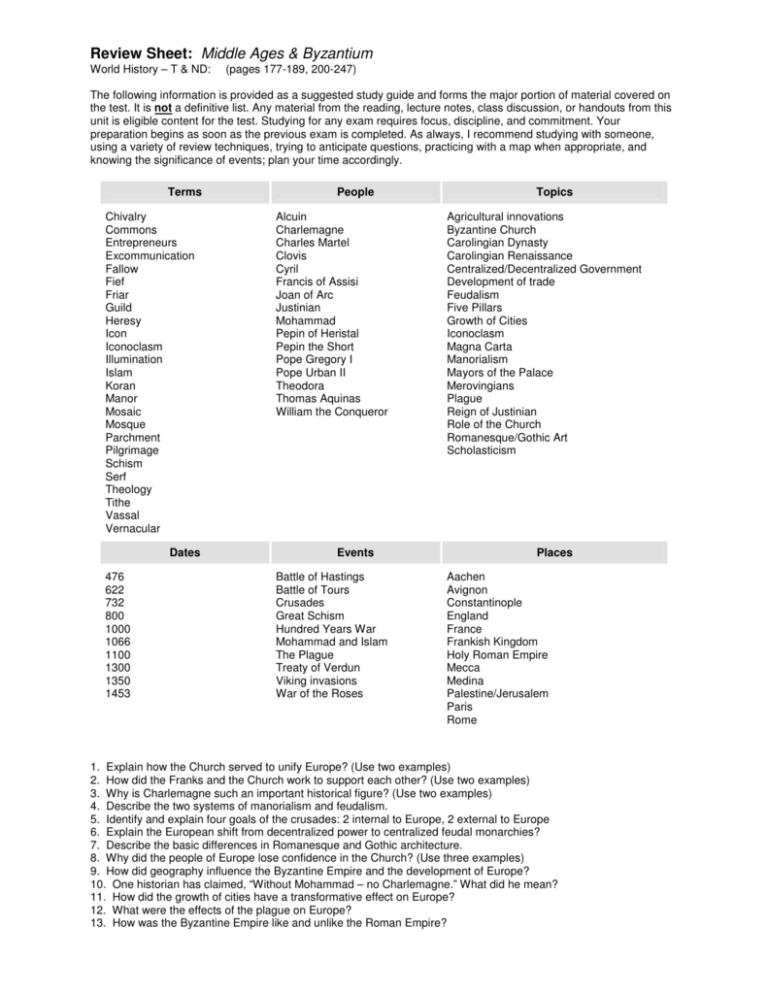 Review Sheet: Middle Ages & Byzantium
World History – T & ND:
(pages 177-189, 200-247)
The following information is provided as a suggested study guide and forms the major portion of material covered on
the test. It is not a definitive list. Any material from the reading, lecture notes, class discussion, or handouts from this
unit is eligible content for the test. Studying for any exam requires focus, discipline, and commitment. Your
preparation begins as soon as the previous exam is completed. As always, I recommend studying with someone,
using a variety of review techniques, trying to anticipate questions, practicing with a map when appropriate, and
knowing the significance of events; plan your time accordingly.
Terms
Chivalry
Commons
Entrepreneurs
Excommunication
Fallow
Fief
Friar
Guild
Heresy
Icon
Iconoclasm
Illumination
Islam
Koran
Manor
Mosaic
Mosque
Parchment
Pilgrimage
Schism
Serf
Theology
Tithe
Vassal
Vernacular
Dates
476
622
732
800
1000
1066
1100
1300
1350
1453
People
Alcuin
Charlemagne
Charles Martel
Clovis
Cyril
Francis of Assisi
Joan of Arc
Justinian
Mohammad
Pepin of Heristal
Pepin the Short
Pope Gregory I
Pope Urban II
Theodora
Thomas Aquinas
William the Conqueror
Events
Battle of Hastings
Battle of Tours
Crusades
Great Schism
Hundred Years War
Mohammad and Islam
The Plague
Treaty of Verdun
Viking invasions
War of the Roses
Topics
Agricultural innovations
Byzantine Church
Carolingian Dynasty
Carolingian Renaissance
Centralized/Decentralized Government
Development of trade
Feudalism
Five Pillars
Growth of Cities
Iconoclasm
Magna Carta
Manorialism
Mayors of the Palace
Merovingians
Plague
Reign of Justinian
Role of the Church
Romanesque/Gothic Art
Scholasticism
Places
Aachen
Avignon
Constantinople
England
France
Frankish Kingdom
Holy Roman Empire
Mecca
Medina
Palestine/Jerusalem
Paris
Rome
1. Explain how the Church served to unify Europe? (Use two examples)
2. How did the Franks and the Church work to support each other? (Use two examples)
3. Why is Charlemagne such an important historical figure? (Use two examples)
4. Describe the two systems of manorialism and feudalism.
5. Identify and explain four goals of the crusades: 2 internal to Europe, 2 external to Europe
6. Explain the European shift from decentralized power to centralized feudal monarchies?
7. Describe the basic differences in Romanesque and Gothic architecture.
8. Why did the people of Europe lose confidence in the Church? (Use three examples)
9. How did geography influence the Byzantine Empire and the development of Europe?
10. One historian has claimed, "Without Mohammad – no Charlemagne." What did he mean?
11. How did the growth of cities have a transformative effect on Europe?
12. What were the effects of the plague on Europe?
13. How was the Byzantine Empire like and unlike the Roman Empire?