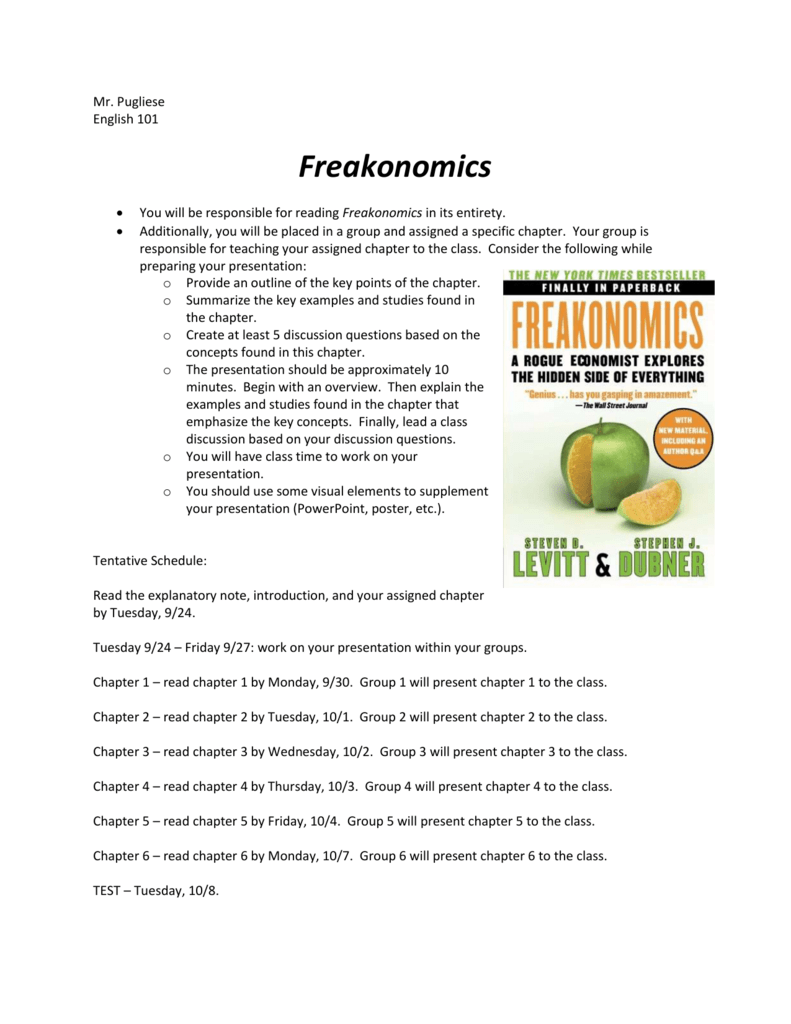 Mr. Pugliese
English 101
Freakonomics


You will be responsible for reading Freakonomics in its entirety.
Additionally, you will be placed in a group and assigned a specific chapter. Your group is
responsible for teaching your assigned chapter to the class. Consider the following while
preparing your presentation:
o Provide an outline of the key points of the chapter.
o Summarize the key examples and studies found in
the chapter.
o Create at least 5 discussion questions based on the
concepts found in this chapter.
o The presentation should be approximately 10
minutes. Begin with an overview. Then explain the
examples and studies found in the chapter that
emphasize the key concepts. Finally, lead a class
discussion based on your discussion questions.
o You will have class time to work on your
presentation.
o You should use some visual elements to supplement
your presentation (PowerPoint, poster, etc.).
Tentative Schedule:
Read the explanatory note, introduction, and your assigned chapter
by Tuesday, 9/24.
Tuesday 9/24 – Friday 9/27: work on your presentation within your groups.
Chapter 1 – read chapter 1 by Monday, 9/30. Group 1 will present chapter 1 to the class.
Chapter 2 – read chapter 2 by Tuesday, 10/1. Group 2 will present chapter 2 to the class.
Chapter 3 – read chapter 3 by Wednesday, 10/2. Group 3 will present chapter 3 to the class.
Chapter 4 – read chapter 4 by Thursday, 10/3. Group 4 will present chapter 4 to the class.
Chapter 5 – read chapter 5 by Friday, 10/4. Group 5 will present chapter 5 to the class.
Chapter 6 – read chapter 6 by Monday, 10/7. Group 6 will present chapter 6 to the class.
TEST – Tuesday, 10/8.