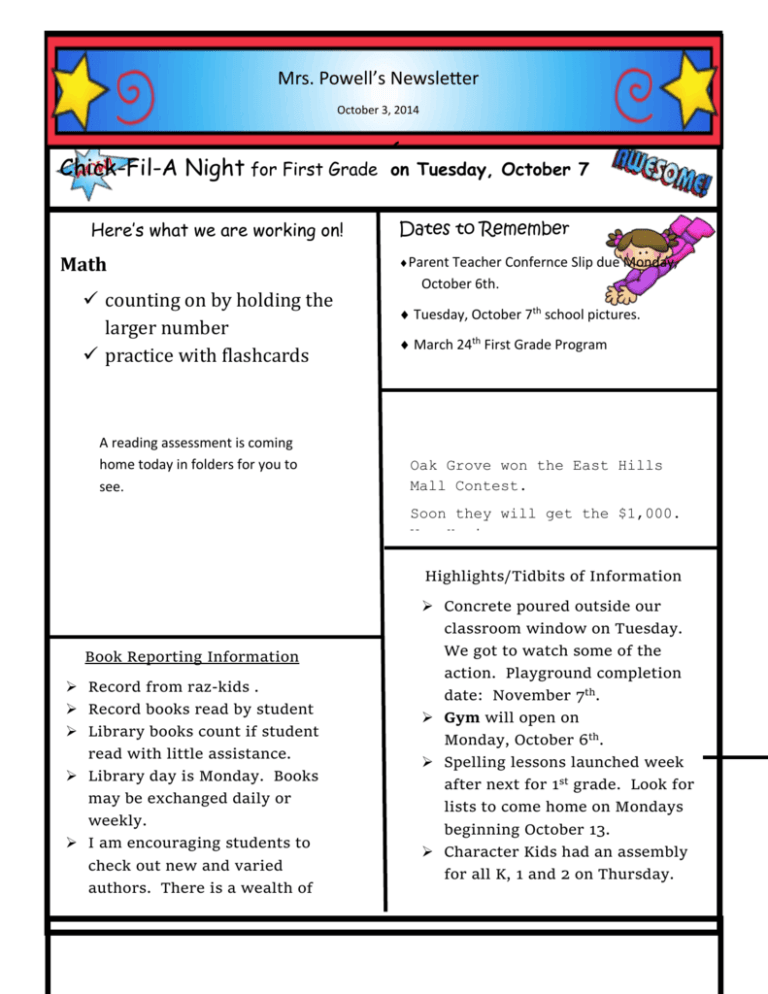 Mrs. Powell's Newsletter
October 3, 2014
Chick-Fil-A Night for First Grade
C
on Tuesday, October 7
Tuesday, October 7th, 5 pm to 8 pm
Here's what we are working on!
Math
Tu
Dates to Remember
Parent Teacher Confernce Slip due Monday,
For the Week of: __________________
October 6th. 
 counting on by holding the
larger number
 practice with flashcards
A reading assessment is coming
home today in folders for you to
see.
 Tuesday, October 7th school pictures.
 March 24th First Grade Program
Oak Grove won the East Hills
Mall Contest.
Soon they will get the $1,000.
Woo-Hoo!
Highlights/Tidbits of Information
Book Reporting Information
 Record from raz-kids .
 Record books read by student
 Library books count if student
read with little assistance.
 Library day is Monday. Books
may be exchanged daily or
weekly.
 I am encouraging students to
check out new and varied
authors. There is a wealth of
wonderful literature to be
explored.
 Concrete poured outside our
classroom window on Tuesday.
We got to watch some of the
action. Playground completion
date: November 7th.
 Gym will open on
Monday, October 6th.
 Spelling lessons launched week
after next for 1st grade. Look for
lists to come home on Mondays
beginning October 13.
 Character Kids had an assembly
for all K, 1 and 2 on Thursday.
Various skits
2
Super Kids can do
Here's what we've been doing...
Scholastic Book Orders
If you would like to order from Scholastic Books, all ordering is online.
Our classroom code is : GPN3
Books make great gifts.
I plan to use my bonus point balance towards our classroom library.
Bookmarks
Reader's Workshop
Essential Question: What jobs need to be
done in a community?
 We read many stories and
informational books about jobs in a
community.
 We compared informational and
realistic fiction text.
 Worked on making and confirming
predictions.
 Practiced identifying characters,
setting and events in the stortis.
B
Story Elements
booksmarks are
coming home today.
These can be used
when you are reading
library books to your
child. They can then
answer the story
element questions.
 Practice retelling the stories.
Writer's Workshop
o Applying new skills to a
focused small moments
narrative.
o Transition words
o Ellipses
o Sound effect words
(onamatapia)
o All caps
B
GO Folders:
Please empty regularly
Pay attention to weather
changes and dress
appropriately. We go
outside at every possibility.