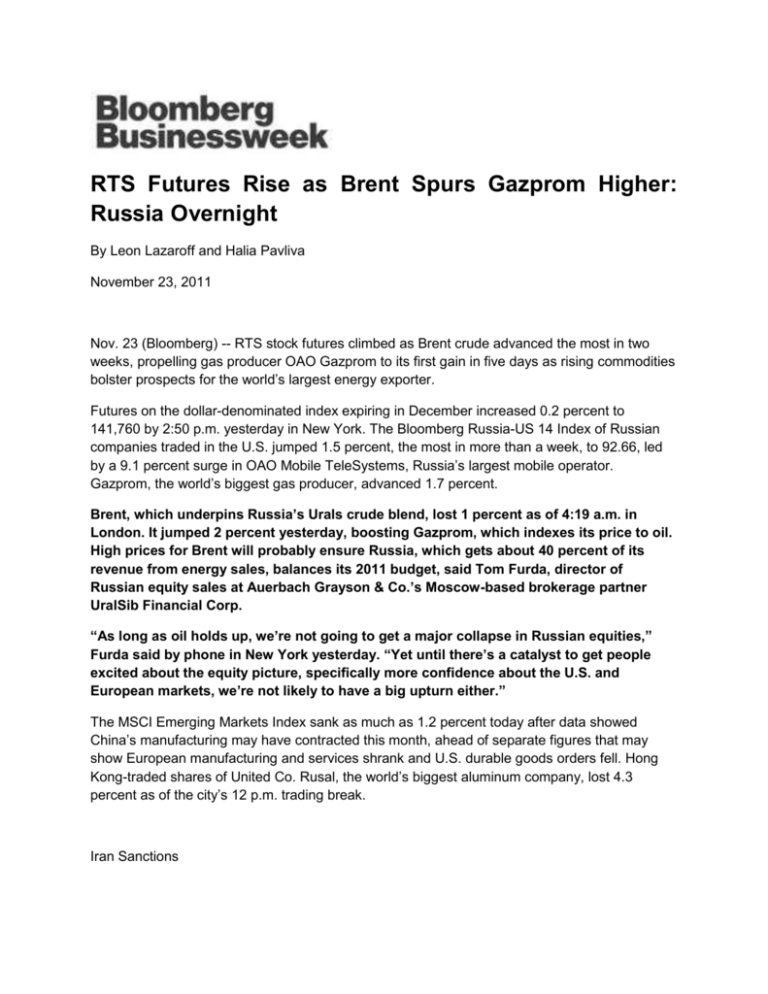 RTS Futures Rise as Brent Spurs Gazprom Higher:
Russia Overnight
By Leon Lazaroff and Halia Pavliva
November 23, 2011
Nov. 23 (Bloomberg) -- RTS stock futures climbed as Brent crude advanced the most in two
weeks, propelling gas producer OAO Gazprom to its first gain in five days as rising commodities
bolster prospects for the world's largest energy exporter.
Futures on the dollar-denominated index expiring in December increased 0.2 percent to
141,760 by 2:50 p.m. yesterday in New York. The Bloomberg Russia-US 14 Index of Russian
companies traded in the U.S. jumped 1.5 percent, the most in more than a week, to 92.66, led
by a 9.1 percent surge in OAO Mobile TeleSystems, Russia's largest mobile operator.
Gazprom, the world's biggest gas producer, advanced 1.7 percent.
Brent, which underpins Russia's Urals crude blend, lost 1 percent as of 4:19 a.m. in
London. It jumped 2 percent yesterday, boosting Gazprom, which indexes its price to oil.
High prices for Brent will probably ensure Russia, which gets about 40 percent of its
revenue from energy sales, balances its 2011 budget, said Tom Furda, director of
Russian equity sales at Auerbach Grayson & Co.'s Moscow-based brokerage partner
UralSib Financial Corp.
"As long as oil holds up, we're not going to get a major collapse in Russian equities,"
Furda said by phone in New York yesterday. "Yet until there's a catalyst to get people
excited about the equity picture, specifically more confidence about the U.S. and
European markets, we're not likely to have a big upturn either."
The MSCI Emerging Markets Index sank as much as 1.2 percent today after data showed
China's manufacturing may have contracted this month, ahead of separate figures that may
show European manufacturing and services shrank and U.S. durable goods orders fell. Hong
Kong-traded shares of United Co. Rusal, the world's biggest aluminum company, lost 4.3
percent as of the city's 12 p.m. trading break.
Iran Sanctions
American depositary receipts of Gazprom rose to $10.90 after the company's shares on
Moscow's Micex index fell 0.3 percent to 169.09 rubles, or the equivalent of $5.44. One
Gazprom ADR represents two ordinary shares.
Brent for January settlement sank $1.10 to $107.93 a barrel on the London-based ICE Futures
Europe exchange today after yesterday's $2.15 increase. Crude oil gained yesterday for the first
time in four days as new sanctions against Iran and protests in Egypt raised concern supplies
will be disrupted. Prices in New York climbed 1.1 percent to settle at $98.01. Urals crude added
1.5 percent to $108.71.
The U.S. joined the U.K. and Canada in expanding measures aimed at thwarting Iran's nuclear
program by targeting the nation's central bank and oil industry with sanctions intended to cut the
regime off from international financing. In Egypt, the government offered to resign amid four
days of rallies and protests.
Sustained Rally
ADRs of OAO Lukoil, Russia's largest non-state oil producer, fell 0.4 percent to $52.93 after
shares rose 0.5 percent on the Micex to 1,651.40 rubles, or $53.11.
Brent would have to top $125 a barrel to sustain a rally in Russian equities, Furda said.
"Temporarily, oil remains an anchor," he said. "But if oil itself is anchored, then Russian stocks
don't move up."
The Standard & Poor's 500 Index retreated 0.4 percent to 1,188.04 yesterday after a Commerce
Department report showed the U.S. economy expanded less than previously estimated in the
third quarter. Gross domestic product climbed at a 2 percent annual rate from July through
September, less than the 2.5 percent pace that was the median estimate of 81 economists
surveyed by Bloomberg.
Beating Estimates
Mobile TeleSystems surged the most since Oct. 5 in New York, rising $1.26 to $15.18, after
Moscow brokerage Renaissance Capital reiterated its "hold" recommendation on the ADRs, with
a price target of $18.80.
The company's financial results exceeded analysts' expectations even as net income fell 25
percent in the third quarter to $362 million, Renaissance analysts led by Moscow- based
Alexander Kazbegi said in a report e-mailed yesterday. Revenue rose 13 percent to $3.27 billion
in the period, Moscow- based MTS said in a Nov. 21 statement.
MTS may jointly bid with VimpelCom Ltd. for a third- generation mobile service in Ukraine,
Vedomosti newspaper reported, citing an unidentified person close to a Ukrainian cell-phone
company.
Yandex, Norilsk
Yandex NV, operator of Russia's most popular Internet search engine, gained 1.7 percent to
$20.06, the highest level since Nov. 11, a day after falling the most in seven weeks. A ban on
divesting stock bought in the company's initial public offering ended on Nov. 21.
The Standard & Poor's GSCI index of 24 raw materials gained 1 percent to 648.26 as palladium
futures for December delivery climbed 2.6 percent to $601.15 an ounce. Russia is the world's
largest exporter of palladium and nickel.
OAO GMK Norilsk Nickel ADRs rose the most in two days in New York after the Interfax
newswire reported that the world's largest producer of the metal may purchase shares in
another buyback program. Norilsk climbed 2 percent to $16.46 after shares in Moscow fell 1.8
percent 5,125 rubles, or $164.93. One Norilsk ADR represents one-tenth of an ordinary share.
Norilsk may buy back shares at market price to cancel stock purchased in a $4.5 billion program
that ended in Oct. 28, Interfax said, citing Andrei Klishas, the company's president.
Airbus Order
The Market Vectors Russia ETF, a U.S.-traded fund that holds Russian shares, increased 1
percent to 28.06, while the Bank of New York Mellon Russia ADR Index jumped 6.9 percent to
764.60, the biggest one-day advance in seven weeks.
OAO Aeroflot, Russia's biggest air carrier, is considering a $2.25 billion contract to buy 30
Airbus 320 airplanes, Vedomosti newspaper reported today, citing unidentified people familiar
with the matter at both companies. Aeroflot slid 0.6 percent to 49.72 rubles in Moscow.
The 30-stock Micex rose for the first time in five days yesterday, adding 0.8 percent to 1,401.91.
The RTS gained 0.4 percent to 1,431.13.
The Micex has lost 17 percent in 2011 and trades at 4.4 times analysts' earnings estimates for
member companies. That compares with a 19 percent slide for Brazil's Bovespa index, which
trades at 10 times estimated earnings, according to data compiled by Bloomberg. The Shanghai
Composite Index trades at 11.4 times estimated earnings, and the BSE India Sensitive Index
has a ratio of 13.7.
The RTS Volatility Index, which measures expected swings in the index futures, dropped for the
first time in four days, falling 3.6 percent to 53.86 points.